printer friendly version
I/O solution for the petrochemicals industry
May 2014
IS & Ex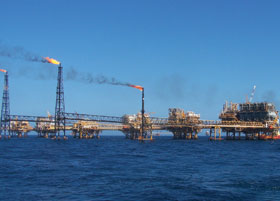 Remote I/O systems use a variety of electrical circuits and a combination of different explosion protection methods. One universal way to connect signals from the area with explosion risk is the 'intrinsic safety' (Ex i) ignition protection type. This principle limits the current and voltage to an extent below the energy required for ignition, which means the fuel/air compounds cannot explode. In everyday practice, most remote I/O modules are designed according to the 'intrinsic safety' ignition protection type.
However, plant operation sometimes requires a significantly higher voltage and current: for example, if audible signals, signal lights, or high-performance valves are in use. In such cases, users need to go back to the 'increased safety' (Ex e) ignition protection type. The functional principle of this protection type is to prevent a spark from igniting the explosive atmosphere, which could then penetrate the housing. The equipment must not become hotter than the temperature class of gases that could occur at the installation site. Nor can there be sparks or electric arcs within or on exterior parts. These requirements apply to everyday operation but also in the case of foreseeable errors. To meet these requirements, there are various measures that users can take, e.g. comply with protection class IP54, use impact-resistant housing, greater creepage distances and clearances, or the use of special insulating materials. The effectiveness of these measures is monitored by thermal-electric tests.
Side by side on the backplane
As remote I/O systems use both intrinsically and non-intrinsically safe circuits, users need to implement safety measures that allow these to coexist. This includes making sure that there is a distance of 50 mm between the two types of signals. To ensure this, and still make best use of the valuable space in the switch cabinet, Pepperl+Fuchs looked for ways to maintain the distance without wasting space on the backplane. The first solution was a cover for the remote I/O modules. This ensured the appropriate distance and represented a decisive step in development; for the first time ever, the backplane could accommodate both intrinsically safe and other remote I/O electrical circuits in adjacent positions.

However, this first solution was not compatible with every type of terminal, just screw terminals. Front screw or spring terminals could not be used. Also, covering the screw terminals entirely was far from ideal in terms of maintenance. The perfect solution was found in a specially designed partition.
Such a simple solution
The Pepperl+Fuchs partition is neatly mounted between two modules on the backplane and is all that is needed to ensure the required 50 mm distance between intrinsically safe and non-intrinsically safe remote I/O electrical circuits. The solution allows the use of every slot on the backplanes – regardless of the type of circuit. This saves space in the distribution box and allows the user to design and use remote I/O in the most flexible and effective way.
Without any extra installation work, it is now easy to attach the partitions to the plastic brackets on the backplanes. Because the walls are super slim, they do not take up any extra space. They fit on any backplanes, with or without label carrier. Without exception, this is the right solution for any type of terminal. Plant operators can now choose between screw terminals, front screw terminals and spring terminals.
Accessible modules for easy maintenance
There is one crucial advantage to the partitions not being fixed onto the modules but onto the backplane itself: it leaves the modules, and especially the terminals, free for access. This means that users can carry out measurements on the terminal blocks themselves, and the diagnostic LEDs on the modules are clearly visible. Measurements and maintenance can be performed without any extra installation work saving valuable time on site and of course money. Using these partitions helps comply with the distance when creating a highly flexible and efficient remote I/O system for Zone 2 and 22, Class I, and Div. 2. In this way, a company's LB remote I/O system allows intrinsically safe and non-intrinsically safe electrical circuits to be operated in adjacent positions on a backplane.
For more information contact Mark Bracco, Pepperl+Fuchs, +27 (0)87 985 0797, mbracco@za.pepperl-fuchs.com, www.pepperl-fuchs.co.za
Credit(s)
Further reading:
Monitor access to cabinets
July 2021, Turck Banner , IS & Ex
A gas transfer station of the Villingen-Schwenningen municipal utility company uses Turck Banner's IMX12-CCM to monitor control cabinets and thus offer reliable protection from manipulation.
Read more...
---
Pepperl+Fuchs' VariKont inductive sensors with Active Shielding Technology
July 2021, Pepperl+Fuchs , Sensors & Transducers
Active Shielding Technology from Pepperl+Fuchs enables high switching distances regardless of the installation conditions, which simplifies equipment design.
Read more...
---
Ultrasonic sensor for PL d applications
July 2021, Pepperl+Fuchs , Pressure Measurement & Control
Pepperl+Fuchs has expanded its factory automation portfolio and acquired the USi safety ultrasonic sensor from Mayser, a renowned supplier of products and system solutions, many of which are relevant to safety engineering.
Read more...
---
Tube connector for Ex areas
May 2020, Parker Hannifin - Sales Company South Africa , IS & Ex
Parker Hannifin has extended its Phastite permanent instrumentation connection range, which is now available in a number of corrosion-resistant alloys (CRAs), including Alloy 825, 625 and Super Duplex, 
...
Read more...
---
The Pepperl+Fuchs M-LB-5000 surge protection system
June 2021, Pepperl+Fuchs , Electrical Power & Protection
Using the modular M-LB-5000 system with diagnostics eliminates extensive testing and operational interruptions. It is supplemented by the M-LB-2000 system for applications in which a minimum specification is sufficient.
Read more...
---
How to calculate an intrinsically safe loop approval - updated and revised
March 2021, Extech Safety Systems , IS & Ex
We all know what can happen when the correct techniques are not used when interfacing into a hazardous area.
Read more...
---
Robust safety light curtains
April 2021, Turck Banner , IS & Ex
Ez-Screen LS light curtains are intuitive, easy-to-use safety devices designed by Turck Banner for machine safeguarding.
Read more...
---
3D vision for service robots
April 2021, Pepperl+Fuchs , Sensors & Transducers
With its high precision, reliability, and compact size, the R2300 multi-layer scanner tackles mobile service robot applications in an efficient manner.
Read more...
---
Delivering modern SIS for wellhead applications
April 2021, Emerson Automation Solutions , IS & Ex
Keeping the safety and non-safety functions separate while achieving seamless integration.
Read more...
---
Enterprise mobility for hazardous areas
March 2021, Pepperl+Fuchs , IS & Ex
Enterprises can easily select and manage Android devices and services with the new Android Enterprise Recommended devices – verified by Google.
Read more...
---