printer friendly version
I/O solution for the petrochemicals industry
May 2014
IS & Ex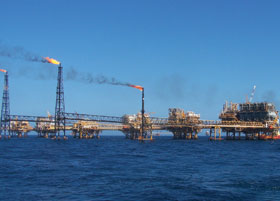 Remote I/O systems use a variety of electrical circuits and a combination of different explosion protection methods. One universal way to connect signals from the area with explosion risk is the 'intrinsic safety' (Ex i) ignition protection type. This principle limits the current and voltage to an extent below the energy required for ignition, which means the fuel/air compounds cannot explode. In everyday practice, most remote I/O modules are designed according to the 'intrinsic safety' ignition protection type.
However, plant operation sometimes requires a significantly higher voltage and current: for example, if audible signals, signal lights, or high-performance valves are in use. In such cases, users need to go back to the 'increased safety' (Ex e) ignition protection type. The functional principle of this protection type is to prevent a spark from igniting the explosive atmosphere, which could then penetrate the housing. The equipment must not become hotter than the temperature class of gases that could occur at the installation site. Nor can there be sparks or electric arcs within or on exterior parts. These requirements apply to everyday operation but also in the case of foreseeable errors. To meet these requirements, there are various measures that users can take, e.g. comply with protection class IP54, use impact-resistant housing, greater creepage distances and clearances, or the use of special insulating materials. The effectiveness of these measures is monitored by thermal-electric tests.
Side by side on the backplane
As remote I/O systems use both intrinsically and non-intrinsically safe circuits, users need to implement safety measures that allow these to coexist. This includes making sure that there is a distance of 50 mm between the two types of signals. To ensure this, and still make best use of the valuable space in the switch cabinet, Pepperl+Fuchs looked for ways to maintain the distance without wasting space on the backplane. The first solution was a cover for the remote I/O modules. This ensured the appropriate distance and represented a decisive step in development; for the first time ever, the backplane could accommodate both intrinsically safe and other remote I/O electrical circuits in adjacent positions.

However, this first solution was not compatible with every type of terminal, just screw terminals. Front screw or spring terminals could not be used. Also, covering the screw terminals entirely was far from ideal in terms of maintenance. The perfect solution was found in a specially designed partition.
Such a simple solution
The Pepperl+Fuchs partition is neatly mounted between two modules on the backplane and is all that is needed to ensure the required 50 mm distance between intrinsically safe and non-intrinsically safe remote I/O electrical circuits. The solution allows the use of every slot on the backplanes – regardless of the type of circuit. This saves space in the distribution box and allows the user to design and use remote I/O in the most flexible and effective way.
Without any extra installation work, it is now easy to attach the partitions to the plastic brackets on the backplanes. Because the walls are super slim, they do not take up any extra space. They fit on any backplanes, with or without label carrier. Without exception, this is the right solution for any type of terminal. Plant operators can now choose between screw terminals, front screw terminals and spring terminals.
Accessible modules for easy maintenance
There is one crucial advantage to the partitions not being fixed onto the modules but onto the backplane itself: it leaves the modules, and especially the terminals, free for access. This means that users can carry out measurements on the terminal blocks themselves, and the diagnostic LEDs on the modules are clearly visible. Measurements and maintenance can be performed without any extra installation work saving valuable time on site and of course money. Using these partitions helps comply with the distance when creating a highly flexible and efficient remote I/O system for Zone 2 and 22, Class I, and Div. 2. In this way, a company's LB remote I/O system allows intrinsically safe and non-intrinsically safe electrical circuits to be operated in adjacent positions on a backplane.
For more information contact Mark Bracco, Pepperl+Fuchs, +27 (0)87 985 0797, mbracco@za.pepperl-fuchs.com, www.pepperl-fuchs.co.za
Credit(s)
Further reading:
Mobility for Industry 4.0 ­challenges
Africa Automation Fair 2019 Preview, Pepperl+Fuchs , Industrial Wireless
The Tab-Ex 02 series of tablets from Pepperl+Fuchs has innovative features that make Industry 4.0/IIoT applications easy to implement.    The DZ1 version ecom has a range of applications that are unique 
...
Read more...
---
IO-Link infrastructure components
Africa Automation Fair 2019 Preview, Pepperl+Fuchs , Sensors & Transducers
Pepperl+Fuchs has on show a range of IO-Link infrastructure components. As a globally established communication standard that is system- and fieldbus-independent, IO-Link offers many advantages. The universal 
...
Read more...
---
Mobile application for barcode scanning
Africa Automation Fair 2019 Preview, Extech Safety Systems , IS & Ex
Extech is exhibiting the mobXscan app for use in hazardous areas, which adds the capability of barcode scanning to any Windows 10 tablet or Android device. It can be seen at Stand E03. It uses the built-in 
...
Read more...
---
Safety on the pistes
May 2019, Siemens Digital Industries , IS & Ex
Inauen Schätti, a construction company whose areas of specialism include ropeways, is working to improve piste safety for skiers. As part of a pilot test project on the Parpaner Rothorn mountain, the 
...
Read more...
---
Safety technology to improve ­flexibility
May 2019, AC/DC Dynamics , IS & Ex
The new Datalogic concept for robot evolution expects to overtake the competition. Following demanding safety regulations, outdated isolated robotic cells are now replaced with robot-like parts of industrial 
...
Read more...
---
Drone-based gas leak detection
May 2019, ABB South Africa , IS & Ex
Leaks in gas distribution and transmission pipelines present serious safety risks and result in lost revenue and profits to producers. The ABB Ability mobile gas leak detection system is a digital solution, 
...
Read more...
---
Conveyor system fire prevention
May 2019, R&C Instrumentation , IS & Ex
The transport of materials is a key activity for most industries. For many of these tasks, conveyor belt systems offer a cost effective and efficient solution. However, with such a system comes a high 
...
Read more...
---
LSIS achieves Ex rating for HMI range
Africa Automation Fair 2019 Preview, Ana-Digi Systems , IS & Ex
LSIS is rolling out Ex certification for its entire range of HMIs. These products now carry a rating which allows for a maximum pollution degree 2 level. Mounting the HMIs into an IP54 enclosure ensures 
...
Read more...
---
Equipment for hazardous areas
Africa Automation Fair 2019 Preview, Extech Safety Systems , IS & Ex
Extech Safety Systems is showcasing Sensear digital communication and active listening headsets and earplugs at Stand E03. These are for use in high noise and hazardous environments. Sensear's patented 
...
Read more...
---
Solutions for the Ex automation industry
Africa Automation Fair 2019 Preview, Stahl Esaco , IS & Ex
Stahl Esaco is presenting leading R. Stahl solutions and products for the Ex automation industry. These include remote I/O systems, HMIs and cameras, which can be viewed at Stand F12. The I/O systems 
...
Read more...
---