printer friendly version
Potato boom for local supplier
May 2014
Motion Control & Drives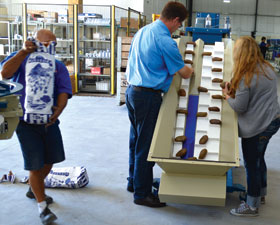 In 2013, Sennah Handling Systems – a Paarl-based manufacturer of high quality potato bagging machines and materials handling equipment for the agricultural sector, upped its annual production from 26 to 94 machines. This means that more than 1000 SEW-Eurodrive geared motors are currently operational in the local potato and onion farming industries.
Owner Hannes Visser says, "What we envisage is for man and machine to complement each other. Whatever man cannot do is left to the machine. That complementary technology is substantiated in the machines that we offer for the weighing and packaging of potatoes and onions."
The current machine is able to pack 480 ten kilogram bags per hour. The company focuses on end of line packaging solutions, which involves the process that follows after sizing and sorting. In the cut throat business of farming where there are so many factors playing a role in profit margins, Visser comments that specialisation is a key aspect.
"We have over the years managed to refine and optimise our process in such a way that the machine is built to an exact specification which has been tried and tested. The company has built over 300 machines which are exact replicates of each other. The machines are manufactured according to high-quality specifications, using SEW-Eurodrive products, to ensure smooth running and minimum downtime for the farmer," he explains.
Although there is a trend towards automation, Visser points out that there will always be a human element that is vital to the local economy. "Many people will be without employment if everything is automated. People will always be part of the production manufacturing process, but without automation there can be no real growth for the farmer."
Visser reveals that he has been doing business with SEW-Eurodrive throughout his career. "I was introduced to the company during my first employment and the relationship has grown. I selected them because of the pricing structure, low maintenance and quality.
"Sennah machines are sold nationwide, so it is key that the products used be reliable and robust to ensure not just our reputation as a machine builder, but also the ongoing production and profitability for the farmers who are our customers. Furthermore, the national presence and local stock holding offered by SEW-Eurodrive give us the competitive edge."
The success of the new potato packaging machines means that Sennah Handling Systems has moved into the list of top 20 SEW-Eurodrive customers. "It is a partnership that is mutually beneficial. The service I receive from the Cape Town branch and in particular Eugene Vorster, my sales engineer, is excellent and I look forward to seeing even more innovation in the near future," concludes Visser.
For more information contact Rene Rose, SEW-Eurodrive, +27 (0)11 248 7000, rrose@sew.co.za, www.sew.co.za
Credit(s)
Further reading:
Cost-efficient production with 18 synchronous NC axes
June 2019, Beckhoff Automation , Motion Control & Drives
TwinCAT 3 controls highly efficient machine for processing of die-cast automotive parts.
Read more...
---
Rockwell Automation executes AC drive migration at Mozal ­Aluminium
June 2019, Rockwell Automation , Motion Control & Drives
For over 20 years, Rockwell Automation 1336 drives have delivered the drive control required across Mozal, an aluminium smelter near Maputo, Mozambique. Now the industrial automation leader is in the 
...
Read more...
---
Drive solutions for energy efficient power transmission
June 2019 , Motion Control & Drives
Vert Energy is committed to providing energy-saving solutions for its diverse customer base. "Critical challenges facing industry include finding the most efficient ways to minimise energy consumption 
...
Read more...
---
SEW-Eurodrive gives a foretaste of the future of automation
June 2019, SEW-Eurodrive , Motion Control & Drives
SEW-Eurodrive gave visitors to Africa Automation Fair 2019 a foretaste of its Movi-C modular automation system, ready-made for the requirements of Industry 4.0. This represents the next-generation of 
...
Read more...
---
Servo motor equipped with SIL3 encoder
June 2019, Tectra Automation , Motion Control & Drives
The new MS2N synchronous servo motor is Tectra Automations' latest product offering to the electric drives and controls industry. The range combines high dynamics, compact dimensions and excellent energy 
...
Read more...
---
Case History 166: Feel and understanding, or lack thereof
May 2019, Michael Brown Control Engineering , Motion Control & Drives
I was present at a very interesting discussion the other day with people who are leaders in the automation and control industry. The subject was how jobs would disappear over the next decade or two as 
...
Read more...
---
Smart solution for incorporating machine-integrated robots
Africa Automation Fair 2019 Preview, SEW-Eurodrive , Motion Control & Drives
SEW-Eurodrive is showcasing the D5 delta robot, a smart solution for incorporating machine-integrated robots. The high-speed pick-and-place system includes tracking and Movikit robotics software. It 
...
Read more...
---
Optimising energy requirements
Africa Automation Fair 2019 Preview, SEW-Eurodrive , Motion Control & Drives
A new development from SEW-Eurodrive is the Movigear mechatronic drive system, which combines an energy-efficient gear unit, motor and frequency inverter, and has received the TÜV SÜD Energy-Efficient 
...
Read more...
---
Compact, cost-effective servo solution
Africa Automation Fair 2019 Preview, Elonics , Motion Control & Drives
elonics is introducing the latest addition from the LSIS servo family, the Xmotion L7C servo drives and motors. The L7C Series offers a cost-effective, high precision solution that is both compact in 
...
Read more...
---
SEW-Eurodrive's mechatronic drive system for the bakery industry
May 2019, SEW-Eurodrive , Motion Control & Drives
SEW-Eurodrive is assisting the bakery industry to improve efficiency and reduce energy consumption by means of its Movigear mechatronic drive system. The company has enjoyed a longstanding relationship 
...
Read more...
---