printer friendly version
Schneider steps into the future
May 2014
News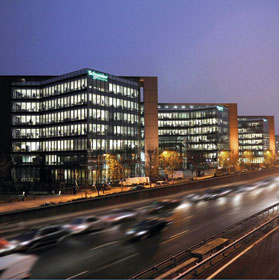 I was recently privileged to be part of the African contingent at an international forum held by Schneider Electric to present the company's goals and vision to the world. The highlight of the occasion was the Paris Marathon, which Schneider now sponsors. Schneider sees its mission and values to be in line with this legendary race. Just as runners consider their own efficiency and energy consumption, Schneider aims to help people and organisations make the most of their energy.
A Hive of innovation
The forum was held at the Hive, Schneider's Paris headquarters, which is a showcase for the company's innovative energy efficiency solutions in smart buildings. The building's annual energy consumption has fallen from 150 to 78 kWh/m² in three years, a massive reduction of 47%; and it was the first building in the world to be awarded ISO 50001 certification.
Schneider has a solution
We were shown around the impressive Majunga Tower in the heart of La Défense business district, a forest of glass and steel skyscrapers. Schneider recently provided the electrical distribution and digital solutions and services through its SmartStruxure solution. This allows the exchange and analysis of data from energy, lighting, fire safety and HVAC to optimise the building's performance.
Another port of call was French telecoms company Neo Telecoms, with a transport capacity of over 1 Tbps. Data consumption is growing by 25% a year; and when Neo Telecoms built its new generation data centre, Schneider integrated all the systems. "We are building the core of the Internet together with Schneider," said a Neo Telecoms engineer.
Whether its smart buildings, smart cities, data centres, major industrial projects or microsystems for rural areas, Schneider has a solution. Senior vice president for corporate marketing, Jonathan Hart said that in the next 40 years, energy consumption will double, CO2 emissions need to be halved and the world must become four times more efficient. "The solution is a combination of cleaner generation, greater efficiency and a smarter grid. Schneider commits 4 to 5% of its €25 billion sales to R&D and is on a 10 year transformation path. We are three times larger than 10 years ago. The market is moving fast and we are going with it," he explained.
The world is getting smarter and this is causing massive challenges. Today 10 billion devices are connected but in six years there will be 60 billion. This convergence of IT and energy is opening a wealth of new opportunities for Schneider. "We don't sell energy we manage energy," Hart emphasised. "From smart devices through to big data, we provide our customers with services, systems and technology to reduce energy consumed, reduce the cost per kWh, reduce operating expenditures and produce energy locally across the grid."
Smarter energy for Africa
Africa is an important growth area for Schneider and the company has a strong presence, experiencing double digit growth on the continent. Georges El-Mir, country president for Schneider Electric International, outlined Africa's many energy challenges. "Schneider offers a unique landscape of solutions for Africa. Our answer is to tackle challenges on the grid through increased productivity, access to energy, smart grids, smart buildings and the development of micro-industries in rural regions."
Technology is at the heart of Schneider Electric's offering but it delivers services as well. In major smart grid projects in Morocco, Madagascar and Nigeria, Schneider carried out auditing, testing, commissioning, technical and staff training in addition to providing a solution. The value was way beyond that of the technology supplied.
Meanwhile renewable technology is more affordable than ever. At the other end of the scale, an important area for Schneider is the development of micro industries in rural African areas through its BipBop programme. Here Schneider is integrating solar solutions with standard solutions to bring energy to disconnected areas.
First introduced in Kenya in April 2014, Microsol is a microsystem that transforms solar power and water to bring heat, potable water and power. This can bring a revolution to a village. Villasol is a microsolar station which is an economical lighting kit and can also charge a cellphone. Both of these offer opportunities to partner with local entrepreneurs to co-develop the energy market.
"The contribution of Schneider Electric goes beyond access to energy, it gives people competencies," said El Mir. "We give people the knowledge to manage their energy. This is a unique proposition and Schneider's contribution is huge."
For more information contact Ntombi Mhangwani, Schneider Electric, +27 (0)11 254 6400, ntombi.mhangwani@schneider-electric.com, www.schneider-electric.com
Credit(s)
Further reading:
From the editor's desk: Edge, cloud or both?
June 2019, Technews Publishing (SA Instrumentation & Control) , News
In the illusory world of digital transformation, the question of where the applications will best be hosted often triggers a lively discussion. In particular, the cloud vs. edge debate has left many wondering 
...
Read more...
---
Wireless IoT devices in oil and gas reached 1,3 million in 2018
June 2019 , News
According to a new research report from Berg Insight, the number of devices featuring cellular or satellite connectivity deployed in oil and gas applications amounted to 1,3 million at the end of 2018. 
...
Read more...
---
Siemens and Iraqi government sign roadmap agreement
June 2019, Siemens Digital Industries , News
In a move that takes the roadmap for rebuilding Iraq's power sector a step further, Siemens and the Ministry of Electricity of the Republic of Iraq have signed an implementation agreement. This builds 
...
Read more...
---
Emerson acquires KNet software
June 2019, Emerson Automation Solutions , News
Emerson has announced the acquisition of KnowledgeNet (KNet) software from Tunisia-based Integration Objects. KNet's unique analytics application software accelerates digital transformation initiatives 
...
Read more...
---
BI set to add ContiTech belts to its range
June 2019 , News
Bearings International (BI) is set to add to its basket of premium brands following a visit by the ContiTech Power Transmission Group to discuss a local distribution agreement for its belt ranges. These 
...
Read more...
---
Endress+Hauser expands patent portfolio
June 2019, Endress+Hauser , News
The number of patents submitted by the Endress+Hauser Group continues to rise. As reported during the annual Innovators' Meeting held this year in France, the Group submitted 287 initial patents in 2018, 
...
Read more...
---
Hyflo Southern Africa incorporated into BMG's Fluid Technology division
June 2019, Bearing Man Group t/a BMG , News
The Engineering Solutions Group (ESG) of Invicta Holdings has incorporated Hyflo Southern Africa into BMG's Fluid Technology Division. This development is a positive move for both companies and for the 
...
Read more...
---
Festo to go digital at Automation Expo
June 2019, Festo , News
The world is currently undergoing radical digital transformation, which is viewed as an implementation of digital technologies in all sectors, including the automation industry. As a company that continuously 
...
Read more...
---
MESA aligns with Africa Automation Fair to promote next level industry automation
June 2019, Reed Exhibitions , News
MESA Africa has aligned with Africa Automation Fair for the first time this year, to help drive the next level of industry automation in South Africa. Vice chairman, Gerhard Greeff, explains that MESA's 
...
Read more...
---
Future Production Technologies Conference
June 2019 , News
"The Fourth Industrial Revolution will herald the transformation of entire systems of production, management and governance," says Bob Williamson, chair of the Future Production Technologies Conference 
...
Read more...
---