printer friendly version
Wireless telemetry range from Mantracourt
April 2014
Data Acquisition & Telemetry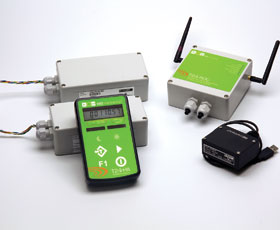 UK based Mantracourt is a leading manufacturer of industrial measurement technologies, which specialises in the design and production of signal conditioning products for strain gauge, temperature, pressure, voltage, current and displacement hardware, in analog, digital and wireless form.
The T24 wireless telemetry range, is a flexible, low power radio system designed to enable the transmission of high accuracy measurement data from load cells, anemometers, temperature, pressure, torque and force sensors, Mantracourt has experienced increasing growth in a variety of engineering fields such as the weighing industry, construction and civil engineering, process automation, automotive engineering, and the food and agriculture industries. The T24 wireless range enables users to monitor measurement processes and instrumentation remotely, allowing more efficient production resulting from waste reduction, decreased maintenance costs and ease of measurement in hazardous or inaccessible environments.
"What makes Mantracourt's wireless products unique is not only their range of applications, but also the low power design, enabling most systems to be battery operated on a single set of alkaline batteries for up to five years. This will save our clients hours in labour and maintenance costs, as it reduces the need for external cabling, while allowing remote access to instrumentation data," says John Chapman, technical director of Elexsys.
For more information contact George Chapman, Elexsys, +27 (0)21 930 0214, sales@elexsys.co.za, www.elexsys.co.za
Credit(s)
Further reading:
Fieldlogger for data acquisition
June 2019, Mimic Components , Data Acquisition & Telemetry
The Fieldlogger is a great asset to the Novus automation range of products. It is one of the most comprehensive instruments for the acquisition of data recording, and is capable of analog and digital 
...
Read more...
---
New network function for digital ­indicator
October 2018, Yokogawa South Africa , Data Acquisition & Telemetry
Yokogawa has added a network function to the UM33A digital indicator with alarms. With this network function, a single UM33A digital indicator can receive, process and sequentially display data from up 
...
Read more...
---
Remote monitoring and telemetry at power station water plants
July 2018, Omniflex Remote Monitoring Specialists , Data Acquisition & Telemetry
The wireless ability to manage pumps remotely over long distances is now available using Omniflex's Teleterm M3 Radio RTUs. This full functionality IEC61131 PLC enables both control and wireless communications 
...
Read more...
---
Purely analog signal conditioning
June 2018, GHM Messtechnik SA , Data Acquisition & Telemetry
IMTRON, part of the GHM Group, has launched the Purely Analogue Signal Conditioning TSA modules that offer well-established methods for processing, filtering, amplifying and galvanically isolating sensor 
...
Read more...
---
KPMs rotary consistency transmitter boosts pulp mill performance
May 2018, UIC Instrumentation , Data Acquisition & Telemetry
In today's pulp and paper-making market place, consistency measurement is one of the most important ways to keep costs as low as possible without sacrificing quality or production throughput. KPM's KC/5 
...
Read more...
---
Cost-effective process monitoring and recording
January 2018 , Data Acquisition & Telemetry
KRN1000 series paperless process recorders.
Read more...
---
RS Pro range of USB keys delivers secure data storage
January 2018, RS Components SA , Data Acquisition & Telemetry
RS Components has introduced a new addition to its high-quality RS Pro range with the launch of the Evikey One NFC cybersecure contactless USB key. The innovative range of USB flash-drives delivers a 
...
Read more...
---
Low power, battery operated RTU/logger
Africa Automation Fair 2017 Preview , Data Acquisition & Telemetry
The new SSE ultra low power, battery operated RTU/logger is a reliable, high performance data logger. It is easy to deploy across a wide range of water and wastewater applications. Visit Stands F13-F15 
...
Read more...
---
Data acquisition and control system
Africa Automation Fair 2017 Preview, Elexsys , Data Acquisition & Telemetry
The Dataforth MAQ20 industrial data acquisition and control system from Elexsys consists of DIN rail-mounted, programmable, multichannel, industrially rugged signal conditioning input and output modules. 
...
Read more...
---
New mini scada RTU for data acquisition
April 2017 , Data Acquisition & Telemetry
Define Instruments has released the Zen RTU Mini, a data acquisition unit for industrial analog signals. A breakthrough for DAQ applications requiring the collation of multiple signals and signal types 
...
Read more...
---