printer friendly version
Highly precise ultrasonic flowmeter for gases
April 2014
Flow Measurement & Control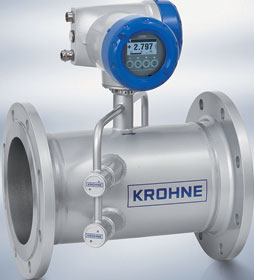 Krohne's Optisonic 7300 2-beam ultrasonic measuring device determines the flow of process gases with maximum precision and longevity. Thanks to the newly designed titanium sensors and innovative signal processing, process gases with different and changing compositions as well as noise no longer lead to measurement errors. Once the unit has been calibrated it measures for years, without maintenance or subsequent calibration, with an accuracy of 1% of the measured value. The robust design and the wide range of applications make using the device particularly cost-effective.
Precise even in difficult situations
The Optisonic 7300 makes the flow measurement of gas even more precise than before. The ultrasonic method of flow measurement has always been considered superior to traditional measuring techniques such as orifice measurement or measuring with turbine meters, because it does not cause pressure loss and is maintenance free. Only fluctuating process conditions and external sources of sound such as valve noises led to measurement errors, but those things are now a thing of the past. Thanks to the particular material properties and the special damping technology of the new titanium sensors, the noise waves are perfectly focused and innovative signal processing eliminates the errors. This means that the device can now be used where previously only traditional measuring techniques would work successfully.
Durable and reliable
Following the initial calibration, the device provides exact measuring results with an accuracy of 1% without maintenance or subsequent calibration. This holds true for gas temperatures up to 180°C and pressures up to 150 bar. It also contains a flow calculator for pressure and temperature compensation to calculate the standard volume.
The Optisonic 7300 offers cost-effective operation thanks to its large dynamic spectrum and operational readiness as regards gas composition, density, pressure, temperature and volume flow.
For more information contact John Alexander, Krohne SA, +27 (0)11 314 1391, j.alexander@krohne.com, www.krohne.com
Credit(s)
Further reading:
What is the next big thing in Coriolis mass flowmeters?
June 2019, KROHNE , Mass Measurement
With such fast moving technology it can be difficult to forecast the 'next big thing', but it is possible to focus on two recent developments that look set to influence the market in the near future: high capacity flowmeters; and the ability of Coriolis meters to measure liquids with entrained gas.
Read more...
---
Accurate bulk flow measurement in the cement industry
June 2019, SICK Automation Southern Africa , Flow Measurement & Control
The rapid development of sensor technology provides cement producers with a toolbox of solutions to optimise performance and strengthen market presence. Non-contact volume flow measurement of conveyed 
...
Read more...
---
Flow sensor for liquid media
June 2019, Festo , Flow Measurement & Control
The new flow sensor SFAW from Festo is ideal for monitoring cooling circuits, for example in welding guns in the automotive industry as well as in front-end applications in the semiconductor and electronics 
...
Read more...
---
Electromagnetic flowmeters
Africa Automation Fair 2019 Preview, Dupleix Liquid Meters (DLM) , Flow Measurement & Control
Badger Meter's electromagnetic flowmeters are ideally suited for flow measurement of all liquids with a minimum conductivity of 5 μS cm. The flow measurement is independent of density, temperature and 
...
Read more...
---
Flowmeters for clean liquids and gases
Africa Automation Fair 2019 Preview, WIKA Instruments , Flow Measurement & Control
Venturi tubes such as WIKA's model FLC-VT are reliable, easy to use and low maintenance.    They are particularly suitable for the measurement of clean liquids and gases. The main advantages of a Venturi 
...
Read more...
---
Industrial gas flowmeters
Africa Automation Fair 2019 Preview, Mecosa , Flow Measurement & Control
The IN-FLOW mass flowmeters and controllers by Bronkhorst High-Tech are of rugged design according to IP65. Showcased at Stand D08, the instruments are available for flow ranges from 0,05 to 1 mln/min 
...
Read more...
---
New flowmeter for biogas
May 2019, KROHNE , Flow Measurement & Control
The new Optisonic 7300 Biogas ultrasonic flowmeter from Krohne has been specially designed to measure dry and wet biogas with variable composition. The meter provides additional functions, like calculation 
...
Read more...
---
Revolutionary new flowmeter
Africa Automation Fair 2019 Preview, Bürkert South Africa , Flow Measurement & Control
Bürkert is known for producing high quality process control equipment for the hygienic processing sector. The company has developed FLOWave, an innovative solution for liquid flow measurement, which has 
...
Read more...
---
Plug-and-play solution for flow monitoring
April 2019, Countapulse Controls , Flow Measurement & Control
Ease of flow monitoring with low maintenance benefits is a given with the compact plug and play EGE SNS 450 thermodynamic flow sensor from Countapulse Controls – the sole southern African agent for EGE's 
...
Read more...
---
Low volume rotating vane flowmeter
April 2019, Instrotech , Flow Measurement & Control
Instrotech is offering Kobold's DTK rotating vane flowmeter for small quantities, a versatile, efficient and very economic piece of equipment. This flowmeter was specially developed for use in low viscosity 
...
Read more...
---