printer friendly version
Vega's world of plics and self-learning instruments
April 2014
Level Measurement & Control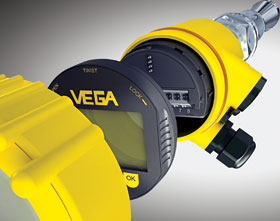 Ten years ago Vega introduced the plics concept, a platform strategy that makes measurement easy and cost effective and allows for automatic adjustment for any generation of field instruments.
The plics technology has eliminated the need for different housings, electronics and software for almost every measuring principle. It has also done away with the need for a diversity of instrument types, which was leading to increased manufacturing costs. Vega Germany's managing director explains, "We wanted to make planning, commissioning and operating of the instruments as simple as possible for the user, throughout the entire instrument lifecycle."
The birth of this development took place in the early 2000s in the form of the vibrating fork level switch, VegaSwing. With its small, round housing in the characteristic yellow of the company, the level switch still enjoys popularity today. "At that time, our development manager came to me and said, 'If you want, we can also accommodate a radar instrument in this housing,'" recounts the MD. "One housing platform for all instruments with a unified electronics and operating concept – that seemed like a very demanding goal."
But the advantages of a compact design speak for themselves: operators and planners benefit from the small installation space required and from its robustness against moisture problems. This is because the air volume in the device is small, and the smaller, round housings are more easily sealed than large, square ones. The compact design saves casting resin and other materials used in PCBs while reducing mechanical stresses such as plant vibration that occur during manufacture and subsequent operation. A smaller size also means better quality.
The company also places great importance on backward compatibility. To keep the operation as simple as possible, the latest version of adjustment software must be able to serve all generations of instruments. When an instrument is connected, the software has to recognise this and automatically provide the interface required for configuring the instrument. Vega's designers know that when they develop new instruments or features, they always have to support the legacy devices. This means users, who implement several generations of instruments during the life cycle of their plant, avoid having to work with a variety of different software versions.
For the manufacturer, the plics platform is also important to achieve short delivery times. The goal is to deliver 80% of instruments within a week of order placement. This requires the instruments to be modular in design. Then, to complete the customisation of an order, the electronics only have to be parameterised and the fittings welded.
Looking ahead, the company sees further potential for making measurement simpler. Radar instruments will become easier to install as they adapt themselves through self-learning to the conditions at the measuring site. This will include, for example, auto-mapping echoes from built-in fixtures in a silo. "You will always need the know-how to select the right measuring system and the correct location for the instrument. However, this is the expertise and knowledge that users are increasingly expecting from us manufacturers," concludes Vega's MD. "Plant engineers really appreciate that these instruments for pressure and level measurement all look the same, have common connection routines and behave similarly during set-up and operation."
The vision for the future is a world of self-learning instruments that adapt themselves automatically to application conditions.
For more information contact Chantal Groom, Vega Instruments SA, +27 (0)11 795 3249, chantal.groom@vega.com, www.vega.com
Credit(s)
Further reading:
Continuous level measurement
Africa Automation Fair 2019 Preview, Morton Controls , Level Measurement & Control
The Nivobob series from Morton Controls is used for continuous level measurement within bulk storage silos and for interface measurement of sludge beds. The system is immune to dust, dielectricity, conductivity, 
...
Read more...
---
A range of level sensors
Africa Automation Fair 2019 Preview, GHM Messtechnik SA , Level Measurement & Control
GHM Messtechnik has available the Val.co range of affordable and effective level sensors that have application across all sectors of industry, especially tank building. The range includes small float 
...
Read more...
---
Get your sensor data faster
Africa Automation Fair 2019 Preview, VEGA Controls SA , Sensors & Transducers
VEGA's Tools App enables sensor parameters and configuration settings to be read and adjusted via Bluetooth on any smartphone or tablet. They are easy to operate and all data is permanently available 
...
Read more...
---
Keller's water level monitoring systems
April 2019, Instrotech , Level Measurement & Control
The Grib Mine, located in Russia's Mezensky District in the Arkhangelsk Oblast, is one of the largest diamond deposits in the world. During winter, temperatures can drop to -25° and sometimes -37°. The 
...
Read more...
---
80 GHz for liquids
April 2019, VEGA Controls SA , Level Measurement & Control
Vegapuls 64 radar level measurement improves efficiency for bitumen supplier.
Read more...
---
Level monitoring and visualisation
March 2019, Morton Controls , Level Measurement & Control
UWT's Nivotec series is designed to make data movement and communication between monitoring and control systems easy and flexible. The Nivotec 2000 and 3500 series are specifically adaptable to customer 
...
Read more...
---
Monitoring the level of molten polyethylene
March 2019, VEGA Controls SA , Level Measurement & Control
More than ever before, the number of car parts made from plastics and plastic composites is on the increase. According to the American Chemistry Council, plastics account for approximately 50% of the 
...
Read more...
---
VEGA Controls SA appoints new managing director
February 2019, VEGA Controls SA , News
VEGA Controls SA has announced the appointment of Fredrick Streicher as the company's new managing director, effective from 1 January.    He has been with the company for the last 13 years where he was 
...
Read more...
---
The next level in dairy applications
February 2019, Endress+Hauser , Level Measurement & Control
Reliable and repeatable tank level measurement proven with 80 GHz technology.
Read more...
---
Digital float switch
February 2019, WIKA Instruments , Level Measurement & Control
As its first instrument of this kind, WIKA has launched a float switch with a PNP/NPN output signal. The model GLS-1000 detects the level of liquids with an accuracy of 1 mm or less. The digitised float 
...
Read more...
---