printer friendly version
Limit controller with DIN rail mounting
November 2013
PLCs, DCSs & Controllers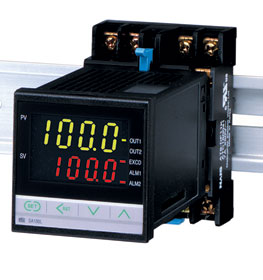 RKC Instruments has introduced its new SA100L limit controller with an optional DIN rail mounting socket. The SA100L provides circuit protection in those processes with safety concerns or where product may be affected at over or under temperature condition.
The controller is available with an IP66 rated front panel and has a selectable high or low limit, peak ambient reading and an over-temperature hour meter. The unit will monitor the peak value and the amount of time the control remains over temperature and can easily be viewed by the operator from the front panel or via digital communication from a PLC or computer system. This information can be used to save product that might have been subjected to overheat conditions.
The optional 11 pin octal socket allows for quick installation and easy mounting on a DIN rail or on to a pre-wired mating connector. The SA100Lcan also be panel mounted for viewing at the control panel. Maintenance is simple as the unit can be separated from the socket. Optional features include two independent alarms, analog transmission output and digital RS-485 communications.
The versatility of the SA100L makes it suitable to both the end-user and OEM markets in applications that include plastic extrusions, blow moulding, ovens, furnaces, kilns, food baking, petrochemical, test stands and heater processes.
Credit(s)
Further reading:
Fishery relies on Siemens process management
December 2019 , PLCs, DCSs & Controllers
The fishery in Steinach, Switzerland, breeds fish species which are under threat so that they can be released into domestic waterways in the canton of St. Gallen. The quality and temperature of the water, 
...
Read more...
---
Meet the Future: Edge Programmable Industrial Controllers
November 2019, Opto Africa Holdings , PLCs, DCSs & Controllers
All controls engineers are familiar with PLCs and PACs (programmable automation controllers). Both have been used and improved over many years, incorporating capabilities that used to be found only in 
...
Read more...
---
Precise control in joining applications
October 2019, ASSTech Process Electronics + Instrumentation , PLCs, DCSs & Controllers
Digiforce is the trusted name when comprehensive monitoring of press-fit, joining, riveting and caulking processes is needed. The models 9306 and 9310 are being successfully used in innumerable applications 
...
Read more...
---
The powerful Festo modular control system CPX-E
Technews Industry Guide: Industrial Internet of Things & Industry 4.0, Festo , PLCs, DCSs & Controllers
Designed as an EtherCAT master and motion controller with protection to IP20, the powerful automation system CPX-E for factory and process automation with NE21-specific certifications is becoming the 
...
Read more...
---
Speeding up the inkjet drying process
July 2019, Temperature Controls , Temperature Measurement
For high speed printing processes, the limiting factor for the productivity of the equipment is usually ink drying time. To maximise printing speed without quality loss, it is important to be able to 
...
Read more...
---
Rockwell strengthens industrial control system security
July 2019, Rockwell Automation , PLCs, DCSs & Controllers
Communications between industrial control devices have minimal protection today. This leaves them vulnerable to threats like malicious tampering and incidental system changes that can stop production 
...
Read more...
---
Siemens extends the Simine ­portfolio
June 2019, Siemens Digital Industries , PLCs, DCSs & Controllers
Siemens has extended the Simine portfolio for high-pressure grinding mills (HPGR) to include a new controller. Plug-and-play functionality makes the load share controller available for immediate use. 
...
Read more...
---
Schneider Electric announces a new era of control
June 2019, Schneider Electric South Africa , PLCs, DCSs & Controllers
Schneider Electric's new high-end Modicon M580 Ethernet programmable automation controller (ePAC) features redundant processors, native Ethernet, and cybersecurity embedded into its core. It combines 
...
Read more...
---
Selecting the right PLC
June 2019, AC/DC Dynamics , PLCs, DCSs & Controllers
Automation projects, big or small, start with a specification. Here are five factors to consider when choosing a PLC vendor.      
Broad range of devices
The selected brand must have a complete product 
...
Read more...
---
Industrial automation equipment
Africa Automation Fair 2019 Preview, Anytech , PLCs, DCSs & Controllers
Anytech is an industrial automation equipment supplier that has been providing high tech solutions to a wide variety of customers in various industries throughout southern Africa since 1999. High tech 
...
Read more...
---