printer friendly version
Differential pressure flowmeter
October 2012
Flow Measurement & Control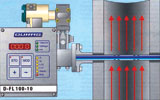 The Durag D-FL 100 flow monitor continuously determines flow velocity and flow rate in exhaust gas. The flow is calculated from the differential pressure in a flow probe with two measuring chambers. The flow in the duct builds up a pressure difference between the two separate chambers of the probe and this pressure differential is proportional to the square of the gas speed. To calculate a normalised flow, input for differential pressure, absolute pressure and temperature is used. The flow monitor measures across the cross-section of the duct.
Alarm levels are pre-selectable and any alarms are indicated inertia free, permitting the necessary interventions on the plant control system so as to comply with prescribed emission limit values. The D-FL-100 units are available in two types: the D-FL-100-I is designed for measuring flow without temperature and pressure compensation while the D-FL-100-II measures flow with temperature and pressure compensation.
The flow volume can be converted from operational to standard conditions by the D-FL-100-10 microprocessor evaluation unit, which has been provided with two additional 0–20 mA current inputs for a temperature probe and a pressure probe. If an emission evaluation computer is available, the evaluation unit is not required. Special designs are available for use in aggressive exhaust gases. A hastelloy flow probe is recommended for power, chemical and paper plants. For operating temperatures over 600°C, an inconel flow probe is available.
The measuring ranges offered are 400–2000 mm, 2000–4000 mm and >4000 mm. Exhaust gas temperature can be up to 320°C above the exhaust gas dew point. An automatic backflow purging feature is available as an option.
For more information contact Mike Andrews, OEN Enterprises, 27 (0)11 675 4447, mike@oenenterprises.co.za, www.oenenterprises.co.za
Credit(s)
Further reading:
Thermodynamic flow sensor
January 2020, Countapulse Controls , Flow Measurement & Control
Ease of flow monitoring with low maintenance benefits is a given with the compact plug and play EGE SNS 450 thermodynamic flow sensor from Countapulse Controls – the sole southern African agent for EGE's 
...
Read more...
---
Magnetic inductive flowmeter in stainless steel
January 2020, Instrotech , Flow Measurement & Control
Instrotech has announced the introduction of Kobold's MIM magnetic inductive flowmeter. MIM features IO-Link, a short distance, bi-directional, digital, point-to-point, wired, industrial communications 
...
Read more...
---
Compact design electromagnetic flow measurement
December 2019, Endress+Hauser , Flow Measurement & Control
Whether in the life sciences or in biotechnology, whether in the food or chemical industries – global competition is steadily increasing. Ever more companies are implementing their process facilities 
...
Read more...
---
Self-cleaning flow indicator for liquids
November 2019, Instrotech , Flow Measurement & Control
To check the flow processes in pipeline systems and for insight into the interior of process pipes, many flow indicators are used in which the flowing medium sets a rotor turning and thus to a large extent 
...
Read more...
---
Clamp-on ultrasonic flow measurement
October 2019, Instrotech , Flow Measurement & Control
Kobold's portable DUC-MP and the stationary DUC-MF are designed for continuous flow measurement. They are highly accurate and drift-free operating flowmeters for liquids in filled pipes. The devices are 
...
Read more...
---
Kobold's electromagnetic flowmeter
September 2019, Instrotech , Flow Measurement & Control
Instrotech now offers Kobold's new electromagnetic flowmeter model EPS with a standard accuracy of 0,3% of reading. The newly developed, microprocessor-controlled converter guarantees the high accuracy 
...
Read more...
---
Systematic flow metering
July 2019, Siemens Digital Industries , Flow Measurement & Control
Aguas de Saltillo, the water utility company which serves the Mexican city of Saltillo, is responsible for supplying drinking water to a population of around 850 000. To ensure a reliable supply to this 
...
Read more...
---
Water regulation made easy
July 2019, Instrotech , Flow Measurement & Control
Kobold's REG mechanical flow restrictors and rate regulators, with their simple yet effective functionality, are ideally suited to consumer applications and uniform supply to multiple consumers. Once 
...
Read more...
---
Accurate flow and mass measurement
July 2019 , Flow Measurement & Control
Measurement of flowing media containing solids and particles poses a great challenge in the mining industry, due to the damage caused to inline flowmeters. The installation of inline flowmeters can be 
...
Read more...
---
Accurate bulk flow measurement in the cement industry
June 2019, SICK Automation Southern Africa , Flow Measurement & Control
The rapid development of sensor technology provides cement producers with a toolbox of solutions to optimise performance and strengthen market presence. Non-contact volume flow measurement of conveyed 
...
Read more...
---