printer friendly version
Moxa's wireless solution for the water industry
October 2012
System Integration & Control Systems Design
As populations expand, water pumping stations are built to satisfy the demand for clean water by extracting and sterilising water from underground wells. A water pumping station is a complex interlocking system comprised of many different distributed devices, including sterilisation equipment, ground storage tanks, elevated storage tanks, well pumps and booster pumps. Data acquisition and control systems are used to manage this multi-step, multi-level water pumping and sterilisation process.
System requirements:
* Remote wireless data acquisition to scada.
* Real-time data acquisition.
* Local control logic that reads analog inputs and triggers digital outputs.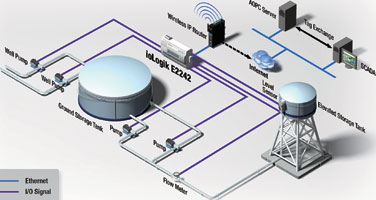 Moxa's solution
Two sets of ioLogik E2242 units are deployed in this application. The ioLogik E2242 is a 4 AI and 12 DI/O RTU that offers precisely the connectivity options needed for a water pumping station.
One set is used to control the well pumps that pump water out of underground wells to the ground storage tank. One analog channel is used to monitor the tank water level. Meanwhile, one of the digital ports is used for pump control. The E2242 can be configured using simple Click&Go technology to turn on the pumps when the analog channel reports low water levels in the ground storage tank, and to turn off the pumps when the tank is full to prevent an overflow. Additional digital inputs are used to monitor the pump status and power supply status.
The second set of E2242s is used on the other side of the system to control the booster pumps that pump water from the ground storage tank to the elevated storage tank. These units operate in a similar role, controlling booster pump operations based on the current water level of the elevated storage tank. Additionally, an extra analog channel is used to monitor the flow meter measuring the total flow in the pipes connecting the ground storage tank to the elevated storage tank.
Pumping stations are located where water wells can be found, not where it is convenient. Remote pumping stations often have no landline connections available onsite and must use GPRS communications for data transfer. However, the GPRS network has limited bandwidth, so polling data acquisition architectures with a constant query-and-response between host and client is not feasible. Using Moxa's Active OPC Server software and one of Moxa's wireless IP routers, the E2242 can intelligently and actively 'push' instantaneous pump and power status alarms to the central scada system without consuming expensive GPRS traffic.
ioLogik E2242
* Versatile 4 AI 12 DI/O design is optimal for small pumping stations.
* Active OPC Server provides seamless integration with scada.
* Push-based tag updates enables real-time monitoring and conserves network bandwidth.
Credit(s)
Further reading:
Tailor-made intralogistics solutions harness scalable control and drive technology
January 2020, Beckhoff Automation , System Integration & Control Systems Design
RO-BER Industrieroboter of Kamen, Germany, develops automation solutions based on area and linear gantry robots for intralogistics. These solutions, including the new Twin-Gantry robot system, are characterised 
...
Read more...
---
Festo's digitalised product world
January 2020, Festo , System Integration & Control Systems Design
HoloLens, mobile phones, 3D printing and smart glasses – the gadgets that captured the public imagination in the blockbuster movie 'Back to the Future' over 30 years ago have now become a reality, all thanks to digitalisation.
Read more...
---
Electromechanical motion products for the machines of today
January 2020, Parker Hannifin Sales Company South , System Integration & Control Systems Design
Engineers from the older generation will remember the days when machine design had to be based around catalogued electromechanical actuators.
Read more...
---
Adding mobile network visibility
January 2020, RJ Connect , Fieldbus & Industrial Networking
A high-speed railway operator built a fibre Ethernet backbone for data transmission between its operational management centre and railway stations to ensure high network availability. The customer used 
...
Read more...
---
Siemens contributes to Coca-Cola Beverages Africa's digitalisation vision
January 2020 , System Integration & Control Systems Design
The Nairobi Bottler's Embakasi Plant based in Nairobi, Kenya, a fully owned subsidiary of Coca-Cola Beverages Africa (CCBA), received a Totally Integrated Automation (TIA) training rig from Siemens Digital 
...
Read more...
---
Enabling IIoT connectivity for virtual power plants
December 2019, RJ Connect , Electrical Power & Protection
The power grid has seen many changes that have enabled the integration of power from distributed energy sources (DERs).
Read more...
---
PC-based control decorates plastic lids and containers
December 2019, Beckhoff Automation , System Integration & Control Systems Design
In-mold labelling (IML) is ideally suited to meet today's customer requirements in the plastics industry, especially in the packaging segment.
Read more...
---
Advanced controller for data acquisition
December 2019, RJ Connect , Data Acquisition & Telemetry
The ioThinx 4530 series is an advanced modular controller product with a unique hardware design, making it an ideal solution for a variety of industrial data acquisition applications. The controller has 
...
Read more...
---
Project-based learning challenges the modern engineering student
December 2019, Test Dynamics , System Integration & Control Systems Design
Projects that inherently challenge students to use innovative design thinking often involve interacting with an unknown process or device. Students are encouraged to understand the unknown through theory, 
...
Read more...
---
FieldEcho: the future of integrated IO-Link technology
December 2019, SICK Automation Southern Africa , System Integration & Control Systems Design
Integrated IO-Link technology that enables full data accessibility and transparency across all platforms is here with the FieldEcho from SICK Automation. IO-Link is an increasingly used manufacturer-independent 
...
Read more...
---