printer friendly version
Batch control the magnetic flowmeter way
October 2012
Flow Measurement & Control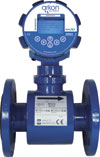 Many manufacturing processes require the addition of water in precise but differing amounts depending on the recipe under process. In these situations, batch control can be implemented with relatively little expense using an electromagnetic flowmeter. If a device with onboard intelligence is installed, the process manager is able to achieve recipe automation with very high accuracy.
This intelligence should include, at the very least, volumetric flow capability and programmable outputs. An economical and time saving option would be to install an electromagnetic flowmeter with on-board programmable relays. Such meters can be installed on most standard pipe sizes and pipe materials to measure not only water, but the multitude of conductive fluids often required in fluid recipe processes. The programmable relays on the Arkon MAGX2 magflows can be set to trigger (open/close) at predetermined volume measurements. So as the process starts, the flowmeter's counter will monitor the amount of liquid passing through the pipeline and once the programmed value is reached, the relays will change state. These relays can be used to control many different types of peripheral apparatus. In the most instances, they would be used to open and close a solenoid valve to start or stop a pump [Note: magflows are generally more suited to long cycle batching processes]. They could also be used to trigger audible or visual indicators for a local display viewed by machine operators. In larger plants, where more complex automation and PID control is available to plant man­agers, relays or analogue 4-20 mA outputs would be wired into the PLC for system for monitoring and control purposes.
By investing in a modular magflow solution, a smaller plant can purchase and install basic instruments capable of entry level process automation with the option to upgrade as the requirements evolve. Starting with a magflow complete with programmable relays only, will be more than adequate for localised/isolated automation such as valve and pump control. Later upgrade by adding a 4-20 mA output will then enable a magflow reading to be continuously monitored and its relays controlled by a PLC and scada system. Finally, replacing the 4-20 mA output with an EtherNet TCP/IP communication module will allow for the same monitoring and control functionality, with the added benefit of a universal communication protocol and less wiring overhead as TCP/IP can be transmitted within a plant using Wi-Fi.
The Arkon MagX2
The design of the Arkon MagX2 is based on simplicity. The basic functionality is driven by a motherboard and power supply with an integral programming keypad and a local backlit display. The options are then added to suit the particular process application requirements. A miniature 'plug-and-play' module is fitted to the motherboard for each additional function. For example, output options include 4-20 mA, dosing connection and frequency and pulse with four programmable relays. Communication modules include Bluetooth, RS-232, RS-485, USB, GPRS or Ethernet TCP/IP. The unit is supplied standard with a MicroSD card and real-time clock for data-logging and the meters are available with universal power supplies and choice of lining and electrode materials to suit most applications.
Credit(s)
Further reading:
Thermodynamic flow sensor
January 2020, Countapulse Controls , Flow Measurement & Control
Ease of flow monitoring with low maintenance benefits is a given with the compact plug and play EGE SNS 450 thermodynamic flow sensor from Countapulse Controls – the sole southern African agent for EGE's 
...
Read more...
---
Magnetic inductive flowmeter in stainless steel
January 2020, Instrotech , Flow Measurement & Control
Instrotech has announced the introduction of Kobold's MIM magnetic inductive flowmeter. MIM features IO-Link, a short distance, bi-directional, digital, point-to-point, wired, industrial communications 
...
Read more...
---
Compact design electromagnetic flow measurement
December 2019, Endress+Hauser , Flow Measurement & Control
Whether in the life sciences or in biotechnology, whether in the food or chemical industries – global competition is steadily increasing. Ever more companies are implementing their process facilities 
...
Read more...
---
Self-cleaning flow indicator for liquids
November 2019, Instrotech , Flow Measurement & Control
To check the flow processes in pipeline systems and for insight into the interior of process pipes, many flow indicators are used in which the flowing medium sets a rotor turning and thus to a large extent 
...
Read more...
---
Clamp-on ultrasonic flow measurement
October 2019, Instrotech , Flow Measurement & Control
Kobold's portable DUC-MP and the stationary DUC-MF are designed for continuous flow measurement. They are highly accurate and drift-free operating flowmeters for liquids in filled pipes. The devices are 
...
Read more...
---
Kobold's electromagnetic flowmeter
September 2019, Instrotech , Flow Measurement & Control
Instrotech now offers Kobold's new electromagnetic flowmeter model EPS with a standard accuracy of 0,3% of reading. The newly developed, microprocessor-controlled converter guarantees the high accuracy 
...
Read more...
---
Systematic flow metering
July 2019, Siemens Digital Industries , Flow Measurement & Control
Aguas de Saltillo, the water utility company which serves the Mexican city of Saltillo, is responsible for supplying drinking water to a population of around 850 000. To ensure a reliable supply to this 
...
Read more...
---
Water regulation made easy
July 2019, Instrotech , Flow Measurement & Control
Kobold's REG mechanical flow restrictors and rate regulators, with their simple yet effective functionality, are ideally suited to consumer applications and uniform supply to multiple consumers. Once 
...
Read more...
---
Accurate flow and mass measurement
July 2019 , Flow Measurement & Control
Measurement of flowing media containing solids and particles poses a great challenge in the mining industry, due to the damage caused to inline flowmeters. The installation of inline flowmeters can be 
...
Read more...
---
Accurate bulk flow measurement in the cement industry
June 2019, SICK Automation Southern Africa , Flow Measurement & Control
The rapid development of sensor technology provides cement producers with a toolbox of solutions to optimise performance and strengthen market presence. Non-contact volume flow measurement of conveyed 
...
Read more...
---