printer friendly version
Batch control the magnetic flowmeter way
October 2012
Flow Measurement & Control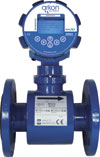 Many manufacturing processes require the addition of water in precise but differing amounts depending on the recipe under process. In these situations, batch control can be implemented with relatively little expense using an electromagnetic flowmeter. If a device with onboard intelligence is installed, the process manager is able to achieve recipe automation with very high accuracy.
This intelligence should include, at the very least, volumetric flow capability and programmable outputs. An economical and time saving option would be to install an electromagnetic flowmeter with on-board programmable relays. Such meters can be installed on most standard pipe sizes and pipe materials to measure not only water, but the multitude of conductive fluids often required in fluid recipe processes. The programmable relays on the Arkon MAGX2 magflows can be set to trigger (open/close) at predetermined volume measurements. So as the process starts, the flowmeter's counter will monitor the amount of liquid passing through the pipeline and once the programmed value is reached, the relays will change state. These relays can be used to control many different types of peripheral apparatus. In the most instances, they would be used to open and close a solenoid valve to start or stop a pump [Note: magflows are generally more suited to long cycle batching processes]. They could also be used to trigger audible or visual indicators for a local display viewed by machine operators. In larger plants, where more complex automation and PID control is available to plant man­agers, relays or analogue 4-20 mA outputs would be wired into the PLC for system for monitoring and control purposes.
By investing in a modular magflow solution, a smaller plant can purchase and install basic instruments capable of entry level process automation with the option to upgrade as the requirements evolve. Starting with a magflow complete with programmable relays only, will be more than adequate for localised/isolated automation such as valve and pump control. Later upgrade by adding a 4-20 mA output will then enable a magflow reading to be continuously monitored and its relays controlled by a PLC and scada system. Finally, replacing the 4-20 mA output with an EtherNet TCP/IP communication module will allow for the same monitoring and control functionality, with the added benefit of a universal communication protocol and less wiring overhead as TCP/IP can be transmitted within a plant using Wi-Fi.
The Arkon MagX2
The design of the Arkon MagX2 is based on simplicity. The basic functionality is driven by a motherboard and power supply with an integral programming keypad and a local backlit display. The options are then added to suit the particular process application requirements. A miniature 'plug-and-play' module is fitted to the motherboard for each additional function. For example, output options include 4-20 mA, dosing connection and frequency and pulse with four programmable relays. Communication modules include Bluetooth, RS-232, RS-485, USB, GPRS or Ethernet TCP/IP. The unit is supplied standard with a MicroSD card and real-time clock for data-logging and the meters are available with universal power supplies and choice of lining and electrode materials to suit most applications.
Further reading:
Safe operation of CNG stations
October 2020, SICK Automation Southern Africa , Flow Measurement & Control
The Flowsic500 compact ultrasonic gas meter enables extremely accurate natural gas distribution measurement.
Read more...
---
Ultrasonic flowmeter for wide ranges
September 2020, Instrotech , Flow Measurement & Control
Bi-directionally transmitted ultrasonic waves provide precise results of volume flow as the result of their transit time difference. Installed in any position, the units can measure ranges of 1:250.
Read more...
---
Turck standardises its fluid portfolio
September 2020, Turck Banner , Flow Measurement & Control
Turck's new portfolio of fluid sensors offers a wide range of variants and combinations, while having common key features at the same time. The compact FS+ flow sensor with IO-Link now follows the launch of the PS+ pressure sensor.
Read more...
---
Safe operation of CNG stations
August 2020, SICK Automation Southern Africa , Flow Measurement & Control
SICK's Flowsic500 gas meter, used in State Oil Company of Azerbaijan Republic's (SOCAR) transfer and measurement stations, has shown to meet stringent compressed natural gas (CNG) production protocols. 
...
Read more...
---
Flexim perfects the steam flowmeter
June 2020, Actum Group , Flow Measurement & Control
Flexim is proud to announce the manufacture of a robust, user-friendly and industry-certified ultrasonic steam flowmeter solution. For this accomplishment, the company has been nominated for the 2020 
...
Read more...
---
Emerson introduces software for flow measurement
July 2020, Emerson Automation Solutions , Flow Measurement & Control
Emerson has released Micro Motion ProcessViz, a standalone, cost-effective software solution for flowmeter process data visualisation. Having an instant visualisation of raw process data translates into 
...
Read more...
---
Exceeding the limits
June 2020, ifm - South Africa , Flow Measurement & Control
The new SM flow from ifm electronic.
Read more...
---
The complexity of water management in mines
June 2020, Endress+Hauser South Africa , Flow Measurement & Control
Water is a critical resource for the mining industry, either in the mining processes, as a feed to the beneficiation of minerals process, or for potable use. With the growing demand and increased scarcity 
...
Read more...
---
Electromagnetic flowmeter upgrade
May 2020, Instrotech , Flow Measurement & Control
Instrotech has announced that the Kobold magnetic inductive flowmeters MIM and MIS have been upgraded and further developed as follows: Kobold MIM, for measuring and monitoring of conductive liquids, 
...
Read more...
---
Ultrasonic transducer with mini horn array
May 2020, Emerson Automation Solutions , Flow Measurement & Control
Emerson has released the Daniel T-200, a titanium-housed transducer, for its gas ultrasonic flowmeter product line, marking the first use of metal 3D printing to enhance the acoustic performance of ultrasonic 
...
Read more...
---