printer friendly version
Dekra bags 8th award on the trot
November 2022
News
Showcasing its ongoing commitment to safety, which runs like a 'golden thread' throughout the company, Dekra Industrial SA announced the achievement of its 8th annual NOSCAR safety award – the highest safety honour which can be bestowed on a business by the National Occupational Safety Association (NOSA).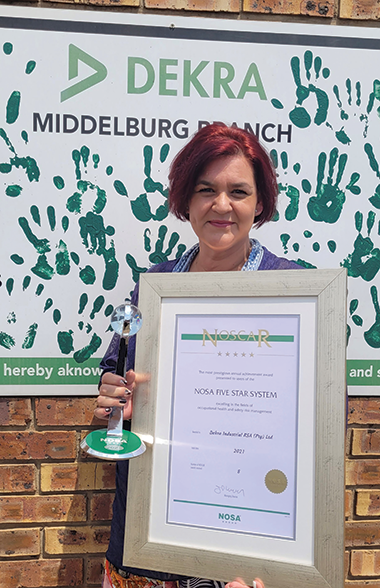 Carina Kleinhans.
Ingrained safety culture
As part of its global parent company, Dekra Industrial in South Africa has played a major role in the fields of NDT (non-destructive testing) and inspection locally – across a wide range of industry sectors – for many years. The company's Health, Safety and Environment (HSE) manager, Carina Kleinhans, explains: "This award highlights our ingrained ethos of 'living the safety culture' across our company and country, and around the clock. The recent NOSA ranking furthermore reflects our highest ever score of 97,48% – compared to our original 2013 score of 92,28%."
Kleinhans adds that Dekra Industrial is a company that is committed to safety from the management level through to each team member, throughout its nationwide branches. "Every Dekra Industrial employee and contractor is encouraged to keep identifying areas for improvement, and risk mitigation and management, within the workplace. You could say that every branch and department is interlinked by our safety mindset, while our management team members operate a true open-door policy to hear and attend to any areas of concern."
On top of safety requirements
Categories that are audited annually by NOSA include: leadership and worker participation; planning, support and operational; performance evaluation; improvement; safety; health; environmental; risk management; systems; compliance, and effectiveness.
"In addition," clarifies Kleinhans, "legislative requirements can change from time to time, and we are also required to remain abreast of this. A good example is how 2020 brought in new additional reporting factors relating to Covid-19. Dekra Industrial complied with all new requirements, while not only maintaining but in fact improving, our NOSA ranking with an even higher score."
Dekra Industrial managing director, Johan Gerber, adds: "These audited NOSA results are very pleasing, and we are extremely proud to have improved upon our results – from an already high benchmark – in line with our desire to be true 'heroes of safety'. I congratulate Carina and the entire HSE team, as well as each and every individual employee throughout the company."
"In addition to improving our NOSA score on an annual basis, it is also extremely heartwarming to note that, whenever we leave a site, we are always able to say with pride that we worked there safely. In doing so, we are really living our culture of being 'on the safe side' and going the extra safety mile," concludes Kleinhans.
Further reading:
merSETA and Festo to establish 4IR centre
Festo South Africa News
merSETA partnered with Festo, a leading supplier of industrial automation solutions and a global leader in technical education, to establish a 4IR skills centre at Maluti TVET College.
Read more...
---
Young KwaZulu-Natal innovator shines at Eskom Expo
News
A young innovator from KwaZulu-Natal has won awards at the 43rd Eskom Expo International Science Fair for his research project, which uses renewable energy resources like solar and wind power as a backup power source for cell phone towers during loadshedding.
Read more...
---
Electricity wheeled via Cape Town's grid
News
The first clean, green energy has officially been wheeled via the City of Cape Town's energy grid. Growthpoint Properties became the first party to wheel renewable electricity in the City in collaboration with licensed electricity trader Etana Energy.
Read more...
---
Innovate announces Space Challenge for SA innovators
News
Innovate UK invites South African youth interested in space technology to participate in the NextGen Space Challenge – an international knowledge exchange and mentorship opportunity for youth-led and space-related solutions, using Earth observation data to help tackle climate change and disaster management in South Africa.
Read more...
---
Iritron achieves impressive safety record
Iritron News
Iritron is an engineering, integration and manufacturing company, and also a provider of engineered solutions in the fields of electrical, instrumentation, control systems, decision support, and solar 
...
Read more...
---
EtherCAT Technology Group celebrates 20 years
News
The 20-year milestones of EtherCAT and EtherCAT Technology Group are a reason to celebrate. To mark the occasion, Beckhoff invited guests to a gala dinner.
Read more...
---
Trends in the test and measurement industry
News
The third annual TANDM Community Connect (TCC) event, TCC23, will take place on 16 November 2023 in Pretoria, and 23 November 2023 in Stellenbosch. First launched in 2019, TCC has become a cornerstone of the local test and measurement industry's calendar.
Read more...
---
Marathon Gold selects ABB for vital gold project
ABB South Africa News
Marathon Gold has agreed to a contract with ABB to design and commission the process and power control system for its Valentine Gold Project in Canada.
Read more...
---
Emerson accelerates factory automation capabilities
Emerson Automation Solutions News
Emerson has announced a definitive agreement to acquire Afag, an innovative leader in electric linear motion.
Read more...
---
New engineering software accelerates plant modernisation
Emerson Automation Solutions News
Emerson is helping customers to transition legacy technology to modern DeltaV automation architecture, that modernises and digitises operations.
Read more...
---