printer friendly version
New technology caps pharma bottling process
February 2022
Sensors & Transducers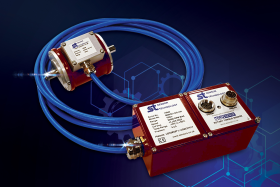 The new TorqSense SGR530/540, from Sensor Technology, measures torque using a full four-element strain gauge bridge. With this, four separate strain gauges are fixed to the drive shaft of the plant or machinery being monitored. The gauges are aligned so that each measures shaft deflection in a different direction as it rotates under load. Electronics within the sensor collect readings from all four gauges and use them to calculate the torque value in real time. 
Strict international rules apply to the manufacture and packaging of pharmaceutical products and require that the correct environment is maintained within the bottle or other packaging, following capping. To this end, Regulation USP 671 provides a guide to the torque range to be used for screw-type containers with varying closure diameters. By ensuring that bottle caps are successfully applied to the bottles within the required torque tolerances, the integrity of the product can be maintained. 
Bottle capping is nearly always performed at very high speed, so that production targets are met. A major advantage of TorqSense is that it does not need to physically contact either the bottle caps or shaft of the torque head it is monitoring, instead using a radio frequency link. This means initial setup and changeover to new product runs is fast and efficient, while operational reliability is not dependent on delicate slip rings.   
"All one has to do is set up a TorqSense transducer in the capping machine and turn it on," explains Mark Ingham of Sensor Technology. Significantly, the new SGR530/540 sensors are designed to be drop-in replacements for the older RWT430/440 units they are replacing. They are the same size and shape as their corresponding older model, with the same mounting holes, cables in the same position, etc. 
"All we have had to do to the capping machines was a straightforward swap-out of new for old. It only takes a few minutes," elaborates Ingham. "Our new SGR TorqSense units are getting a realistic long-term workout on the capping machines, working for long hours at high speed, where they are required to be 100% reliable and consistently accurate. Sensor Technology is working with user-partners in many sectors to assess the new SGR units in a range of working environments." 
For more information contact Sensor Technology, +44 1869 238400, www.sensors.co.uk 
Further reading:
Long-range laser distance sensors
ASSTech Process Electronics + Instrumentation Sensors & Transducers
As a result of intensive R&D, these transit time sensors emit very short light pulses in the nanosecond range, with signals that are statistically evaluated to determine the distance to the object.
Read more...
---
Sensors train many eyes on FMCGs
VEGA Controls SA Editor's Choice Sensors & Transducers
Profit margins on consumer goods are small, which makes it all the more important for producers to have smooth, efficient operating processes.
Read more...
---
Ultrasonic sensors enable automatic stacking turf harvester
Instrotech Sensors & Transducers
The AutoStack, and now the AutoStack II, use an automated Ultra Steer system to guide the harvester with precision while the operator watches over all aspects of the harvesting process.
Read more...
---
Condition monitoring sensor with IO-Link
Turck Banner Sensors & Transducers
Continuously records humidity and temperature in production and storage areas, and outputs the values via IO-Link or as a switching signal.
Read more...
---
Concentration and viscosity measurements from raw materials to finished products
Sensors & Transducers
Learn more about Anton Paar's various solutions through these seven application reports, which cover just a fraction of the company's portfolio.
Read more...
---
2D/3D profile sensor for weld seam tracking
ASSTech Process Electronics + Instrumentation Sensors & Transducers
Supporting software can evaluate two- and three-dimensional data from smart cameras, vision systems, profile sensors and IPCs with profile sensors.
Read more...
---
Fibre-optic position sensor
ifm - South Africa Sensors & Transducers
With ifm's new OCF sensor, fingernails and DIN-rails will remain intact during assembly and disassembly, and screwdrivers can stay in the toolbox.
Read more...
---
Standard-compliant differential current transformer
Beckhoff Automation Sensors & Transducers
The SCT5564 can be used as a residual current monitor and can measure DC and AC residual currents with up to 100 kHz frequency in the 0 to 2 A range.
Read more...
---
Wire-actuated encoder for crane arms and lifting platforms
Instrotech Sensors & Transducers
Siko has solved the challenges presented by such applications with the SG 30 and its very compact, yet robust, design.
Read more...
---
Ultrasonic distance sensor
ASSTech Process Electronics + Instrumentation Sensors & Transducers
Wenglor's new ultrasonic distance sensors combine low installation depth and easy integration of the sensor with tried and tested ultrasonic technology, setting new standards in terms of range and integration options.
Read more...
---