printer friendly version
SAIMC: Vaal branch
November 2021
SAIMC
The branch hosted Kenneth McPherson from Turck Banner during the month of September, when he presented on the role that IO-Link can and probably will, play in the Industry 4.0 workplace.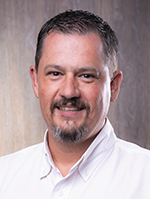 Kenneth McPherson
Most are familiar with traditional analog (0/4-20 mA and 0-10 V) and digital (on/off) signals. IO-Link is a point-to-point serial communication between a master and a sensor or actuator. With modern sensors and actuators being 'minicomputers', they have a lot more process information than just the on/off of analog signal. IO-Link can be used to gather all this other information.
One of the best features of IO-Link is that it is a manufacturer independent communication standard (IEC 61131-9). It is not a fieldbus but can easily be integrated into fieldbus systems. This importance of using an independent communication standard should not be taken lightly because it means that products from different manufacturers can be mixed in an IO-Link installation. This greatly benefits spares keeping.
IO-Link can relay four data types: the latest process data; the quality of that process data; the device parameters and diagnostics; and errors and warnings. Devices are identified by an IO-Link Device Descriptor (IODD) file that is unique to each device. This file contains all the communication settings and available parameters of the device. It can even contain the manufacturer logo and illustration of the device. The IO-Link master uses this IODD file to identify and communicate with all the connected devices. This brings another benefit of IO-Link: devices will only function if they are installed in the correct locations; you can be sure that the correct device with the correct settings giving the correct values is installed in the plant.
IO-Link enabled laser distance sensors, inductive and capacitive sensors, pressure and temperature sensors and many others, are available from multiple manufacturers. The branch thanks Kenneth and Turck Banner for a very informative evening.
Credit(s)
Further reading:
Obituary: Steven James Meyer
January 1957 - January 2022
Technews Publishing (SA Instrumentation & Control) News SAIMC
It is with deep sadness and shock that we announce the sudden death of SA Instrumentation & Control Editor, Steven Meyer. Steven joined Technews in October 2007 in the position of Deputy Editor. His 
...
Read more...
---
SAIMC: From the office of the CEO
SAIMC SAIMC
I trust that you all had a wonderful holiday season and are rested and ready to start another year of hectic activity. For some people, the holidays are the highlight of their year, while for others, 
...
Read more...
---
SAIMC: Johannesburg branch
SAIMC SAIMC
During another full month, the Johannesburg team had the pleasure of hosting the branch year-end function, as well as a technology evening presented by turboTRAIN. The year-end function was a spectacular 
...
Read more...
---
SAIMC: Cape Town branch
SAIMC SAIMC
The Cape Town branch management team would like to thank all members for their support in 2021 and wish everyone all the best for 2022. Presented by by Dhiren Naidoo, the last technical evening 
...
Read more...
---
SAIMC: Durban branch
SAIMC SAIMC
On 3 November the branch was treated to an informative presentation, given by Dewald Smit of Festo, using Zoom as the virtual medium. He provided a well-balanced comparison of the relative advantages 
...
Read more...
---
SAIMC: From the office of the CEO
SAIMC SAIMC
Covid-19, vaccination and 5G are both culprits when it comes to the subject of rumours, false information and scare-mongering. I will not be talking about Covid as this is a highly controversial subject. 
...
Read more...
---
SAIMC: Durban branch
SAIMC SAIMC
The branch held its virtual technology meeting, as always, on the first Wednesday of October. Diogo Fidalgo from R. STAHL South Africa presented on the very interesting topic: HMI and camera solutions 
...
Read more...
---
SAIMC: Johannesburg branch
SAIMC SAIMC
The branch had the good fortune of hosting two technology events this month, but due to the Covid-19 virus threat and the current lockdown situation, the management team has decided to do virtual training 
...
Read more...
---
SAIMC: From the office of the CEO
SAIMC News
Last month I elaborated on the big question: What are assessors looking for? Today I would like to talk to you about the new CPD requirements. This is especially important to companies who will apply 
...
Read more...
---
SAIMC: Durban branch
SAIMC SAIMC
The September virtual technology evening was presented by Eric Carter of turboTRAIN, entitled 'Instrumentation fault finding'. He addressed the questions: Why is it problematic? and: What can be done 
...
Read more...
---