printer friendly version
SAIMC: Cape Town branch
October 2021
SAIMC
Last month's technology evening was hosted online and presented by Jaco Markwat and Leonard Smit of Element 8. The theme 'Where's my data?' related to improving communication between different organisational components and departments.
Jaco Markwat, the founder and managing director, spent 15 years at an industrial software distributor leading the sales and marketing team. He is passionate about building communities and strives to deliver intuitive technologies to the industry.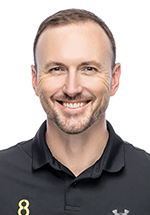 Jaco Markwat.
Leonard Smit is currently the customer success and support manager at Element 8. He boasts experience in MIS/MES solutions and guiding client's data requirements to actionable KPI information. He is responsible for delivering excellent customer experiences and tries to implement technology to its full potential.
Jaco and Lenard started the presentation by providing a brief overview of what technologies are relevant today. They stressed that most operational data is not in a form that can easily be accessed by IT systems or used in the enterprises' reporting software. This is complicated by proprietary protocols, different data formats and the fact that most of the information is useless and out of context. They explained how many of these problems can be resolved by implementing a Unified Name Space and by using open modular systems to improve communication. These concepts improve the quality of data and transform it into information before conveying it to other systems.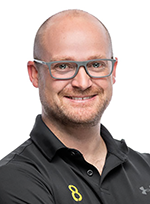 Leonard Smit.
The presentation included a live demonstration showing how a Unified Name Space can be implemented. The demonstration used a combination of MQQT, with the Ignition software. They demonstrated how they changed 'dumb' data into 'intelligent' information by including meta data with the signals. This allows other users easy access to the information and existing values do not have to be re-entered. The demonstration showcased the advantages described in the presentation by putting them into a real-world example. It showed that with little planning, information can easily be captured into a reporting tool.
This presentation was highly relevant and a pleasure to watch. The branch thanks Jaco, Leonard and Element 8 for making the event possible.
Credit(s)
Further reading:
SAIMC: From the office of the CEO
SAIMC SAIMC
Covid-19, vaccination and 5G are both culprits when it comes to the subject of rumours, false information and scare-mongering. I will not be talking about Covid as this is a highly controversial subject. 
...
Read more...
---
SAIMC: Durban branch
SAIMC SAIMC
The branch held its virtual technology meeting, as always, on the first Wednesday of October. Diogo Fidalgo from R. STAHL South Africa presented on the very interesting topic: HMI and camera solutions 
...
Read more...
---
SAIMC: Johannesburg branch
SAIMC SAIMC
The branch had the good fortune of hosting two technology events this month, but due to the Covid-19 virus threat and the current lockdown situation, the management team has decided to do virtual training 
...
Read more...
---
SAIMC: Vaal branch
SAIMC SAIMC
The branch hosted Kenneth M
c
Pherson from Turck Banner during the month of September, when he presented on the role that IO-Link can and probably will, play in the Industry 4.0 workplace.       Most 
...
Read more...
---
SAIMC: From the office of the CEO
SAIMC News
Last month I elaborated on the big question: What are assessors looking for? Today I would like to talk to you about the new CPD requirements. This is especially important to companies who will apply 
...
Read more...
---
SAIMC: Durban branch
SAIMC SAIMC
The September virtual technology evening was presented by Eric Carter of turboTRAIN, entitled 'Instrumentation fault finding'. He addressed the questions: Why is it problematic? and: What can be done 
...
Read more...
---
SAIMC: Vaal branch
SAIMC SAIMC
After some scheduling problems resulting in missing a monthly technical evening, the Vaal branch hosted SICK Automation to discuss 'Dust and gas measurement principles'. Our presenter for the evening 
...
Read more...
---
SAIMC: Johannesburg branch
SAIMC SAIMC
The virtual branch event held in August was all about switching technology. Today, so much is being done and discussed around how to bring objects, things and yesterday's technology into a digital 
...
Read more...
---
SAIMC: From the office of the CEO
SAIMC News
The registration process for people doing engineering work according to the Identification of Engineering Work, (IoEW) document gazetted in March, will start in earnest next year.       Surnames A through 
...
Read more...
---
SAIMC: Durban branch
SAIMC News
Kevin Preston of Phoenix Contact kindly presented at the virtual Durban branch technology meeting in August. Kevin is group manager IMA & IE at Phoenix Contact and is responsible for the interface, 
...
Read more...
---