printer friendly version
Benefits of PowerView CP for pipelines
October 2021
Maintenance, Test & Measurement, Calibration
Omniflex has developed the PowerView CP (cathodic protection) system over several years to bring up-to-date technology to Impressed Current Cathodic Protection. The key features include the highest efficiency transformer/rectifier units (TRUs) available, web-based remote monitoring, control and testing and reliable industrial grade hardware designed for long life and easy serviceability. The benefits include optimum life cycle costs, field proven reliability, unprecedented remote control and real-time 24/7 monitoring regardless of the location of assets under protection.
At the heart of every PowerView CP TRU is an intelligent microprocessor capable of communicating with the outside world. This capability enables complete remote monitoring and control of every system without additional cost. Settings can be changed, output parameters measured and system testing performed remotely on these smart TRUs without any add-on measuring equipment being required.
Unlike traditional AC mains transformers, which draw a standing load regardless of the load drawn on the output, the PowerView CP smart TRUs use more modern switch-mode power supply technology to deliver smoother, more efficient outputs at up to 90% efficiency, regardless of the output settings. These smart units are also much smaller and lighter than traditional transformer-based types, allowing reduced enclosure sizes and lower shipping and installation costs.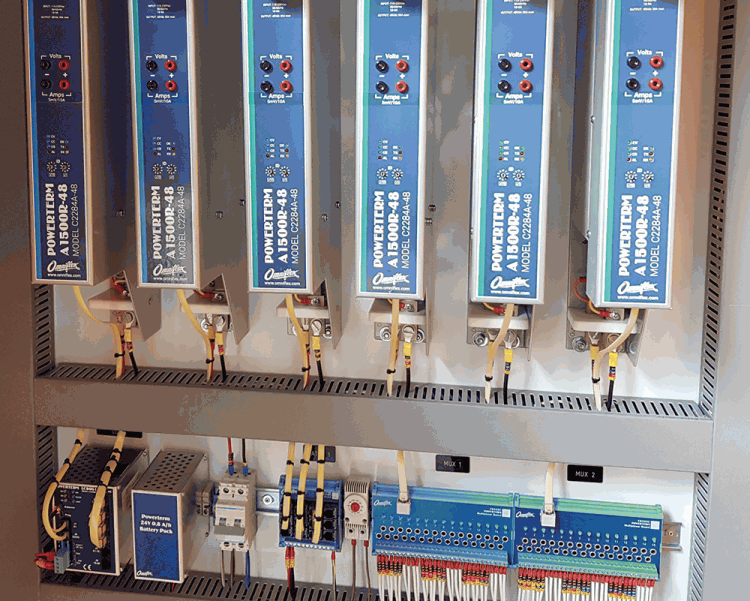 Additional features
Remote communications in any environment: most PowerView CP installations can take advantage of the ubiquitous mobile phone networks to communicate. Where network coverage is unavailable then satellite communications can be used.
Serviceability: all components including the smart T/R modules are designed for easy replacement, providing simple servicing in any location.
Access via the web with cloud storage: remote access to the PowerView CP systems is achieved via the Data2Desktop web-based monitoring service. No additional software or computer equipment is required for remote monitoring and control, all functions are performed through a standard web browser.
Remote monitoring: as for all TRUs in the PowerView CP range, independent monitoring of the key parameters such as output voltage and current, resistance, temperature etc. is included.
Remote control: the output voltage and current settings can be set remotely via the web or a connected scada computer.
Alarms: unheard of on legacy systems where labour was required to collect data and then process and interpret it before taking corrective action. Now, alarms can be set for various conditions such as low output current and under/overload and made available to system management. When connected to the web, these alarms can be sent directly via SMS or e-mail to service personnel.
Credit(s)
Further reading:
Linux-based condition monitoring platform
Turck Banner Maintenance, Test & Measurement, Calibration
Turck Banner's compact IM18-CCM50 DIN rail control centre for collecting, processing and forwarding condition data to the IIoT can be configured for specific OEM requirements.
Read more...
---
Legacy alarm upgrade for Uganda's power generator
Omniflex Remote Monitoring Specialists System Integration & Control Systems Design
In a digital age, where we rely so heavily on computer-based equipment, do we still need bulky, hard-wired annunciator panels?
Read more...
---
Pyrometer for challenging applications
Instrotech Maintenance, Test & Measurement, Calibration
Instrotech now offers the new Optris CT 4M pyrometer for high-speed applications.
Read more...
---
IR thermometer withstands 3-metre drop
Comtest Maintenance, Test & Measurement, Calibration
Comtest has on offer the Fluke 64 MAX IR thermometer with internal memory, unattended monitoring, improved accuracy and increased battery life.
Read more...
---
BMG gearboxes for railway maintenance
Bearing Man Group t/a BMG Maintenance, Test & Measurement, Calibration
BMG supplies the local railways sector with custom-designed planetary gearboxes for use in railway maintenance programmes.
Read more...
---
SKF increases paper machine reliability
SKF South Africa Maintenance, Test & Measurement, Calibration
SKF's virtually maintenance-free rope sheave units offer a unique solution to the pulp and paper industry through improved machine reliability.
Read more...
---
How are infrared cameras calibrated?
Instrotech Maintenance, Test & Measurement, Calibration
Infrared thermometers are calibrated with the help of reference radiation sources called black bodies, which can produce different temperatures with high stability.
Read more...
---
Connected test tools
Comtest Maintenance, Test & Measurement, Calibration
Fluke Connect is a set of tools and a smartphone app that let maintenance technicians capture, securely store and share data with their teams from the field.
Read more...
---
Monitoring at GKN Aerospace
ifm - South Africa Maintenance, Test & Measurement, Calibration
The combined solution of ifm's sensors and software helps GKN understand and improve its equipment.
Read more...
---
Emission monitoring systems selection
Maintenance, Test & Measurement, Calibration
The ARC Advisory Group's Emission Monitoring Systems selection guide is designed to help organisations make informed choices when selecting emission monitoring systems.
Read more...
---