printer friendly version
Remote monitoring for CP systems
August 2021
Maintenance, Test & Measurement, Calibration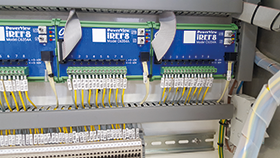 Omniflex has released the iREF8 cathodic protection (CP) monitoring module to its PowerView cathodic protection range, to provide a convenient and cost-effective way of adding remote monitoring capabilities to existing CP systems without the need for a complete overhaul. The iREF8 has eight isolated inputs and can monitor reference half-cells and other inputs like transformer/rectifier (T/R) voltages and currents. Unlike previous systems, the iREF8 also provides the ability to read all reference electrodes in a CP system simultaneously.
Previously, CP systems cycled through the references taking readings sequentially. In an Instant Off test, this could require the system to be turned on and off multiple times while each reading was taken. Eventually, this can impact the polarisation of the structure being protected while the test is in progress.
"The iREF8 module is a completely new design, allowing all the references in a PowerView CP system to be read at the same time," explained David Celine, managing director of Omniflex. "This means that, regardless of the size, the PowerView CP system only needs to be cycled on and off once to read all the references in an Instant Off test.
Traditionally, site managers relied on physical site inspections, where engineers undertook time-consuming and costly surveys of CP systems to tell them if the systems were working as intended. Because of the infrequent nature of this approach, asset managers are left for long periods of time hoping, rather than knowing, that their systems are working as intended and that structures are protected against corrosion.
In addition, with the world still suffering from the effects of the coronavirus pandemic, site visits and manual system inspections cannot proceed as normal. Businesses that rely on these to check system status have struggled to gather operational data over the last year and are left hoping that nothing has gone wrong.
Remote monitoring is no longer just the most cost-effective way of gathering system data; it is now the only way to do so in many cases. If you're a consultant working from home and you're responsible for monitoring CP systems fitted with an iREF8 monitoring module, you can continue to monitor system performance 24/7, despite the disruption caused by the pandemic.
Credit(s)
Further reading:
Composition analysis by micro gas chromatography
Electrocomp Maintenance, Test & Measurement, Calibration
The DynamiQ-X gas analyser from Q-Micro is designed for continuous gas mixture monitoring in industrial process and factory automation applications.
Read more...
---
ABB's automatic paper testing delivers faster quality insights
ABB South Africa Maintenance, Test & Measurement, Calibration
Quality data from the L&W Autoline is collected in the mill's quality management system via integration with the 800xA DCS.
Read more...
---
Regular machine maintenance is key to operational efficiency
Maintenance, Test & Measurement, Calibration
Benefits include savings on costs, energy efficiency and spare parts, which can account for as much as half of the total maintenance costs.
Read more...
---
Temperature monitoring simplified
Omniflex Remote Monitoring Specialists Temperature Measurement
Up to 32 mLC8s are supported by the touchscreen HMI, so a system with 2560 temperature points can conceivably be constructed.
Read more...
---
Using ultrasonic NDT to identify wear and corrosion
BAMR Maintenance, Test & Measurement, Calibration
Monitoring equipment for damage and potential flaws is vital in preventing loss of productivity and even injury or potential death of operators.
Read more...
---
Deploying IT into the factory floor environment
Omniflex Remote Monitoring Specialists IT in Manufacturing
The ongoing debate on whether OT and IT should be integrated has never been more intense. Closing the gap between the two has many benefits, not least of which are efficiency and profitability managed in near real time.
Read more...
---
All-in-one documenting process calibrators
Comtest Maintenance, Test & Measurement, Calibration
The multifunction calibrators perform sourcing, simulation and measurement of pressure, temperature and electrical signals.
Read more...
---
Five reasons for force measurement
WIKA Instruments Editor's Choice Maintenance, Test & Measurement, Calibration
Wika takes a closer look at the measured variable of force and gives five reasons to show why force measurement is of particular importance.
Read more...
---
When your site has no power
Omniflex Remote Monitoring Specialists Data Acquisition & Telemetry
Remote monitoring of sites with no power infrastructure is challenging. Combining the power of remote terminal units and cloud-based server technology allows Omniflex to remotely manage outlying devices via web based technology.
Read more...
---
Bringing solar power to reservoir monitoring
Omniflex Remote Monitoring Specialists Data Acquisition & Telemetry
Ian Loudon, international marketing and sales manager for remote monitoring system manufacturers, Omniflex, discusses how solar-powered wireless telemetry systems are a cost-effective, secure and reliable solution for remote reservoir monitoring.
Read more...
---