printer friendly version
ABB technology can help make SA steel industry competitive
August 2021
IT in Manufacturing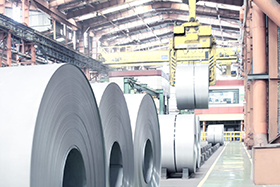 South Africa's steel industry needs to invest in technology like automation and data analytics if it is to improve its productivity to the point where it is globally competitive.
While sectors like aluminium are well advanced in automating their operations, and are ready to start digitalisation, the rest of the metals industry has lagged in its modernisation. This has not only impacted its ability to meet customer demands for increased product quality, throughput and yield, but has also affected downstream value-adding operations.
There are several good reasons why steel companies have not invested in new technology over recent years, including a negative market outlook, a preference to use labour instead of mechanisation, and the high cost of new equipment. One response is greater use of digital technologies, such as advanced data analytics. The idea is simple: if steel manufacturers were able to observe the status of equipment and processes in real time, they would gain crucial insight into deviations in product quality or problems with the process. This insight would allow operators to actively manage production, thereby increasing efficiency and reducing costs. But achieving this is easier said than done. To fully exploit the production potential of the local industry demands an integrated approach to automation optimisation, control and decision-support tools.
The good news is that many machines, like cold rolling mills, are often already equipped with modern control systems that use sensors to monitor and record data. And with sampling times in the range of milliseconds, hundreds of sensor values are recorded, including measurements of flatness, tension, speed and strip thickness. This data is routinely used by service engineers to commission and maintain various rolling mill devices – but it is rarely analysed for performance purposes, due to the difficulties of manual analysis and data pattern screening.
To help steel mill operators and maintenance engineers release the potential of their raw data and efficiently analyse the performance of their systems, a technology partner is required with deep domain knowledge and the ability to draw on the latest advances in neural networks and advanced data analytics applications for operational data. This combination of practical and digital expertise helps to create a digital service solution that addresses real-world challenges.
Creating the golden coil
In the first step on the road to digital awareness, a 'golden coil' is synthesised from available historical data: this is a fictional coil that consists of points when product quality and mill productivity were at their peak. The golden coil thus represents the operating modes in which the highest quality and productivity values were attained.
With this as a reference, deviations within the historical data can then be analysed, effectively teaching the system a range of functional behaviours which are classified from poor to excellent. Currently up to 100 different performance indicators are extracted from sensor measurements to compute the productivity and quality KPIs.
Once these have been calculated, the user can assess the performance of the coil currently in production by comparing it with the golden coil. The key point here is that once operators have a clear visualisation of the golden coil, they can compare it in real time with coils currently being produced, leading to faster troubleshooting.
ABB's solution follows a conventional machine learning approach. Firstly, a model is created during a training phase, where the pattern of interest is characterised by examples as determined by a domain expert, and then used to teach the model. The model can then locate patterns within the time series data that are similar to the examples it has previously learned.
Going forward, AI is another concept with radical potential for steel mills. Although conventional signal processing is effective for certain use cases, it is not able to detect many relevant problems encountered by steel mill operators. For example, overshoot is an important characteristic of a control system that relates to step change. Common in cold rolling mills, measured overshoots all have similar visual appearances, but their shapes, waveforms and duration vary, making them hard to detect with classical signal processing methods. To counter this, ABB has developed an approach that can learn arbitrary patterns in time series data. The ability to track and analyse deviations in the performance of steel mills with data analytics is an important step in equipping operators for the challenging market conditions they face, and is the basis for collaborative solutions, such as performance optimisation services that combine continuous remote monitoring with process-specific data analytics and remote, expert support.
For more information please contact Arvin Ramjee, +27 31 533 7220, arvin.ramjee@za.abb.com
Credit(s)
Further reading:
Female talent switches on to engineering careers with ABB
September 2021, ABB South Africa , News
ABB's Sustainability Strategy incorporates driving social progress, equality and diversity to create safe, fair and inclusive working environments and support community building.
Read more...
---
Siemens' software for digital transformation of automotive design
September 2021, Siemens Digital Industries , IT in Manufacturing
Model-based development process and systems are used in Japan and globally to adapt to the biggest automotive transformation in 100 years.
Read more...
---
Is track and trace through the factory a waste of time?
September 2021, Iritron , IT in Manufacturing
Modern track and trace solutions are purpose-built to introduce as little disruption to the existing production process as possible, while also being flexible enough to cater for plants that range from fully manual to fully automated.
Read more...
---
Modularity for scalability
September 2021, RJ Connect , IT in Manufacturing
Businesses are looking for versatile solutions that are easy to maintain to ensure smooth operations while keeping costs down.
Read more...
---
Saryx launches TMP
September 2021 , IT in Manufacturing
The digital transformation that has swept the world in the past few years has fundamentally altered most people's approach to technology, with an increasing number seeking the ability to manage their 
...
Read more...
---
Secure boundaries enhance industrial cybersecurity
September 2021, RJ Connect , IT in Manufacturing
When enhancing cybersecurity, it is important to understand how industrial systems are exchanging data and how they connect to IT-level systems.
Read more...
---
Siemens drives digital transformation at virtual Smart Mining forum
September 2021, Siemens Digital Industries , IT in Manufacturing
With its motto: 'On the road to the digital future', Siemens hosted its virtual Smart Mining forum from 3-5 August.
Read more...
---
Deep-learning AI made accessible
September 2021, SICK Automation Southern Africa , IT in Manufacturing
SICK Automation has launched a set of deep-learning software and services called dStudio, making artificial intelligence (AI) more accessible to the southern African market. This software works with machine 
...
Read more...
---
How safe are our factories? Part 1: Cybersecurity for operational technology.
August 2021, Wolfpack Information Risk , IT in Manufacturing
If companies are regularly being subjected to cyber hacks overseas, isn't it only a matter of time before someone with enough motivation, skill and resources targets us?
Read more...
---
HSEC Online simplifies health and safety compliance for companies
Technews Industry Guide: Sustainable Manufacturing 2021 , IT in Manufacturing
This automated, cloud-based solution provides a transparent, collaborative workflow platform which eliminates most of the manual complexities of health and safety document management compliance.
Read more...
---