printer friendly version
New motors extend the Sinamics S210 system
June 2021
Motion Control & Drives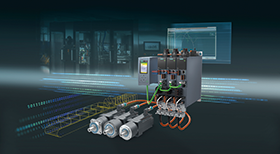 Siemens has added new servo motors to its proven Sinamics S210 single-cable servo drive system, thereby expanding its range of applications. Specifically, for use in the pharmaceutical and food industries, the company is launching the Simotics S-1FS2, a motor version with stainless-steel housing, degree of protection IP67/IP69 and high-resolution 22-bit absolute multi-turn encoders. The servo motor thus meets all hygienic conditions and can be used for mixing and stirring, air conditioning and ventilating, dosing and filling, as well as conveying, packaging and storing a wide variety of end products in the food and beverage sector and in the pharmaceutical industry.
The new Simotics S-1FK2 servo planetary gear motors also complement the Sinamics S210 drive system. They are used when high cycle rates need to be achieved with a lightweight and low-inertia gear design, or when inertia matching is required to move heavy loads precisely. The motors are ready mounted and as a unit available in a wide range of gear ratios and sizes, allowing them to be optimally adapted to different applications. Thermal dimensioning is done via the digital twin in the TIA (Totally Integrated Automation) Selection Tool.
With the new Simotics S-1FT2, Siemens is launching a servo motor that offers a wide range of different options for the Sinamics S210 servo drive system. For example, encoders with a resolution of up to 26 bits improve system accuracy and the high IP67 protection rating and various motor coatings make the solution suitable for use in harsher environments. In addition, new machine options, such as higher rated speeds, are available for extended use.
The Sinamics S210 servo drive system consists of a servo converter and servo motor. All motors of the servo system are connected via a single cable that combines power wires, encoder signal and brake in one line. The range of applications includes highly dynamic servo solutions such as those found in handling systems, packaging machines and machine building applications. To meet the high demands on motion control functionality in these applications, for example, dynamic positioning, gear synchronisation or cams with multiple axes, the system works perfectly with the Simatic S7-1500 controller via Profinet IRT.
For more information contact Jennifer Naidoo, Siemens Digital Industries, jennifer.naidoo@siemens.com, www.siemens.co.za
Credit(s)
Further reading:
Siemens and Google Cloud to co-operate on AI-based solutions in manufacturing
June 2021, Siemens Digital Industries , News
Siemens intends to integrate Google Cloud's data cloud and artificial intelligence/machine learning technologies with its factory automation solutions to help manufacturers innovate for the future.
Read more...
---
Siemens expands CFD simulations
June 2021, Siemens Digital Industries , IT in Manufacturing
Siemens' Simcenter portfolio expands capabilities for frontloading computational fluid dynamics (CFD) simulation and increased productivity.
Read more...
---
BMG's integrated geared motors for efficiency
June 2021, Bearing Man Group t/a BMG , Motion Control & Drives
An integrated geared unit that combines the recently launched Nord IE5+ synchronous motor and a single-stage helical gear unit offers optimum system efficiency.
Read more...
---
Water 4.0 for Botswana
April 2021, Siemens Digital Industries , News
Thanks to automation and electrical engineering from Siemens Solution Partner Moreflow, a new water treatment plant delivers 11 million litres of this precious resource every day.
Read more...
---
Why Cobots? From myths to a simpler reality
May 2021, SMC Corporation South Africa , Motion Control & Drives
While robotics led the way for the rapid growth of automation, cobots are the democratisation of robotics technology. They eliminate the cost and complex programming that robots usually require while providing much greater flexibility.
Read more...
---
Adroit connection to solar powered VSDs
May 2021, Adroit Technologies , Motion Control & Drives
Adroit Connect is a simple and cost-effective solution that allows users to remotely monitor their Mitsubishi solar VSDs, change parameters from anywhere and save unnecessary trips to site.
Read more...
---
New Fenner couplings ensure effective torque transfer
March 2021, Bearing Man Group t/a BMG , Motion Control & Drives
BMG's new reinforced Fenner Triflex couplings, with forged steel flanges, provide an integrated solution for the safe and efficient transfer of torque, even in extreme conditions.
Read more...
---
Enhance machine safety with locking cylinders
March 2021, SMC Corporation South Africa , Motion Control & Drives
Stopping the flow of compressed air using an air circuit combined with a mechanical locking cylinder gives the most enhanced level of safety.
Read more...
---
30 years of linear motion technology
March 2021 , Motion Control & Drives
This year, factory automation specialist Bosch Rexroth celebrates 30 years of linear motion technology and innovation.
Read more...
---
CSIR and Siemens partner to boost the South Africa's 4IR competitiveness
February 2021, Siemens Digital Industries , News
South Africa's pursuit of being a key player in the Fourth Industrial Revolution received a massive boost as the CSIR and Siemens South Africa entered into a partnership to empower the country's economy.
Read more...
---