printer friendly version
Accurate power quality analysis
June 2021
Maintenance, Test & Measurement, Calibration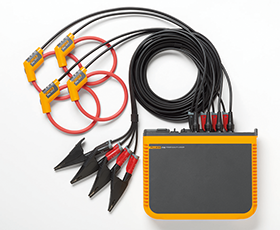 Comtest now offers the Fluke range of three-phase power quality loggers – 1742, 1746 and 1748 – giving users fast, easy access to the data they need to make critical power quality and energy decisions in real-time.
Compact and rugged, these loggers are designed specifically for technicians and engineers who need the flexibility to troubleshoot and quantify energy usage and analyse their power distribution systems. Fully compliant with international power quality standards such as IEC 61000-4-30 and capable of simultaneously logging up to 500 parameters while also capturing events, the Fluke 1740 Series helps uncover intermittent and hard-to-find power quality issues easily. The included Energy Analyze plus software quickly assesses the quality of power at the service entrance, substation, or at the load, according to national and international standards like EN 50160 and IEEE 519.
Measures all power quality and power parameters
The Fluke 1748 logs over 500 different parameters for each averaging period. This allows for the analysis of power quality in detail and the correlation of intermittent events with detailed waveform data, helping to identify the root cause of disturbances. For basic power quality logging, the Fluke 1746 captures all relevant power parameters for performing energy-saving studies and electrical network planning with a full upgrade option to 1748 available. For simple load and energy studies the Fluke 1742 offers optimal performance in a rugged package and can be upgraded to 1746 or complete 1748 functionality.
Easy to use
Fluke power quality loggers are designed with the technician in mind. The four current probes are each connected separately allowing flexibility and simplicity, the instrument automatically detects, scales and powers the probes so users do not have to worry about ensuring the measurements are correct.
Capturing logged data is just one part of the task. Users then need to create useful information and reports that can be easily shared and understood by their organisation. Fluke Energy Analyze plus software makes that task as simple as possible. With powerful analysis tools and the ability to create customised reports in minutes users can communicate findings and solve problems to optimise system reliability and show savings.
For more information contact Comtest, +27 10 595 1821, sales@comtest.co.za, www.comtest.co.za
Credit(s)
Further reading:
Lubrication oil filtering and monitoring with Hydrasales
July 2021, Hydrasales , Maintenance, Test & Measurement, Calibration
The viscosity of oil in a lubricating system and its impact on bearings if not appropriately filtered, can adversely impact on system performance and even have catastrophic consequences.
Read more...
---
Five considerations when creating a wastewater machine monitoring plan
July 2021, TANDM Technologies , Maintenance, Test & Measurement, Calibration
In a water scarce country like South Africa, handling wastewater correctly is not a luxury but an essential service.
Read more...
---
Monitored cathodic systems
July 2021, Omniflex Remote Monitoring Specialists , Maintenance, Test & Measurement, Calibration
Omniflex partners with IEV to bring remotely monitored cathodic protection systems to South East Asia.
Read more...
---
Two-gas detection monitor
July 2021, Comtest , Analytical Instrumentation & Environmental Monitoring
New lightweight two-gas monitor offers more accurate alarms and minimises maintenance with a two-year runtime.
Read more...
---
Wide range of bonding adhesives available from BI
July 2021 , Maintenance, Test & Measurement, Calibration
Bearings International carries a wide range of instant and structural bonding adhesives throughout its extensive branch network in South Africa.
Read more...
---
Top 10 industries under attack
July 2021, Comtest , News
Research from the 2H 2020 Netscout Threat Intelligence Report highlights the impact of Covid-19 on DDoS attack activity.
Read more...
---
Industry first for pump testing laboratory
June 2021, Instrotech , Maintenance, Test & Measurement, Calibration
When a local fire pump test facility needed to eliminate human error from its test procedures, it contacted Instrotech for advice.
Read more...
---
Advances in pipeline leak detection
June 2021, KROHNE , Maintenance, Test & Measurement, Calibration
The high rate of false alarms in standard pipeline leak detection systems can force system operators to waste labour chasing down problems that do not exist. Fortunately, newer technology provides an alternative.
Read more...
---
The LinkIQ Cable+Network Tester
June 2021 , Maintenance, Test & Measurement, Calibration
With the launch of the LinkIQ Cable+Network Tester, users are now able to verify cable performance and solve network connectivity issues.
Read more...
---
Measuring viscosity made easy
June 2021 , Maintenance, Test & Measurement, Calibration
Condition monitoring specialists, WearCheck, recently launched a quick, cost-effective viscosity test kit known as the WearCheck Rheo-stick.
Read more...
---