printer friendly version
Locally valves manufactured for tailings pipeline
June 2021
Valves, Actuators & Pump Control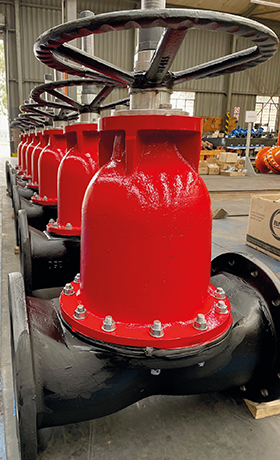 Abrasive Flow Solutions (AFS), launched recently by the Engineering Solutions Group (ESG), part of Invicta Holding Limited, designs and locally manufactures a comprehensive range of FPV and KLEP slurry-related valves that comply with stringent quality and safety standards.
The AFS manufacturing plant in Benoni is equipped with advanced equipment and is supported by specialists who offer dependable technical support to ensure the optimum safety, efficiency and extended service life of every system.
"The team at AFS is committed to improving the quality and pressure rating of our diaphragm valves, which will lengthen their service life and reduce maintenance requirements," explains Donald Morrison, general manager, AFS. "Our objectives are being achieved through the latest developments in design technologies, advanced materials and durable coatings. Our highly-skilled team has a thorough understanding of the applications where our valves are installed and is therefore able to solve problems for customers.
"To ensure optimum safety, efficiency and the extended service life, the selection of the correct industrial slurry valve is critical. Valve selection is based on various factors, including the size and shape of particles, pressure, temperature and chemical content."
The AFS valves range is particularly well-suited for use in harsh conditions in diverse sectors, including mining, chemical and petrochemical, water and wastewater, energy production and agri-food industries.
This range comprises FPV non-return valves, FPV pinch valves, FPV wedge gate and FPV knife gate valves, as well as Klep diaphragm valves and related components.
AFS recently manufactured Klep 250 mm high pressure diaphragm valves for use on a tailings pipeline in South Africa. These valves were manufactured and tested to 24 bar in the open position and 18 bar in closed position.
The full range of AFS valves is distributed throughout southern Africa via BMG's broad distribution network.
For more information contact Monica Grobler, Abrasive Flow Solutions, +27 11 955 1119, monicag@abrasiveflowsolutions.com, www.abrasiveflowsolutions.com
Further reading:
The ultimate control valve
Valve & Automation Valves, Actuators & Pump Control Editor's Choice
Zwick has designed its TRI-SHARK range of Triple Eccentric Valves to be used in control or throttling applications as well as for pure on/off functionality.
Read more...
---
Smart pumping – a new era in water management and supply
Schneider Electric South Africa Valves, Actuators & Pump Control
Smart pumping can address the high cost and energy usage challenges faced by private and municipality-managed facilities.
Read more...
---
Schubert & Salzer and Macsteel
Macsteel Service Centres Valves, Actuators & Pump Control
The demand on valves, particularly in tyre production plants, is extreme with tyre curing presses working constantly at high temperatures and pressures.
Read more...
---
Chinese LNG tanker fitted with ARCA anti-surge valves
Valve & Automation Valves, Actuators & Pump Control
ARCA anti-surge valves avoid surging by accurately adjusting the gas circulation or blow-off flow, effectively protecting the safety of the compressor unit.
Read more...
---
Electrified subsea actuator for offshore production
Valves, Actuators & Pump Control
Bosch Rexroth has engineered the SVA R2 Subsea Valve Actuator as a disruptive innovation for electrically actuating valves in the subsea process industry. It can replace conventional hydraulic cylinders 
...
Read more...
---
Eliminate bearing failures in TOVs
Valve & Automation Valves, Actuators & Pump Control
Bearing failures are among the highest root causes of failure in triple offset valves (TOV) for tight shutoff applications. This issue is directly attributed to the need to have metal bearings with very 
...
Read more...
---
Locally manufactured knife gate valves
Bearing Man Group t/a BMG Valves, Actuators & Pump Control
BMG and Abrasive Flow Solutions (AFS) play a major role in the local valves sector, through the design, distribution, supply and support of a broad range of slurry related valves.
Read more...
---
Protect your pump and keep it longer
Elemental Analytics Valves, Actuators & Pump Control
Unexpectedly losing a pump is often an expensive or even a dangerous problem in a chemical plant.
Read more...
---
New flange monoblock with shut-off valve
WIKA Instruments Valves, Actuators & Pump Control
WIKA's new monoblock with flange design integrates a shut-off valve to separate the process from the instrument side.
Read more...
---
The Stafsjö HX story – greater demand calls for action
Valve & Automation Valves, Actuators & Pump Control
As a knife gate valve supplier, Stafsjö supplies product solutions to realise efficiency and production goals in pulp and paper applications.
Read more...
---