printer friendly version
Africa's most advanced perlite facility
June 2021
News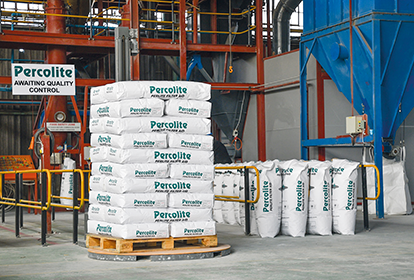 Percolite filter aid from Pratley is ideal for a range of filtration applications involving the separation of liquids and solids. These applications range from oils, wine and beverages to pharmaceuticals, chemicals and industrial filtration applications where solid and liquid separation is required.
Percolite producer Pratley has a dedicated, state-of-the-art filter aid production facility that represents the most advanced plant on the continent. Here proprietary technology is used to process perlite raw material to ultimately produce an extremely high-quality filter aid.
High flow rate combined with exceptional clarity
Perlite is a unique, naturally occurring vitreous volcanic lava rock. The crushed material is expanded in a furnace at 950˚C to produce millions of tiny hollow bubbles. The high temperature also means that the filter aid is completely inert and sterile. It also does not impart any colour, taste, or odour into the filtrate.
These bubbles are then carefully milled using specialised production methods and accurately classified to produce the various Percolite grades. The unique interlocking structure of Percolite forms a myriad of microscopic inter-particle channels, ensuring the product efficiently removes particulate material from the filtrate. The main advantage of Percolite filter aid is a high flow rate combined with exceptional clarity.
"The accurate size classification and the unique structure of Percolite filter aid leads to one of the highest flow rate to clarity ratios possible," highlights Pratley marketing director, Eldon Kruger. "The fundamental problem of filtration is to maximise two desirable yet conflicting parameters, namely clarity and flow rate. Percolite achieves just that, making it ideal for applications in the mining and metal industries."
The Percolite manufacturing process is ISO 9001-2015 certified. In addition, Percolite meets the standards listed in the food chemicals codex published by the US National Academy of Sciences. Pratley Percolite also holds Halaal certification and the company is a member of the International Perlite Institute.
In addition, Pratley has a cutting-edge R&D; laboratory supervising quality control of the end product. Sophisticated test equipment includes a laser particle size analyser, turbidity meters, X-ray diffractometer, scanning electron microscopes, viscometers, an atomic absorption spectrometer, Fourier transform infrared spectrometer and filtration flow rigs. This equipment not only ensures stringent quality control but also allows Pratley to thoroughly analyse customer liquids in order to recommend the most suitable Percolite grade for the job.
Percolite filter aid ranges from fine grades for absolute clarity to coarser grades with fast flow rates for maximum productivity. Grades can be manufactured and tested to meet unique customer-specific requirements. In addition to the mining and metals industries, Percolite may be used in almost any industry requiring fine liquid/solid separation.
• Food and beverage: wine, oil, starch, beer, glucose, fruit juice and syrup.
• Pharmaceutical: antibiotics, enzymes and epsom salt.
• Chemicals: acids, resins, polymers, adhesives and hydrolysed vegetable protein.
• Industrial: water treatment, oil and solvent recovery, industrial fillers, heavy metal solutions, industrial chemicals, platinum-bearing solutions, copper-cobalt-nickel solutions, titanium solutions, electroplating solutions and dry cleaning.
• Coatings and paint: varnish, waxes, gums, textured paints, oils and polishes.
• Environmental: oil and petrochemical clean-up and water filtration.
Pratley has supply depots located in Gauteng, Cape Town, Durban and Port Elizabeth offering countrywide sales and support. The product is professionally packed and supplied in food-safe paper packaging.
For more information contact Pratley, +27 11 955 2190, sales@pratley.co.za, www.pratleyminerals.com
Further reading:
From the editor's desk: Is additive manufacturing poised to go mainstream?
March 2021, Technews Publishing (SA Instrumentation & Control) , News
As digital manufacturing technology pushes its way further towards the production floor, additive manufacturing (3D printing) is emerging as a viable option to complement the more traditional methods 
...
Read more...
---
A new generation of sensors for liquid analysis
May 2021, Endress+Hauser South Africa , News
Endress+Hauser introduces the next generation of Memosens digital technology for simple, safe and connected liquid analysis.
Read more...
---
Siemens and Google Cloud to co-operate on AI-based solutions in manufacturing
June 2021, Siemens Digital Industries , News
Siemens intends to integrate Google Cloud's data cloud and artificial intelligence/machine learning technologies with its factory automation solutions to help manufacturers innovate for the future.
Read more...
---
BMG hydraulic solutions for all sectors in KZN
June 2021, Bearing Man Group t/a BMG , News
BMG's Regional Service Centre in KwaZulu-Natal provides engineering solutions designed to optimise productivity for all customers.
Read more...
---
Rockwell Automation and Comau partner to simplify robot integration
June 2021, Rockwell Automation , News
Rockwell Automation and Comau have announced that they are joining forces to give businesses worldwide vital tools to maximise manufacturing efficiencies through unified robot control solutions.
Read more...
---
GirlCode and RS inspire the next generation of female coders
June 2021, RS Components SA , News
More than 50 female learners and their teachers were recently invited to attend a day of inspiration, technology and fun.
Read more...
---
Endress+Hauser holds its ground despite the pandemic
June 2021, Endress+Hauser South Africa , News
Endress+Hauser weathered the 2020 pandemic year well. The Group created new jobs and expanded its global sales and production network.
Read more...
---
Optimising buildings for low-occupancy
June 2021, Schneider Electric South Africa , News
For building managers, facilities managers, owners and operators, having buildings at low or zero occupancy for extended periods of time, means a significant change in operating requirements and a need to adjust building systems accordingly.
Read more...
---
Hitachi ABB Power Grids launches EconiQ
June 2021 , News
The EconiQ portfolio of products, services and solutions contributes towards a carbon-neutral future and accelerates the green energy transition
Read more...
---
BI supports agri industry with quality products
June 2021 , News
BI has had an agricultural product focus for 40 years now and has invested significantly into developing new products and improving its stock levels where the farming community needs it the most.
Read more...
---