printer friendly version
Pallet power in the chemical industry
June 2021
Industrial Wireless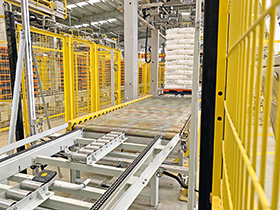 In material management, Chinese chemical companies and service providers are measured by the 'six Rs' of logistics: the right product, quality, amount, place, time and cost. However, the trend in this sector towards greater automation and increasing logistics performance only started around 10 years ago. One reason for this delayed development could be the handling of hazardous substances and the associated special safety demands. An increasing number of manufacturers, however, are now catching up and transferring the already high degree of automation in the industry onto logistics tasks.
This is demonstrated by one of the largest energy and chemicals companies in China. Together with Turck Banner and system integrators New Trend International Logistics Technology, the company installed RFID technology in a goods distribution centre situated in the southwest of the industrial metropole of Guangzhou. The contactless detection of incoming and outgoing goods provides those involved with considerably greater transparency of stock levels.
Inventory control in focus
The operator of this plant previously used a combination of standardised manual steps and semi-automated computer management in the warehouse. This neither produced the required logistics efficiency nor minimised handling errors. An excessively large number of work steps were required just to place or find material, or organise the stock levels for slightly varying types of goods. In view of the increased demand for quality of logistics services, it became necessary to upgrade the purchasing and inventory controls.
More real-time ERP information with UHF RFID
When did material reach or leave the warehouse and how much? What items were involved? Where are the products stored? The ERP system has to make this information visible in real-time and provide it on demand. The system integrator therefore opted for data transmission via UHF-RFID. In brief: read/write heads use a high frequency signal to write or read a specific amount of information to or from passive RFID tags and transfer it to the IT network via an interface. Thanks to the UHF technology, the exchange is carried out between the reader and the tag over several metres. Information is also captured when objects pass at high speed.
Read/write heads marry material data with the pallet
The chemicals company transports goods on returnable pallets. An RFID tag, which is provided with a unique ID, is embedded in each transport pallet in order to link the data closely to the material or product under conveyance. This tag is written for the first time in the packaging area. It is here that Turck Banner's TN-Q120 read/write head 'marries' the specific material information with the pallet before it reaches the goods centre. The transmission of the cube-shaped UHF reader complies with ISO 18000-6C and thanks to its IP67 protection type, it can operate in harsh environments.
IP67 interface for direct RFID integration
Turck Banner's TBEN-S2-2RFID-4DXP RFID interface is used between the RFID reader and the IT network in order to transfer the information from the read/write heads to a production control system in the ERP. The ultra-robust RFID module (IP67/IP69K) is designed for mounting outside of the control cabinet and allows the connection of two UHF read/write heads, as well as sensors and actuators. "The interface is easy to configure and powerful enough to transfer data from the RFID readers to the PLC quickly, even when multiple pallets are being read," says Han Qingyun, electronics engineer at New Trend International Logistics Technology. "The special feature of the compact module is its simple integration without the need for any programming effort or function blocks. The TBEN-S also 'speaks' the Ethernet protocols Profinet, EtherNet/IP and Modbus TCP."
Better warehouse utilisation and greater security
The data on incoming and outgoing goods enables the ERP system to continuously synchronise inventory levels. For users this is a major benefit, especially since they can also access real-time information about available capacity or the position of transport pallets. It enables the optimum use of space resources. Knowing where and which goods movements are taking place also meets key safety requirements of the chemical industry. Greater efficiency ultimately also has an effect on costs. In other words, far fewer manual operating steps and material costs are required for warehouse management. Identification via RFID is automated, while rewritable tags extend the uses of the transport pallets.
Credit(s)
Further reading:
Reliable laser measurement sensor
June 2021, Turck Banner , Sensors & Transducers
Turck Banner's Q4X600 features reliable sensing over a wide range of distances.
Read more...
---
Air humidity/temperature sensor with IO-Link
June 2021, Turck Banner , Sensors & Transducers
The combination of the two measured variables in a single device makes the CMTH-M12 ideal for use in condition monitoring systems.
Read more...
---
Wearable device keeps workers safe during the pandemic
June 2021, RS Components SA , Industrial Wireless
Maintaining social distancing is key to limiting the spread of coronavirus, but it can be a real challenge in busy workplaces such as manufacturing facilities, warehouses and construction sites.
Read more...
---
Robust safety light curtains
April 2021, Turck Banner , IS & Ex
Ez-Screen LS light curtains are intuitive, easy-to-use safety devices designed by Turck Banner for machine safeguarding.
Read more...
---
Compact radar sensor
April 2021, Turck Banner , Sensors & Transducers
Turck Banner's T30R offers more robust detection capabilities and longer range than ultrasonic solutions in a similar package size.
Read more...
---
Pick-to-Light Solutions Kit
April 2021, Turck Banner , Sensors & Transducers
Turck Banner's Pick-to-Light Solutions Kit is an integrated solution that consists of an enclosure, a DXM controller, an HMI, plus direct connections for PTL110 devices and power.
Read more...
---
Wireless controller for smarter factories
March 2021, Turck Banner , PLCs, DCSs & Controllers
Turck Banner's DXM wireless controllers are designed to facilitate Ethernet connectivity as well as enabling IIoT applications.
Read more...
---
Precise leading-edge detection
March 2021, Turck Banner , Sensors & Transducers
The Q76E retroreflective sensor from Turck Banner has a unique design that enables consistent detection of a broad range of targets that typically challenge other sensors.
Read more...
---
Remote monitoring of temperature in cryopreservation facilities
March 2021, Omniflex Remote Monitoring Specialists , Industrial Wireless
When the Medical Research Council needed to upgrade sixteen of its facilities to monitor temperature and humidity levels in its -80°C sample storage area, it engaged Omniflex to find a solution.
Read more...
---
Illuminated E-stops with diagnostics
March 2021, Turck Banner , IS & Ex
In-Series Diagnostics runs through up to 32 devices on a single 4-pin cable to the control panel, with only two wires running to the controller and two others for power.
Read more...
---