printer friendly version
Level switches master viscous substances
July 2021 Level Measurement & Control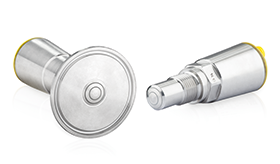 Many food and pharmaceutical products have distinctive textures like processed cheeses, while others can be tough, sticky, crunchy or soft. Depending on the consistency, the demands on the level measurement technology used in the production process varies.
VEGA has developed the new front-flush level switch, Vegapoint 24, especially for use with sticky, viscous or abrasive products. Its focus is on the greatest possible robustness. Even with the heavy build-up, it reliably detects the level and indicates it via a coloured illuminated ring that is visible from a distance.
Easy configuration
Thanks to its robustness, the instrument offers plug-and-play functionality and can be easily installed in just a few simple steps. Flexible production systems with frequent and fast product changes benefit from the fact that it detects all media without the need for adjustment. Extended functions such as interface detection or foam blanking are also easily configured.
Only metal in the tank
"With this device, we are specifically targeting the beverage, food and pharmaceutical sectors," explains Volker Allgaier, product manager at VEGA. "Here, mixing and conveying are all achieved efficiently and safely, even with demanding liquids and bulk solids like molasses or nut-nougat cream."
The front-flush design of Vegapoint 24 ensures universal application possibilities. "Even cleaning rigs can work safely alongside the flat measuring tip," emphasises Allgaier, "and the measuring tip also copes with sandblasting because there is only metal in the tank. When compared to plastic, tests have shown service life is extended by a factor of 4.
Fits like a glove
Users achieve optimum visibility of their processes with the new Vegapoint 24. The relationship between durability and low lifecycle costs is ground-breaking. The decisive factor, however, is flexibility of use: with its versatile process fittings and adaptors, the level switch fits like a glove – even in existing systems.
For more information contact VEGA Controls SA, +27 11 795 3249, leandi.hendrikse@vega.com, www.vega.com
Credit(s)
Further reading:
New horizontal float switch
June 2021, ASSTech Process Electronics + Instrumentation , Level Measurement & Control
The R40 LSH now includes devices for point level measurement with features such as floats and reed contacts.
Read more...
---
Bypass level indicators
June 2021, Instrotech , Level Measurement & Control
Instrotech now offers Kobold's NBK level indicators for continuous measurement, display and monitoring of liquid levels in above or below-ground tanks.
Read more...
---
Fit for extreme applications
March 2021, Endress+Hauser South Africa , Level Measurement & Control
The first 2-wire loop-powered compact transmitter enters the market.
Read more...
---
The Internet of Things is changing logistics
March 2021 , Level Measurement & Control
A focus on application engineering allows Trafo Power Solutions to supply customised dry-type transformers for a range of sectors including renewable energy. "We begin at the proposal stage by engaging 
...
Read more...
---
Radar is the better ultrasonic
February 2021, VEGA Controls SA , Level Measurement & Control
Radar signals are not significantly influenced by changing ambient conditions, which makes them highly reliable and extremely accurate.
Read more...
---
Top-quality drinking water through ozone treatment
January 2021, VEGA Controls SA , Pressure Measurement & Control
Vega's pressure transducers make an important contribution to the continuous processing of top-quality drinking water.
Read more...
---
Reed level transmitter suitable for food applications
November 2020, WIKA Instruments , Level Measurement & Control
WIKA has expanded its range of level transmitters with reed measuring chain by adding the model FLR-F for food applications.
Read more...
---
Membrane level monitor
October 2020, Instrotech , Level Measurement & Control
Kobold's NMF membrane level monitors are an excellent choice for cost-effective level monitoring of bulk goods in storage vessels.
Read more...
---
Measuring in the dust cloud
October 2020, VEGA Controls SA , Level Measurement & Control
Radar level measuring instrument with 80 GHz finds its way in extreme environments.
Read more...
---
Ceramic and metallic measuring cells optimise additive production at BASF
September 2020, VEGA Controls SA , Pressure Measurement & Control
The combination of a ceramic Certec and a metallic Metec measuring cell proved to be the perfect combination from VEGA.
Read more...
---