printer friendly version
Drive simulation with Sinamics DriveSim Basic
May 2021
Motion Control & Drives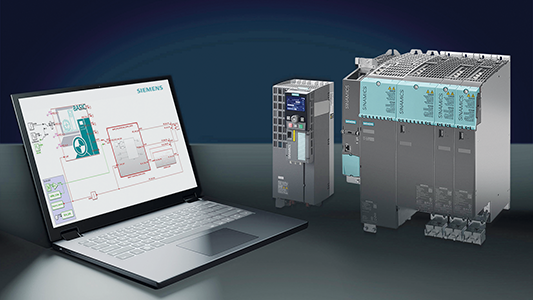 With Sinamics DriveSim Basic, Siemens presents a new software solution with which, for the first time, drive constellations and their behaviour in machines and plants can be simulated, adapted and optimised. With the new solution, Siemens offers a quick and easy entry into the simulation of drive technology and enables machine and plant manufacturers to accelerate their own development phases.
Sinamics DriveSim Basic bridges the gap between the logical and mechanical simulation worlds. The application focus is on simulation support of the customer application, i.e. the components that interact with the drive. The simulation provides answers to drive questions even before a concrete product selection has been made. For the virtual commissioning of the PLC control with known Profidrive telegrams, or complex mechanics on the virtual drive shaft, the model provides a reliable representation of the drive system in the required level of detail.
One possible application scenario is the coupling of a PLC and mechanical model via Sinamics DriveSim Basic. The calculated load profiles can then be loaded into the TIA Selection Tool and a drive selection can be made. The necessary drive parameters and the interfaces known from reality are available for the simulation. The user configures only the part of the drive needed for simulation purposes. A time-consuming complete virtual commissioning of the drive is not required, which saves development costs. The models in Sinamics DriveSim Basic link seamlessly to the existing drive documentation and have been validated against the real Sinamics drives using the same test vectors.
For easy handling, Sinamics DriveSim Basic is available as a standardised FMU (functional mockup unit) model. The software offers the same FMU file for every Sinamics drive. The Sinamics S120 and G120 drives, including the motor, can already be represented. Further drives will follow. This FMU can be imported directly into the simulation program used.
Sinamics DriveSim Basic is compatible with many commercially available simulation programs, such as Simit, Simcenter Amesim, NX Motion or Matlab Simulink. Together with other virtual Siemens solutions such as Simatic S7 PLCSIM Advanced or NX Mechatronics Concept Designer, a consistent model-based development process can be implemented.
For more information contact Jennifer Naidoo, Siemens Digital Industries, +27 11 652 2000, jennifer.naidoo@siemens.com, www.siemens.co.za
Credit(s)
Further reading:
Water 4.0 for Botswana
April 2021, Siemens Digital Industries , News
Thanks to automation and electrical engineering from Siemens Solution Partner Moreflow, a new water treatment plant delivers 11 million litres of this precious resource every day.
Read more...
---
Why Cobots? From myths to a simpler reality
May 2021, SMC Corporation South Africa , Motion Control & Drives
While robotics led the way for the rapid growth of automation, cobots are the democratisation of robotics technology. They eliminate the cost and complex programming that robots usually require while providing much greater flexibility.
Read more...
---
Adroit connection to solar powered VSDs
May 2021, Adroit Technologies , Motion Control & Drives
Adroit Connect is a simple and cost-effective solution that allows users to remotely monitor their Mitsubishi solar VSDs, change parameters from anywhere and save unnecessary trips to site.
Read more...
---
New Fenner couplings ensure effective torque transfer
March 2021, Bearing Man Group t/a BMG , Motion Control & Drives
BMG's new reinforced Fenner Triflex couplings, with forged steel flanges, provide an integrated solution for the safe and efficient transfer of torque, even in extreme conditions.
Read more...
---
Enhance machine safety with locking cylinders
March 2021, SMC Corporation South Africa , Motion Control & Drives
Stopping the flow of compressed air using an air circuit combined with a mechanical locking cylinder gives the most enhanced level of safety.
Read more...
---
30 years of linear motion technology
March 2021 , Motion Control & Drives
This year, factory automation specialist Bosch Rexroth celebrates 30 years of linear motion technology and innovation.
Read more...
---
CSIR and Siemens partner to boost the South Africa's 4IR competitiveness
February 2021, Siemens Digital Industries , News
South Africa's pursuit of being a key player in the Fourth Industrial Revolution received a massive boost as the CSIR and Siemens South Africa entered into a partnership to empower the country's economy.
Read more...
---
Motion control with Sinumerik One Dynamics
March 2021, Siemens Digital Industries , Motion Control & Drives
Siemens has launched three powerful technology packages exclusively for the CNC Sinumerik One.
Read more...
---
Drive chains for clean environments
March 2021, Bearing Man Group t/a BMG , Motion Control & Drives
BMG's Power Transmission division offers maintenance-free solutions for increased productivity, minimal machine downtime and reduced maintenance costs in the food and beverage sector.
Read more...
---
Robot streamlines food delivery
March 2021, Omron Electronics , Motion Control & Drives
The robot was taking part in a month-long 'Home on Demand' automated courier service trial, testing the potential for using autonomous robots for deliveries to urban homes.
Read more...
---