printer friendly version
Danfoss Drives leads the way in energy efficiency at chemical plants
May 2021
Motion Control & Drives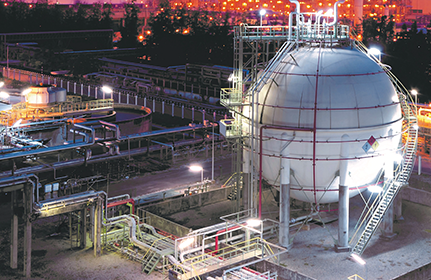 New resources, compounds and all sorts of active ingredients are continuously being developed to meet the ever-growing demand of all industries and for various uses in everyday life. Using the best-available technologies is standard practice for chemical reactors, distillation, precipitation, drying, milling, granulation and other associated processes.
The specifications for control in chemical and pharmaceutical production processes are rigid, meaning only products approved for harsh environments can be used. No wonder the demand for Danfoss expertise and quality products has continued through the years and even during the worldwide pandemic. Danfoss Drives Chemicals has constantly ensured high levels of reliability and safety, long service life and high levels of performance and energy efficiency.
Efficient supply, refining and transportation of raw materials stored at specified temperature levels can always be achieved with refrigeration solutions from Danfoss. And when it comes to the best-available technology for AC motors, the industry recognises the benefits of speed control using AC drives.
Danfoss offers its widespread experience and expertise in refrigeration and in controlling the speed of AC motors in all the main chemical sectors: petrochemicals, basic inorganics, polymers, specialty and consumer. The range of refrigeration equipment and AC drives is designed to fulfil the demands of the chemical industry where safety has the highest priority.
Quality chemical plants powered by quality drives
Process-control improvements with speed control of motors and proven energy savings in various applications have increased the output and reliability of plants and reduced carbon emissions.
For chemical plants to run at their absolute best, drives are required that enable peak performance. Designed with decades of industry expertise, Danfoss quality AC drives deliver best-in-class reliability and robustness. Their leading energy efficiency lowers total cost of ownership and makes a positive contribution to reaching the world's climate goals. Further, predictive and condition-based monitoring is built in to give users the intelligence they need to future-proof their systems. The Danfoss drives product line is fully compatible with any motor or system, which leaves users free to run the optimal system for their plants.
Energy efficiency
Danfoss AC drives are highly energy efficient, helping increase plant ROI and reduce TCO. They have excellent back-channel cooling, reducing the need for air conditioning, as well as smart tools that lower energy use and application wear. Higher power density also eliminates the need to use oversized drives, while at the same time lowering energy consumption.
AEL Intelligent Blasting cuts energy consumption by 500 kWh
This 720 mtpd nitric acid plant in South Africa saves R3,6 million annually on operating costs, thanks to an upgrade from direct-on-line operation to Danfoss VLT drive control of electric pumps and motors.
For many years, motors and pumps in the process cooling water system operated direct-on-line. With the upgrade, AEL Intelligent Blasting aimed to improve efficiency and reliability by introducing AC drive motor control. It chose VLT AQUA Drive FC 202 and VLT HVAC Drive FC 102 drives from Danfoss, based on their ability to ensure stable operation despite unreliable mains power supply. These drives offer automatic energy optimisation and kinetic back-up features to support highly efficient and reliable plant operation.
The remarkable payback time of only 18 months reflects the vast improvement in process cooling water efficiency enjoyed by AEL Intelligent Blasting. "The drives were selected based on the kinetic back-up feature, which is valuable to us because of our unstable electricity supply and a number of small voltage dips that cause our facilities to trip," concludes Johan Engelbrecht, AEL Nitrates MV electrical engineer. "With this feature we can keep the plant online without any issues, therefore saving millions."
For more information contact Lynne McCarthy, Danfoss, +27 11 785 7628, mccarthyl@danfoss.com, www.danfoss.co.za
Credit(s)
Further reading:
Why Cobots? From myths to a simpler reality
May 2021, SMC Corporation South Africa , Motion Control & Drives
While robotics led the way for the rapid growth of automation, cobots are the democratisation of robotics technology. They eliminate the cost and complex programming that robots usually require while providing much greater flexibility.
Read more...
---
Adroit connection to solar powered VSDs
May 2021, Adroit Technologies , Motion Control & Drives
Adroit Connect is a simple and cost-effective solution that allows users to remotely monitor their Mitsubishi solar VSDs, change parameters from anywhere and save unnecessary trips to site.
Read more...
---
Danfoss continues to invest in sustainable transformation
March 2021, Danfoss , News
Danfoss Drives office in South Africa is rolling out a series of thought leadership webinars on the topic of Energy Efficiency in 2020.
Read more...
---
New Fenner couplings ensure effective torque transfer
March 2021, Bearing Man Group t/a BMG , Motion Control & Drives
BMG's new reinforced Fenner Triflex couplings, with forged steel flanges, provide an integrated solution for the safe and efficient transfer of torque, even in extreme conditions.
Read more...
---
Danfoss forms new Climate Solutions segment
March 2021, Danfoss , News
With the new Climate Solutions segment, Danfoss will intensify its focus on the green agenda in attractive global markets.
Read more...
---
Managing thermal functions with heat exchangers
February 2021, Danfoss , System Integration & Control Systems Design
The various heat exchanger options typically have different operating requirements, as well as preferable refrigerants per application.
Read more...
---
Enhance machine safety with locking cylinders
March 2021, SMC Corporation South Africa , Motion Control & Drives
Stopping the flow of compressed air using an air circuit combined with a mechanical locking cylinder gives the most enhanced level of safety.
Read more...
---
30 years of linear motion technology
March 2021 , Motion Control & Drives
This year, factory automation specialist Bosch Rexroth celebrates 30 years of linear motion technology and innovation.
Read more...
---
Motion control with Sinumerik One Dynamics
March 2021, Siemens Digital Industries , Motion Control & Drives
Siemens has launched three powerful technology packages exclusively for the CNC Sinumerik One.
Read more...
---
Drive chains for clean environments
March 2021, Bearing Man Group t/a BMG , Motion Control & Drives
BMG's Power Transmission division offers maintenance-free solutions for increased productivity, minimal machine downtime and reduced maintenance costs in the food and beverage sector.
Read more...
---