printer friendly version
Leading safety in the fragrance industry
May 2021
IS & Ex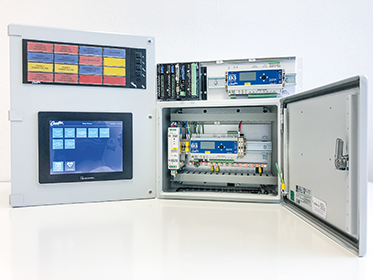 Once the artistic work of creating a fragrance is complete and the formula has been signed off, the process of extracting the raw materials and blending begins. Safety and compliance are a priority during the manufacturing process and so, when flavours and fragrances giant Givaudan wanted to strengthen its safety critical alarm systems at its Kent facility, it partnered with Omniflex to upgrade its fleet of annunciators.
Located in Ashford, Kent, Givaudan's UK plant is where the company creates fragrances and oral care flavours. Here, the company brings together the various ingredients to create the finished formula that gives consumers their favourite scent or oral care flavour.
In this process, the facility uses a variety of plant machinery and equipment to monitor variables such as atmospheric quality, oxygen levels, temperature, pressure, well-levels, ventilation, pump operation and extraction processes.
The ingredients being processed are carefully chosen from a palette of many thousands and include powders and liquids. A typical batch could contain anywhere from just two or three up to 120 ingredients at a time, at various weights and volumes. These raw materials arrive in packages weighing anywhere between 0,5 kg to 20 tonnes and are tested to ensure they meet the high-quality standards before being used.
The facility uses on-site laboratories to carry out quality assurance (QA) on samples. Nitrogen and hydrogen-based gas chromatography equipment is used to ensure the materials have not been exposed to air. To ensure worker safety and to maintain compliance with the UK's Control of Major Accident Hazards (CoMAH) regulations, the QA areas are fitted with sensors to detect safe oxygen levels.
To meet these safety regulations and to ensure that the materials are kept within containment guidelines, the plant uses safety instrumented systems, including alarm annunciator panels, that alert plant staff if the process measurements deviate from safe parameters.
"As part of our continued drive to meet the highest levels of safety on site, we review equipment regularly and one of the areas we decided to upgrade was a range of our legacy alarm annunciators," explains Stuart Brazil, electrical project manager at Givaudan. "Our goal was to add networking functionality to our alarm system and reduce the amount of physical wiring on the network that spans around eight hectares. Not only would this make the process of adding new alarms more efficient, it would ensure the system met the latest IEC 61508 safety integrity level (SIL) rules. To consolidate our operators' alarm sheets and deliver even faster response times, we partnered with Omniflex on the upgrade project."
"We worked with Givaudan's Ashford facility to upgrade the site's legacy Highland alarms, while keeping engineering costs down," says Gary Bradshaw, director at Omniflex UK. The two key points in the brief were to add networking and a way of prioritising critical and non-critical alarms. We also enhanced the layout of the alarms to ensure that they are displayed to the right person, in the right area, at the right time."
The project was completed in November 2020. Omniflex delivered several Omni 16C alarm annunciators, as well as the necessary HMIs and signal conditioning units required to work alongside the existing system.
"The units allow users to create up to 256 alarm points using a panel mounted LED-backlit display," says Bradshaw. "Crucially, the units also provide connectivity to interface with a PLC, DCS or scada system."
"We're really happy with the upgrades to our safety-critical alarm system," concludes Brazil. "It's faster, more responsive and less complex, allowing easy alarm prioritisation and the ability to control it centrally.
"The team at Omniflex has also been brilliant in helping us through the process. Despite social distancing constraints, their engineer successfully carried out the factory acceptance test on-site. This allowed us to do a dry-run and test the system before it was installed and commissioned. Additionally, the team also provided training sessions via video calls because of the pandemic. This really showed their flexibility at a time when most companies were closed during lockdown."
Credit(s)
Further reading:
Tube connector for Ex areas
May 2020, Parker Hannifin - Sales Company South Africa , IS & Ex
Parker Hannifin has extended its Phastite permanent instrumentation connection range, which is now available in a number of corrosion-resistant alloys (CRAs), including Alloy 825, 625 and Super Duplex, 
...
Read more...
---
Temperature and humidity monitoring for vaccine rollouts
May 2021, Omniflex Remote Monitoring Specialists , Temperature Measurement
How remotely monitoring facilities maintains the vaccine cold chain.
Read more...
---
How to calculate an intrinsically safe loop approval - updated and revised
March 2021, Extech Safety Systems , IS & Ex
We all know what can happen when the correct techniques are not used when interfacing into a hazardous area.
Read more...
---
Robust safety light curtains
April 2021, Turck Banner , IS & Ex
Ez-Screen LS light curtains are intuitive, easy-to-use safety devices designed by Turck Banner for machine safeguarding.
Read more...
---
Delivering modern SIS for wellhead applications
April 2021, Emerson Automation Solutions , IS & Ex
Keeping the safety and non-safety functions separate while achieving seamless integration.
Read more...
---
Enterprise mobility for hazardous areas
March 2021, Pepperl+Fuchs , IS & Ex
Enterprises can easily select and manage Android devices and services with the new Android Enterprise Recommended devices – verified by Google.
Read more...
---
Intrinsically safe robot for tank inspection
March 2021, RS Components SA , IS & Ex
Electrocomponents collaborates with industry specialists to develop revolutionary new method of inspecting petrochemical storage tanks.
Read more...
---
Remote monitoring of temperature in cryopreservation facilities
March 2021, Omniflex Remote Monitoring Specialists , Industrial Wireless
When the Medical Research Council needed to upgrade sixteen of its facilities to monitor temperature and humidity levels in its -80°C sample storage area, it engaged Omniflex to find a solution.
Read more...
---
Illuminated E-stops with diagnostics
March 2021, Turck Banner , IS & Ex
In-Series Diagnostics runs through up to 32 devices on a single 4-pin cable to the control panel, with only two wires running to the controller and two others for power.
Read more...
---
New Rockwell Automation safety devices
March 2021, Rockwell Automation , IS & Ex
Manufacturers can harness the power of data to improve their safety compliance and performance using two new smart safety devices.
Read more...
---