printer friendly version
BMG offers a refurbishment to African sugar mills
May 2021
Motion Control & Drives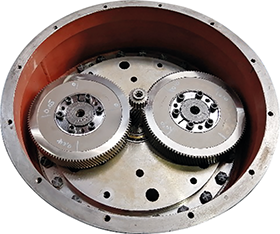 The BMG team works closely with sugar mill engineers in the industry's off-crop period each year, to refurbish and replace worn components in preparation for high productivity in the upcoming season.
Dorstener gearboxes have been used on diffuser drives, mill drives and feeder tables for many years and three of these planet carriers recently needed to be replaced, due to excessive bearing journal wear and cracking. "In spite of tight time restrictions before the seasonal start-up of the mill, BMG designed, fabricated and installed new carriers, reducing the normal 24-week delivery period to only four weeks, with cost savings of about 7,5 times," explains Mike Cooper, general manager, engineering, BMG. "Carriers are normally manufactured by Dorstener from cast iron, which is extremely difficult to repair. In this case, there was the additional problem of bores positioned close together, with virtually no wall thickness between the bearing journals, which was where the cracking had occurred. Because of the harsh operating conditions of the mill and the high torque load, we decided replacement was the preferred option over refurbishment."
The planet carriers were reengineered and fabricated out of 355WA steel plate, which is not only stronger than the original cast iron units, but crucially allowed manufacture in only three weeks.
The team was on a tight deadline to have drawings and designs approved to ensure highly accurate dimensions for a perfect fit and clearances and to accommodate the gear mesh.
Welding challenges, to maintain structural rigidity of the system, were overcome by machining interlocking tabs in the top and bottom main plates, as well as in the webs and side rings, to ensure a more precise assembly for welding, with less distortion. The webs and side plates were welded to the bottom ring and the entire assembly was then fitted onto the top ring, for welding into place. Slots were later filled with weld, so that the webs form an integral part of the structure.
BMG's specialist services to the sugar sector also include bearing and gearbox inspection, bearing and chain refurbishment, large size bearing assembly and alignment and balancing, as well as customised product design.
For more information contact Mike Cooper, BMG, +27 11 620 1731, mikec@bmgworld.net, www.bmgworld.net
Credit(s)
Further reading:
BMG's Hydraforce valves and solutions
April 2021, Bearing Man Group t/a BMG , Pneumatics & Hydraulics
BMG, distributors of the Hydraforce range of proportional valves in southern Africa, works closely with Hydraforce engineers and customers in diverse industries to design and manufacture customised hydraulic 
...
Read more...
---
Why Cobots? From myths to a simpler reality
May 2021, SMC Corporation South Africa , Motion Control & Drives
While robotics led the way for the rapid growth of automation, cobots are the democratisation of robotics technology. They eliminate the cost and complex programming that robots usually require while providing much greater flexibility.
Read more...
---
Adroit connection to solar powered VSDs
May 2021, Adroit Technologies , Motion Control & Drives
Adroit Connect is a simple and cost-effective solution that allows users to remotely monitor their Mitsubishi solar VSDs, change parameters from anywhere and save unnecessary trips to site.
Read more...
---
New Fenner couplings ensure effective torque transfer
March 2021, Bearing Man Group t/a BMG , Motion Control & Drives
BMG's new reinforced Fenner Triflex couplings, with forged steel flanges, provide an integrated solution for the safe and efficient transfer of torque, even in extreme conditions.
Read more...
---
Enhance machine safety with locking cylinders
March 2021, SMC Corporation South Africa , Motion Control & Drives
Stopping the flow of compressed air using an air circuit combined with a mechanical locking cylinder gives the most enhanced level of safety.
Read more...
---
30 years of linear motion technology
March 2021 , Motion Control & Drives
This year, factory automation specialist Bosch Rexroth celebrates 30 years of linear motion technology and innovation.
Read more...
---
Motion control with Sinumerik One Dynamics
March 2021, Siemens Digital Industries , Motion Control & Drives
Siemens has launched three powerful technology packages exclusively for the CNC Sinumerik One.
Read more...
---
Drive chains for clean environments
March 2021, Bearing Man Group t/a BMG , Motion Control & Drives
BMG's Power Transmission division offers maintenance-free solutions for increased productivity, minimal machine downtime and reduced maintenance costs in the food and beverage sector.
Read more...
---
Robot streamlines food delivery
March 2021, Omron Electronics , Motion Control & Drives
The robot was taking part in a month-long 'Home on Demand' automated courier service trial, testing the potential for using autonomous robots for deliveries to urban homes.
Read more...
---
The future of automation
March 2021, SEW-Eurodrive , Motion Control & Drives
MOVI-C comprises four components: MOVISUITE engineering software, MOVI-C Controller control technology, MOVIDRIVE inverter technology, and MOVIGEAR, MOVIMOT decentralised drive technology comprising the 
...
Read more...
---