printer friendly version
Industrial gear unit reduces power consumption
April 2021
Motion Control & Drives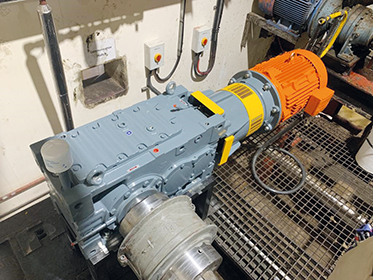 SEW-Eurodrive Durban recently examined a rotary cooking pot breakdown at an animal-feed plant in the area. Sales representative, Cliffton Bridge, commented that it was a fairly old pot, which had suffered a transmission failure. An inspection of the broken unit showed that SEW-Eurodrive's MC Series Helical Bevel IG Unit would be the perfect replacement solution, and that downtime could be reduced by implementing the company's drop and install procedure.
"As solution specialists, we understand the need for a quick return to operational activity," added Bridge. "The MC Series Helical Bevel IG Unit, which replaced the old worm styled gearing unit, is not only more compact due its modular design, but has far fewer variables. The helical bevel system also has increased torque capacity, broader gear ratios and delivers higher efficiency as the motor connects directly to the gearbox."
Substantial cost savings were achieved by installing the advanced new drive unit – over a 26% cost saving – versus trying to repair the old gearbox. In addition, the new unit offered improved operating power at a mechanical efficiency of 95%, allowing the pot to be put back into service with minimum loss of production.
Another benefit is the extended bearing distance (EBD) concept of the design, which offers stronger bearings within the gear unit itself. This means that in many cases separate bearings are no longer required in the agitator, or an oversizing of the gear unit can be avoided. The concept is supplemented by an optional dry well seal, which prevents oil leakage at the output shaft.
"As a key solutions provider to the engineering industry, we believe that our efficient and modular solutions offer valuable savings, whilst showing the benefits of using the latest available technology," concludes SEW-Eurodrive Durban branch manager, Clive O'Reilly. "Our purpose is to add value to our customers, giving them peace of mind through the quality of our local support."
For more information contact SEW-Eurodrive, +27 11 248 7000, jklut@sew.co.za, www.sew-eurodrive.co.za
Further reading:
New Fenner couplings ensure effective torque transfer
March 2021, Bearing Man Group t/a BMG , Motion Control & Drives
BMG's new reinforced Fenner Triflex couplings, with forged steel flanges, provide an integrated solution for the safe and efficient transfer of torque, even in extreme conditions.
Read more...
---
Enhance machine safety with locking cylinders
March 2021, SMC Corporation South Africa , Motion Control & Drives
Stopping the flow of compressed air using an air circuit combined with a mechanical locking cylinder gives the most enhanced level of safety.
Read more...
---
30 years of linear motion technology
March 2021 , Motion Control & Drives
This year, factory automation specialist Bosch Rexroth celebrates 30 years of linear motion technology and innovation.
Read more...
---
Motion control with Sinumerik One Dynamics
March 2021, Siemens Digital Industries , Motion Control & Drives
Siemens has launched three powerful technology packages exclusively for the CNC Sinumerik One.
Read more...
---
Drive chains for clean environments
March 2021, Bearing Man Group t/a BMG , Motion Control & Drives
BMG's Power Transmission division offers maintenance-free solutions for increased productivity, minimal machine downtime and reduced maintenance costs in the food and beverage sector.
Read more...
---
Robot streamlines food delivery
March 2021, Omron Electronics , Motion Control & Drives
The robot was taking part in a month-long 'Home on Demand' automated courier service trial, testing the potential for using autonomous robots for deliveries to urban homes.
Read more...
---
The future of automation
March 2021, SEW-Eurodrive , Motion Control & Drives
MOVI-C comprises four components: MOVISUITE engineering software, MOVI-C Controller control technology, MOVIDRIVE inverter technology, and MOVIGEAR, MOVIMOT decentralised drive technology comprising the 
...
Read more...
---
Digital transformation drives control valve market shift to electric actuators
April 2021 , Motion Control & Drives
Pneumatic powered actuators have traditionally been the choice of technology in process plants, however, ARC is witnessing a gradual uptick in demand for light-duty compact electric actuators
Read more...
---
New Kinetix integrated motion drives
February 2021, Rockwell Automation , Motion Control & Drives
The new Allen-Bradley Kinetix 5300 servo drive is a fully integrated, CIP motion solution for global machine builders designing market-competitive machines.
Read more...
---
ABB Food Safe motors for wash-down cycles
February 2021, ABB South Africa , Motion Control & Drives
ABB Food Safe motors address the wash-down challenge as they feature a stainless steel housing to resist corrosion and IP69 ingress protection.
Read more...
---