printer friendly version
All-in-one operating solutions for use in the field
April 2021
Industrial Computer Hardware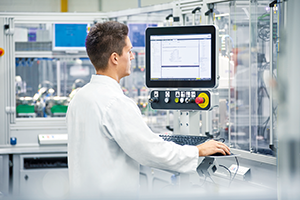 Industrial PCs are indispensable in factory automation. In times of increasing digitalisation, they take care of a variety of tasks. That is why it is important that the devices can be easily installed, operated, and extended, support state-of-the-art communications technologies, and also work reliably under harsh conditions – just like the AIO product family from Phoenix Contact does.
Faced with ever-growing challenges involving Industry 4.0, companies are looking for features which will make their machines and systems stand out against solutions from competitors. In addition, the concepts should be able to be integrated easily and quickly into the existing production systems of factory automation. Many manufacturers have identified optimisation of the operating terminals as a possible starting point toward overcoming the extreme challenges, for example with regard to data transmission in the gigabit range, or use of the Profinet protocol for communication. Moreover, the display and controls need to be able to be arranged flexibly, be extendable, and also be able to withstand the harsh industrial ambient conditions.
Powerful processors in the fanless design
State-of-the-art and graphics-intensive visualisations require powerful CPUs to ensure smooth operation. Therefore, the new AIO devices contain Intel Core i5 processors so that they are particularly suitable for demanding tasks, such as those that arise in machine control, process visualisation, quality assurance, or data acquisition. Despite the high-performing CPUs, the panel PCs are passively cooled. In other words, they are designed to be completely fanless, which increases their range of applications and the system availability. Moreover, they require significantly less maintenance, and the noise from the fan is also eliminated.
In addition, the industrial PCs in the AIO product family work exclusively with Intel roadmap processors which have been on the market for a long time and have low power loss. Using them ensures a device that is compatible with its function over a time period of many years. Nevertheless, if there are updates or other adaptations that are pending, the person in charge of the setup can still carry out all the necessary installation and maintenance measures using the IP65-protected USB port.
Mounting options for every application
As already mentioned, the AIO devices have a completely closed aluminium die-cast housing in the IP65 degree of protection, which is why there is no need for an additional enclosure or a control cabinet installed on the machine. Furthermore, the panel PCs are equipped with a VESA-100 mounting hole on the rear of the housing. This allows it to be attached directly to the machine or the system, for example to a VESA wall bracket. If assembly on a supporting arm or a pedestal is required, then a suitable back cover for the housing is also available.
The compact dimensions are an additional advantage of the AIO family. The series has a depth of just 100 millimetres. Large and expensive enclosures or control cabinets, which are particularly needed for large widescreen displays, and the resulting installation by two employees are therefore a thing of the past. This reduces the costs for mounting significantly.
Many extension options in one operating terminal
In the AIO product family, the well-thought-out design and the associated offerings from Phoenix Contact do not just end at operator panels. If desired, the industrial PC user can add a keypad module, which allows for the integration of up to eleven buttons or switches. The buttons can be used for USB connections, key switches, or other functions. Even an emergency stop or selector switch can be integrated directly into the operating concept. Gaps that are not needed can be used later, or simply remain unused.
If the user would like to integrate the operating solution (including the keypad module) in an existing Profinet network, there is a gigabit-capable switch with Profinet and Profisafe functions available to forward the data. And if a signal tower is to be mounted to the machine or system, it can be added into the operating concept without problems. In addition, Phoenix Contact offers a complete operating terminal, including pedestal, keyboard, mouse and internal wiring.
Credit(s)
Further reading:
Open PLCnext Technology ecosystem
February 2021, Phoenix Contact , PLCs, DCSs & Controllers
With the new PLCnext Control AXC F 3152 controller, Phoenix Contact now provides a high-performance Axioline controller based on the open PLCnext Technology ecosystem.
Read more...
---
Rockwell Automation expands visualisation offering
February 2021, Rockwell Automation , Industrial Computer Hardware
New VersaView 6300 industrial PCs and thin clients allow users to create a single, secure and dependable visualisation system.
Read more...
---
Open PLCnext Technology ecosystem
January 2021, Phoenix Contact , PLCs, DCSs & Controllers
With the new PLCnext Control AXC F 3152 controller, Phoenix Contact now provides a high-performance Axioline controller based on the open PLCnext Technology ecosystem.
Read more...
---
Simple acquisition of energy consumption values
November 2020, Phoenix Contact , Electrical Power & Protection
By developing the new components of the EMpro product family, Phoenix Contact has found a solution that satisfies most energy data gathering applications.
Read more...
---
Quad-monitor thin client applications from Pepperl+Fuchs
October 2020, Pepperl+Fuchs , Industrial Computer Hardware
Using established thin client technology from Pepperl+Fuchs, production statuses are transmitted to multiple monitors in real time so that all plant data can be monitored and operators can respond quickly.
Read more...
---
New Allen-Bradley compact box PCs
September 2020, Rockwell Automation , Industrial Computer Hardware
The new box PCs and thin clients are the first of the Allen-Bradley VersaView 6300 family of industrial computers and leverage designs and technology from the acquisition of ASEM earlier this year.
Read more...
---
Automated marking of terminal strips
August 2020, Phoenix Contact , Enclosures, Cabling & Connectors
The Mark Master terminal strip marking system from the Phoenix Contact ClipX product range uses patented high-speed technology for the fast and efficient processing of marking tasks. In control cabinet 
...
Read more...
---
Surge protection for electro-mobility
July 2020, Phoenix Contact , IS & Ex
The market for electric cars is growing exponentially and automobile manufacturers are increasingly focusing on electro-mobility. However, surge protection also has a part to play in this technology. 
...
Read more...
---
Power supplies for building automation
June 2020, Phoenix Contact , Electrical Power & Protection
The new Step Power power supplies from Phoenix Contact are specifically tailored to the needs of modern building automation. With their comprehensive approval package, which includes the standard 
...
Read more...
---
Edge device provides fanless control
June 2020, Beckhoff Automation , Industrial Computer Hardware
With its new C7015 ultra-compact industrial PC, Beckhoff has combined its extensive expertise with PC-based machine control and IP 65/67 components. The result is an industrial PC (IPC) designed with 
...
Read more...
---