printer friendly version
Pratley develops another cable gland world-first
April 2021
Enclosures, Cabling & Connectors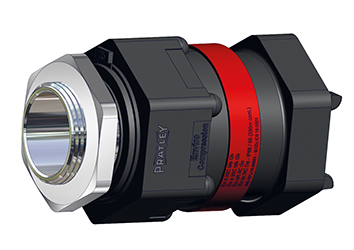 The primary function of any cable gland is to anchor the cable securely to an electrical apparatus. Ex d (flameproof) cable glands obviously provide additional safety performance related to human life preservation in hazardous locations. Strict international testing standards (IEC 60079 series) specify extreme performance requirements for the certification of such glands. These are so demanding that, up until now, no Ex d/e corrosion-resistant flameproof compression gland has been certified without some attendant requirements or 'special conditions' of use.
Pratley marketing director Eldon Kruger comments: "It is quite bizarre to pay for a cable gland that, due to its incapability of performing its primary anchoring function, requires the special condition of external clamping."
Also, notwithstanding the extra cost, the external clamp itself must necessarily comply with IEC&n61914; (2009 Ed.1). If it is either not fitted or not compliant, the entire installation would be unsafe and non-compliant, which places end users at risk. Understandably, even master installation electricians could be excused for missing the small print on instruction leaflets and assume that a certified Ex d (flameproof) cable gland could simply be fitted to a flameproof enclosure. "It's a natural conclusion," points out Kruger.
In the case of at least one well-known brand, the gland is also unable to comply with IEC torque requirements. It has therefore been certified with yet another special condition. In this instance, the gland must be installed with a special proprietary spanner that emulates a semi-open ring spanner, and thereby prevents collapse of the compression nut. Of course, the installation would require such a spanner for every size of gland and, even worse, if it is inspected routinely as required by law, routine maintenance tightening would also require a special spanner.
Compliance sets Pratley's Enviro Compression Gland apart
From a risk-analysis viewpoint, one must ask: Will such a gland ever realistically be installed with both an external clamp, and using a special spanner? Will it also, five years down the line, still be inspected and tightened with such a special spanner? If the answer is no, the engineer in charge and the installer are at legal risk, and the workforce in the plant is at mortal risk.
Pratley's new, fully-certified Ex d/e corrosion-resistant Enviro Compression Gland solves all of this. "It has zero special conditions of use attendant to its installation, which is a world first," highlights Kruger. "Pratley is well-known in the market for producing world-class electrical termination products. In fact, it takes product performance so seriously its policy statement reads that the performance of its products should outperform all others on the world market. It's even signed by CEO Kim Pratley and displayed on the product packaging."
Pratley claims that there's almost no place on earth where its new cable gland cannot be installed. From Group I locations in underground fiery mines, and Ex d flameproof environments, through to the coldest and hottest climates on the planet, the gland has been certified for temperatures from -20°C to 95°C. It is also IP66/68 certified and can withstand an incredible continuous depth of 350 m underwater. That is equivalent to the depth of the North Sea 50 km offshore.
It is made from high-tensile brass components encapsulated in a tough engineering plastic, which means it will not crack when tightening. This, combined with Pratley's unique Taper-Tech internal seal design, ensures safe installation in corrosive environments, without damaging the cable or compromising seal longevity. The cable gland is suitable for installation in equipment Groups I, II, and III, and Zones 1, 2, 20, 21, and 22 hazardous locations. It is also completely resistant to oil and grease.
"I am confident that we have produced a product that not only complies with our policy statement, but exceeds it," concludes Kruger. "Our aim was to produce a cable gland for hazardous locations that stands out from the rest and does what a cable gland is supposed to do, without compromising on safety. There shouldn't be any limitations, special conditions, or ancillary tools. If you need it in metric thread, NPT thread, or stainless steel, no problem, as we can do that too."
For more information contact Pratley, +27 11 955 2190, sales@pratley.co.za, www.pratleyelectrical.com
Further reading:
Monitoring for control cabinets
September 2020, Turck Banner , Enclosures, Cabling & Connectors
The IM18-CCM is particularly suitable for OEMs wishing to provide basic condition monitoring values in their IT system. It detects critical states of the control cabinet directly in the field.
Read more...
---
Automated marking of terminal strips
August 2020, Phoenix Contact , Enclosures, Cabling & Connectors
The Mark Master terminal strip marking system from the Phoenix Contact ClipX product range uses patented high-speed technology for the fast and efficient processing of marking tasks. In control cabinet 
...
Read more...
---
Rittal's range of compact and small enclosures
August 2020 , Enclosures, Cabling & Connectors
After more than 50 years and 35 million enclosures sold, Rittal has introduced its small and compact enclosures in the form of the AX and KX series. According to managing director of Rittal South Africa, 
...
Read more...
---
New range of compact enclosures
April 2020, Rittal , Enclosures, Cabling & Connectors
After more than 50 years and 35 million enclosures sold, Rittal has introduced its small and compact enclosures in the form of the AX and KX series respectively. According to managing director of Rittal 
...
Read more...
---
SMC offers services as well as components
April 2020, SMC Corporation South Africa , Enclosures, Cabling & Connectors
Besides being a leading supplier of industrial automation components, SMC South Africa also offers value-added services. One of these is in-house control panel design and construction. This takes a labour 
...
Read more...
---
Enclosures with modular design
April 2020, Vepac Electronics , Enclosures, Cabling & Connectors
CamdenBoss CNMB DIN rail enclosures, feature a modular design. Terminal guards and top covers can be snap-fitted for a quick and simple assembly. PCBs can be placed into the DIN rail enclosure in five 
...
Read more...
---
Self-venting compressed air safety couplers
April 2020, Parker Hannifin - Sales Company South Africa , Enclosures, Cabling & Connectors
Motion control technologies specialist, Parker Hannifin, has introduced a new series of safety couplings for compressed air systems. The new KP series is an ergonomic push-button, self-venting coupler 
...
Read more...
---
Pick-to-light solutions kit
April 2020, Turck Banner , Enclosures, Cabling & Connectors
The Pick-to-Light Solutions kit is an integrated solution that consists of an enclosure, an DXM controller, a HMI, plus direct connections for PTL110 devices and power. The integrated device and power 
...
Read more...
---
What's the difference between round and flat cables?
Technews Industry Guide: Maintenance, Reliability & Asset Optimisation 2020, Helukabel , Enclosures, Cabling & Connectors
Understanding how to make reliable connections to an application starts with proper cable selection.
Read more...
---
Connectors for automotive applications
April 2020, RS Components SA , Enclosures, Cabling & Connectors
RS Components has launched the A Series of high-specification automotive connectors from Amphenol, one of the world's leading makers of interconnection devices suitable for a huge diversity of markets 
...
Read more...
---