printer friendly version
Protecting hazardous areas from corrosion
April 2021
IS & Ex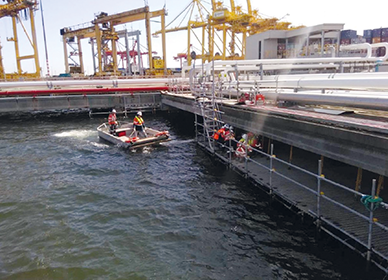 Remote monitoring specialist, Omniflex, has gained IECEx certification to manufacture intrinsically safe electrical equipment for the global market, supplementing its existing hazardous area equipment approvals. Certification facilitated the delivery of an intrinsically safe cathodic protection (CP) system with remote monitoring and testing to help combat corrosion at NSW Ports' Bulk Liquid Berth 1 (BLB1) site in Sydney Harbour, where there is the potential for exposure to volatile, flammable substances.
In 2019, NSW Ports embarked on a two-year programme to rehabilitate concrete structures and combat corrosion levels at BLB1 using a CP system. This was a challenging endeavour because BLB1 plays an active role in loading and unloading hazardous liquids and gases, meaning any excess voltage or current could become an ignition source for an explosion. To overcome this, the consultants engaged Omniflex, which assisted with designing an intrinsically safe, remotely monitored hybrid CP system that could protect critical infrastructure at the port from corrosion. The system allowed hybrid CP anodes to be charged during the impressed current phase and monitored during the galvanic phase, with loading and unloading of hazardous gases at the site continuing normally.
"Because this was the first project to use a hybrid CP system in a hazardous area on this scale anywhere in the world, some of the components required certification for the design to meet the necessary standards as an intrinsically safe certified system," explained David Celine, managing director of Omniflex. "The system uses a network of 35 000 hybrid anodes expressly for the purpose of creating current, which created a new use case that wasn't covered in the existing documentation."
Since the anodes were from a UK-based supplier, Omniflex's technology is manufactured in South Africa and the project site is in Australia, navigating certifying bodies was challenging. Furthermore, IECEx certification requires all equipment made for use in the hazardous area to be manufactured at a facility that is itself certified as being IECEx compliant. This meant that Omniflex's factory in Durban needed this approval too.
"Despite the hurdles, both Omniflex's factory and the BLB1 system design were approved and certified as being intrinsically safe for use in areas classified as Zone 1 hazardous for gas group IIB," concluded Celine. "This enabled us to deliver the project as planned and put a system in place to protect structures at the port from corrosion for the next fifty years."
Credit(s)
Further reading:
Tube connector for Ex areas
May 2020, Parker Hannifin - Sales Company South Africa , IS & Ex
Parker Hannifin has extended its Phastite permanent instrumentation connection range, which is now available in a number of corrosion-resistant alloys (CRAs), including Alloy 825, 625 and Super Duplex, 
...
Read more...
---
Temperature and humidity monitoring for vaccine rollouts
May 2021, Omniflex Remote Monitoring Specialists , Temperature Measurement
How remotely monitoring facilities maintains the vaccine cold chain.
Read more...
---
How to calculate an intrinsically safe loop approval - updated and revised
March 2021, Extech Safety Systems , IS & Ex
We all know what can happen when the correct techniques are not used when interfacing into a hazardous area.
Read more...
---
Robust safety light curtains
April 2021, Turck Banner , IS & Ex
Ez-Screen LS light curtains are intuitive, easy-to-use safety devices designed by Turck Banner for machine safeguarding.
Read more...
---
Delivering modern SIS for wellhead applications
April 2021, Emerson Automation Solutions , IS & Ex
Keeping the safety and non-safety functions separate while achieving seamless integration.
Read more...
---
Enterprise mobility for hazardous areas
March 2021, Pepperl+Fuchs , IS & Ex
Enterprises can easily select and manage Android devices and services with the new Android Enterprise Recommended devices – verified by Google.
Read more...
---
Intrinsically safe robot for tank inspection
March 2021, RS Components SA , IS & Ex
Electrocomponents collaborates with industry specialists to develop revolutionary new method of inspecting petrochemical storage tanks.
Read more...
---
Remote monitoring of temperature in cryopreservation facilities
March 2021, Omniflex Remote Monitoring Specialists , Industrial Wireless
When the Medical Research Council needed to upgrade sixteen of its facilities to monitor temperature and humidity levels in its -80°C sample storage area, it engaged Omniflex to find a solution.
Read more...
---
Illuminated E-stops with diagnostics
March 2021, Turck Banner , IS & Ex
In-Series Diagnostics runs through up to 32 devices on a single 4-pin cable to the control panel, with only two wires running to the controller and two others for power.
Read more...
---
New Rockwell Automation safety devices
March 2021, Rockwell Automation , IS & Ex
Manufacturers can harness the power of data to improve their safety compliance and performance using two new smart safety devices.
Read more...
---