printer friendly version
Cable, components and critical space exploration
February 2021
News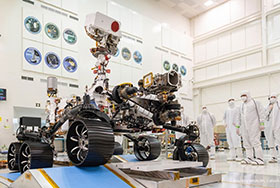 As NASA's Mars Perseverance rover begins exploring its new planetary home after landing on 18 February, it's operating with the world's most advanced technology while being equipped with Ty-Rap cable ties from ABB, the same ties that are widely used on earth.
Found in buildings, subways, the deepest oceans and outer space, ABB's Ty-Rap cable ties are designed to withstand the demands of space flight and resist corrosion and radiation in the most extreme environments. NASA has integrated the same Ty-Rap cable ties, which are used in commercial applications worldwide, to fasten the rover's interior and exterior conduit and components, and to secure research and laboratory equipment.
"Similar to how standard cable ties are a practical solution for use around the home to organize everything from indoor cords to outdoor lights, high-performance Ty-Rap cable ties connect and secure the rover's wires and equipment," said Matthias Heilmann, president of ABB Installation Products. "For nearly 50 years, these cable ties have performed in the most intense conditions on earth and protected components from high impact elements and radical temperature changes in previous space expeditions."
The business known today as ABB Installation Products has provided products to the space program since 1973, and Ty-Rap cable ties are in continued use on the still active NASA Curiosity rover and were previously used on the twin Spirit and Opportunity rovers. Originally patented in 1958, standard cable ties became known for their 'Grip of Steel' locking device.
The Mars 2020 Perseverance Rover mission is part of NASA's Mars Exploration Program. The mission addresses high-priority science goals for Mars exploration, including key questions about the potential for life on Mars.
ABB has a long-standing relationship with NASA that began more than 30 years ago with optical sensor contributions to support experiments on the space shuttle. In November 2020, the company announced a contract for NASA's Jet Propulsion Laboratory that will see key technology from ABB and its partner Nüvü Camēras fly onboard the space telescope in 2025, on course to capture the first space-borne images of planets outside our solar system. ABB is also a key supplier to the JPSS U.S. weather satellite series under NASA procurement. These weather satellites are critical pieces of hardware for operational or flagship U.S. space missions.
Part of its Electrification business area, ABB Installation Products Division, formerly Thomas & Betts, is a global leader in the design, manufacture and marketing of products used to manage the connection, protection and distribution of electrical power in industrial, construction and utility applications. With more than 200 000 products under more than 38 premium brand names, ABB Installation Products solutions can be found wherever electricity is used.
Credit(s)
Further reading:
From the editor's desk: Is additive manufacturing poised to go mainstream?
Technews Publishing (SA Instrumentation & Control) News
As digital manufacturing technology pushes its way further towards the production floor, additive manufacturing (3D printing) is emerging as a viable option to complement the more traditional methods 
...
Read more...
---
Obituary: Steven James Meyer
January 1957 - January 2022
Technews Publishing (SA Instrumentation & Control) News SAIMC
It is with deep sadness and shock that we announce the sudden death of SA Instrumentation & Control Editor, Steven Meyer. Steven joined Technews in October 2007 in the position of Deputy Editor. His 
...
Read more...
---
ESG certified as Level 2 contributor to B-BBEE
News
Invicta Holdings Limited's Engineering Solutions Group (ESG) has achieved recognition as a Level 2 contributor to B-BBEE.
Read more...
---
Abrasive Flow Solutions celebrates its first year of business
News
Abrasive Flow Solutions (AFS) – specialists in the design and manufacture of slurry related valves – celebrates its first year of business.
Read more...
---
Microsatellite production gets a boost in Stellenbosch
TANDM Technologies News
Dragonfly Aerospace is investing in a 3000 square metre design and manufacturing facility in Techno Park, Stellenbosch.
Read more...
---
Danfoss doubles down on energy efficiency
Danfoss News
Danfoss encourages decision makers to act at COP26.
Read more...
---
Zest supplies SA's new gas helium project
Zest WEG Group Africa News
Zest WEG is supplying locally manufactured transformers, switchgear and substations to South Africa's onshore natural gas and helium project, Tetra4.
Read more...
---
Emerson announces commitment to venture capital initiative
Emerson Automation Solutions News
Emerson Ventures to focus on disruptive discrete automation solutions, environmental sustainability technologies and industrial software.
Read more...
---
Valve & Automation's new Secunda Valve Repair Centre
Valve & Automation News
On 1 November 2021, Valve & Automation's Secunda Valve Repair Centre opened at 18 Kingfisher Street, Ext 57, Secunda, Mpumalanga.
Read more...
---
ABB robotics offers a taste of the future
ABB South Africa Motion Control & Drives
Food and beverage manufacturers increasingly need more flexibility on their production lines to enable them to adapt to changing consumer tastes and demands.
Read more...
---