printer friendly version
Motion control with Sinumerik One Dynamics
March 2021
Motion Control & Drives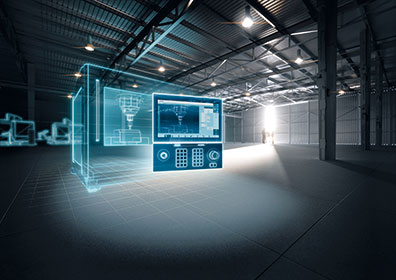 With the software version NCU-SW 6.14, Siemens has launched three powerful technology packages exclusively for the CNC Sinumerik One. The Sinumerik One Dynamics packages are available in three different versions: One Dynamics Operate, One Dynamics 3-axis milling and One Dynamics 5-axis milling. The software functions contained in the technology packages support users from machine-oriented programming in the job shop to high-performance machining of CAD-CAM-programmed workpieces with high surface quality.
The One Dynamics Operate package supports the user in efficient programming on the shop floor with the proven Sinumerik machining cycles and a high-quality CNC simulation for the machining technologies milling and turning. In addition, the user is given a wide range of options for accessing NC programs and workpiece documentation. The option of paperless manufacturing can, for example, help to visualise 3D CAD data in the shop floor environment within a very short time. For the execution of CAM-generated CNC programs for free-form surface machining, One Dynamics 3- and 5-axis milling packages offer the CNC functions 'Top Surface' and 'Top Speed Plus' for excellent motion control and perfect workpiece surfaces.
With Top Surface, the geometric data from the CAM system are checked and optimised during processing on the CNC using an intelligent algorithm. This ensures a high surface quality when milling complex free-form surfaces. This is particularly advantageous for geometrically complex components that place special demands on surface quality, accuracy and production efficiency, for example in tool making, aircraft construction or medical technology.
Top Speed Plus ensures that increased dynamics are made possible without causing mechanical vibrations in the machine. Depending on the specific application, this can reduce machining times by up to 30 percent. As a result, unit costs for milling with CAM-generated CNC programs can be reduced and production efficiency increased.
With few exceptions, the functions of Sinumerik One Dynamics do not require any commissioning effort on the part of the machine builder. Once activated, they are available to the operator for immediate use on the machine. Since they are software functions of the CNC control, no intervention in the machine or machine mechanics is required.
For more information contact Jennifer Naidoo, Siemens Digital Industries, jennifer.naidoo@siemens.com, www.siemens.co.za
Credit(s)
Further reading:
Water 4.0 for Botswana
April 2021, Siemens Digital Industries , News
Thanks to automation and electrical engineering from Siemens Solution Partner Moreflow, a new water treatment plant delivers 11 million litres of this precious resource every day.
Read more...
---
New Fenner couplings ensure effective torque transfer
March 2021, Bearing Man Group t/a BMG , Motion Control & Drives
BMG's new reinforced Fenner Triflex couplings, with forged steel flanges, provide an integrated solution for the safe and efficient transfer of torque, even in extreme conditions.
Read more...
---
Enhance machine safety with locking cylinders
March 2021, SMC Corporation South Africa , Motion Control & Drives
Stopping the flow of compressed air using an air circuit combined with a mechanical locking cylinder gives the most enhanced level of safety.
Read more...
---
30 years of linear motion technology
March 2021 , Motion Control & Drives
This year, factory automation specialist Bosch Rexroth celebrates 30 years of linear motion technology and innovation.
Read more...
---
CSIR and Siemens partner to boost the South Africa's 4IR competitiveness
February 2021, Siemens Digital Industries , News
South Africa's pursuit of being a key player in the Fourth Industrial Revolution received a massive boost as the CSIR and Siemens South Africa entered into a partnership to empower the country's economy.
Read more...
---
Drive chains for clean environments
March 2021, Bearing Man Group t/a BMG , Motion Control & Drives
BMG's Power Transmission division offers maintenance-free solutions for increased productivity, minimal machine downtime and reduced maintenance costs in the food and beverage sector.
Read more...
---
Robot streamlines food delivery
March 2021, Omron Electronics , Motion Control & Drives
The robot was taking part in a month-long 'Home on Demand' automated courier service trial, testing the potential for using autonomous robots for deliveries to urban homes.
Read more...
---
The future of automation
March 2021, SEW-Eurodrive , Motion Control & Drives
MOVI-C comprises four components: MOVISUITE engineering software, MOVI-C Controller control technology, MOVIDRIVE inverter technology, and MOVIGEAR, MOVIMOT decentralised drive technology comprising the 
...
Read more...
---
Industrial gear unit reduces power consumption
April 2021 , Motion Control & Drives
SEW-Eurodrive's MC Series Helical Bevel Industrial Gear Unit provides higher performance with reduced power consumption.
Read more...
---
Digital transformation drives control valve market shift to electric actuators
April 2021 , Motion Control & Drives
Pneumatic powered actuators have traditionally been the choice of technology in process plants, however, ARC is witnessing a gradual uptick in demand for light-duty compact electric actuators
Read more...
---