printer friendly version
Obituary: Chris du Plessis: 14 June 1959 – 12 January 2021
February 2021
News
Chris started a company called Techniman in 1986, selling other companies' products, but in 1992, Chris and his wife Judith founded SA Gauge. Chris felt that having a locally manufactured product was an advantage, and being manufactured by himself, it was a product he was happy to put a guarantee on. In 1994 Chris moved to Durban to open a second branch, which then became the company's head office.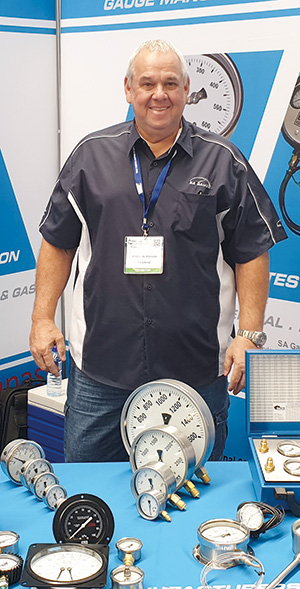 Chris du Plessis.
Chris was trained as a fitter and turner and strongly believed that learning how to do things yourself meant that you never had to rely on other people. This belief was not only passed on to his wife and three daughters, but also the staff at SA Gauge and many of his friends. Chris was a hard-working man and believed that nothing worth fighting for was easy. His 'can do' attitude laid the foundation upon which SA Gauge will continue to thrive.
Chris was serious about business, but he was also serious about having fun and enjoying life. His family was very important to him and he saw each one of the staff at SA Gauge as an extended family member. Ask anyone about Chris and the words used to describe him were always the same: fun loving, jolly, huge heart, a wonderful man, a friend, a brother, a confidant. Many saw him as a mentor or a father figure and his compassion and love for those in his life knew no bounds. He was never too busy to listen if you had a problem, and guidance or a helping hand was always offered if needed.
Chris had a huge impact on the lives he touched, no matter how brief that contact was. The void left by his passing will never be filled and he will be greatly missed not only by his immediate family, but by his extended work family and friends as well.
Credit(s)
Further reading:
From the editor's desk: Is additive manufacturing poised to go mainstream?
Technews Publishing (SA Instrumentation & Control) News
As digital manufacturing technology pushes its way further towards the production floor, additive manufacturing (3D printing) is emerging as a viable option to complement the more traditional methods 
...
Read more...
---
Obituary: Steven James Meyer
January 1957 - January 2022
Technews Publishing (SA Instrumentation & Control) News SAIMC
It is with deep sadness and shock that we announce the sudden death of SA Instrumentation & Control Editor, Steven Meyer. Steven joined Technews in October 2007 in the position of Deputy Editor. His 
...
Read more...
---
ESG certified as Level 2 contributor to B-BBEE
News
Invicta Holdings Limited's Engineering Solutions Group (ESG) has achieved recognition as a Level 2 contributor to B-BBEE.
Read more...
---
Abrasive Flow Solutions celebrates its first year of business
News
Abrasive Flow Solutions (AFS) – specialists in the design and manufacture of slurry related valves – celebrates its first year of business.
Read more...
---
Microsatellite production gets a boost in Stellenbosch
TANDM Technologies News
Dragonfly Aerospace is investing in a 3000 square metre design and manufacturing facility in Techno Park, Stellenbosch.
Read more...
---
Danfoss doubles down on energy efficiency
Danfoss News
Danfoss encourages decision makers to act at COP26.
Read more...
---
Zest supplies SA's new gas helium project
Zest WEG Group Africa News
Zest WEG is supplying locally manufactured transformers, switchgear and substations to South Africa's onshore natural gas and helium project, Tetra4.
Read more...
---
Emerson announces commitment to venture capital initiative
Emerson Automation Solutions News
Emerson Ventures to focus on disruptive discrete automation solutions, environmental sustainability technologies and industrial software.
Read more...
---
Valve & Automation's new Secunda Valve Repair Centre
Valve & Automation News
On 1 November 2021, Valve & Automation's Secunda Valve Repair Centre opened at 18 Kingfisher Street, Ext 57, Secunda, Mpumalanga.
Read more...
---
SECO Process Instrumentation appointed East Rand agent for Yokogawa
SECO Process Instrumentation News
SECO Process Instrumentation, a consulting company in the fields of instrumentation, moisture analysers, pneumatics and VSD solutions, has recently been appointed as the East Rand agent for Yokogawa.
Read more...
---