printer friendly version
Optimise fermentation in alcoholic beverage manufacturing through proper valve selection
February 2021
Valves, Actuators & Pump Control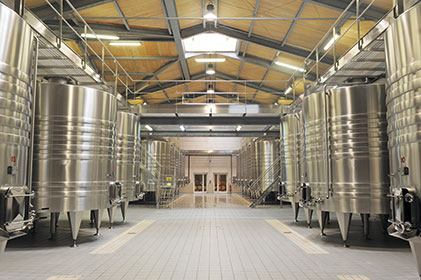 The alcohol business is booming. The explosion of craft beers, demand for new wine blends and rise of international distilleries means consumers have more choices than ever. Whether you're a small-town brewer, boutique winemaker or global brand, you need to make sure your products maintain the same high levels of quality and taste to keep up with demand, despite such variability.
The key lies in the fermentation process, which requires precise temperature control to ensure quality and consistency across various beverage styles and flavours. Optimum temperature control requires the right valve system to control heating and cooling parameters. Too often, valves experience short service lives and other performance issues that can cause temperature fluctuations – compromising beverage quality and costing precious time and money.
The challenges of upgrading fermentation systems
Alcoholic beverage producers typically control tank temperatures using glycol or ammonia systems. A common medium used today is propylene glycol, which flows through thermal jackets surrounding the fermentation tanks. In a closed circuit, the glycol is pumped through a chiller, where it is cooled, and then flows back through the jackets. Not only does temperature affect the speed of the fermentation process, but it also affects the taste and quality of the final beverage.
Because fermentation is such a vital process, it is no surprise beverage makers are increasingly looking to install or upgrade their tank cooling and heating systems. But these modifications do not come cheap, nor are they without their challenges. Many facilities, particularly smaller operations, have limited physical space. As a result, tank systems need to be positioned as close as possible to each other to maximise floor space and remain accessible during maintenance – making innovative yet costly tank designs a necessity. Other challenges include the high cost of energy, lengthy piping processes and potentially unreliable yields.
How choosing the right valve can help
In addition to ensuring precise temperature control, proper valve selection can address the challenges associated with installing, maintaining and upgrading fermentation heating and cooling systems, saving equipment space, conserving energy and optimising productivity. Depending on the system, it is also important to select valves that are rated to handle glycol or ammonia.
Whether you're spending too much time on piping or you're a startup operation with limited resources and space, Emerson can help you select the right fluid automation product to meet your unique needs. Choose from the following valve solutions, all of which are suitable for systems using glycol or ammonia:
• Two-way valves: two-way valves are a traditional, tried-and-true valve type for fermentation heating and cooling systems. These high-flow solenoid valves come in a range of pressure ratings, sizes and resilient materials like brass or stainless steel, providing long service life and low internal leakage.
• Solenoid valves: these include several electrical enhancements to achieve energy savings and longer service life. Look for valves that incorporate power management circuits, as well as electrical surge suppression to both the solenoid and electronic controls.
• Angle seat body valves: air-operated, direct-acting angle body seat valves are ideal for aggressive and high-viscosity fluids. Many models feature a straight-through design and wide range of advanced options, including a signalling box, compact positioner for proportional control, and stroke limiter. These valves are the preferred alternative to diaphragm and ball valves.
Controlling temperature automatically
In addition to proper valve selection, it is important to consider automating fermentation heating and cooling systems to achieve even greater thermal precision. For example, the G3 electronic fieldbus platform makes this process quick, simple and painless. G3 integrates communication interfaces and I/O capabilities into pneumatic valve manifolds, allowing the PLC to turn valves on and off, as well as channel temperature data from resistance temperature detector (RTD) sensors. Compact and modular, G3 includes a range of innovative features to enhance fermentation operations, including a graphics display for easy commissioning and fault diagnosis, as well as compatibility with a range of industrial communication protocols, including Ethernet, Profinet, DeviceNet and many others.
Valves, along with the G3 automation platform, provide a single solution that overcomes many of the challenges preventing alcoholic beverage makers from installing, expanding or upgrading their fermentation systems. In addition to saving space, conserving energy and improving critical uptime, this combination delivers the peace of mind that comes with knowing that all beverage products are achieving the highest levels of quality, consistency and taste.
For more information contact Giles Wilcox, ASCO, +27 11 451 3700, giles.wilcox@emerson.com, www.emerson.com/en-us/automation/asco
Credit(s)
Further reading:
Schubert & Salzer and Macsteel
September 2021, Macsteel Fluid Control , Valves, Actuators & Pump Control
The demand on valves, particularly in tyre production plants, is extreme with tyre curing presses working constantly at high temperatures and pressures.
Read more...
---
Chinese LNG tanker fitted with ARCA anti-surge valves
September 2021, Valve & Automation , Valves, Actuators & Pump Control
ARCA anti-surge valves avoid surging by accurately adjusting the gas circulation or blow-off flow, effectively protecting the safety of the compressor unit.
Read more...
---
Electrified subsea actuator for offshore production
September 2021 , Valves, Actuators & Pump Control
Bosch Rexroth has engineered the SVA R2 Subsea Valve Actuator as a disruptive innovation for electrically actuating valves in the subsea process industry. It can replace conventional hydraulic cylinders 
...
Read more...
---
Eliminate bearing failures in TOVs
August 2021, Valve & Automation , Valves, Actuators & Pump Control
Bearing failures are among the highest root causes of failure in triple offset valves (TOV) for tight shutoff applications. This issue is directly attributed to the need to have metal bearings with very 
...
Read more...
---
Locally manufactured knife gate valves
August 2021, Bearing Man Group t/a BMG , Valves, Actuators & Pump Control
BMG and Abrasive Flow Solutions (AFS) play a major role in the local valves sector, through the design, distribution, supply and support of a broad range of slurry related valves.
Read more...
---
Protect your pump and keep it longer
July 2021, Elemental Analytics , Valves, Actuators & Pump Control
Unexpectedly losing a pump is often an expensive or even a dangerous problem in a chemical plant.
Read more...
---
Locally valves manufactured for tailings pipeline
June 2021 , Valves, Actuators & Pump Control
The AFS manufacturing plant in Benoni is equipped with advanced equipment and is supported by specialists who offer dependable technical support to ensure the optimum safety, efficiency and extended service life of every system.
Read more...
---
New flange monoblock with shut-off valve
March 2021, WIKA Instruments , Valves, Actuators & Pump Control
WIKA's new monoblock with flange design integrates a shut-off valve to separate the process from the instrument side.
Read more...
---
The Stafsjö HX story – greater demand calls for action
February 2021, Valve & Automation , Valves, Actuators & Pump Control
As a knife gate valve supplier, Stafsjö supplies product solutions to realise efficiency and production goals in pulp and paper applications.
Read more...
---
Drives for solar-powered pump systems
February 2021, Bearing Man Group t/a BMG , Valves, Actuators & Pump Control
BMG advises on how to optimise efficiency and extend the service life of solar-powered pumping systems by selecting the correct drives.
Read more...
---