printer friendly version
See sound and locate invisible threats
February 2021
Maintenance, Test & Measurement, Calibration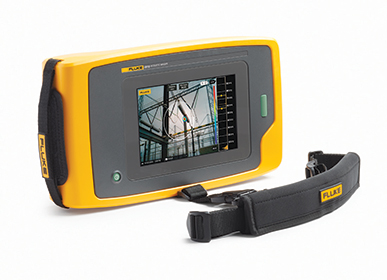 While most manufacturers know that these types of leaks exist, up until now, it has been too time consuming and tedious to address. Comtest, local representative of Fluke, reports that with the new Fluke ii900 or ii910 and minimal training, maintenance technicians can begin checking for leaks during their typical maintenance routine – even during peak operation hours.
The ii900 series acoustic imagers let technicians 'see' sound as they scan hoses, fittings, and connections for leaks. Its built-in acoustic array of tiny, sensitive microphones generates a spectrum of decibel levels per frequency. Based on this output, an algorithm calculates a sound image, known as SoundMap, that is superimposed on a visual image. The SoundMap is automatically adapted depending on the frequency level selected so that background noise is filtered out, making it incredibly simple to detect compressed gas leaks.
The invisible threat can now be seen
Partial discharge is a serious issue that users would like to be able to monitor quickly and easily. Whether inspecting insulators, transformers, switch gears or high-voltage power lines, users need to be sure that a problem can be spotted quickly. Partial discharge that goes unchecked can cause blackouts, fires, explosions, or death from arc flashes. In addition to the danger that partial discharge poses to human lives and the environment, there is a significant monetary risk of downtime. Having equipment go down can cost millions of rand per hour of downtime.
The Fluke ii910 precision acoustic imager is specifically designed for high-voltage electricians, electrical test engineers, and grid maintenance teams that are constantly inspecting and maintaining power distribution and industrial high-voltage equipment. The ii910 provides a safe, quick and easy way to detect and locate partial discharge in order to maintain high-voltage equipment and prevent catastrophic events. With the SoundSight technology, the ii910 translates the sounds that it hears into a visual representation so that problem areas can quickly be located. The higher frequency capability of the ii910 allows for earlier detection to facilitate early maintenance planning and is why the ii910 has a frequency range of 2-100 kHz.
Credit(s)
Further reading:
Humidity generator for probe calibration
Comtest Maintenance, Test & Measurement, Calibration
Portable humidity generator delivers fast, accurate multi-point calibration of humidity probes and loggers.
Read more...
---
An innovative alternative to mechanical seals
Bearing Man Group t/a BMG Maintenance, Test & Measurement, Calibration
BMG's range of Garlock sealing products includes a versatile sealing system that replaces mechanical seals in industrial pump applications.
Read more...
---
Understanding asset reliability for maximum impact in a post-pandemic world
Maintenance, Test & Measurement, Calibration
At the ARC Industry Forum Asia, Anindya Chatterjee, ABB's global head of Value Engineering and Data, gave a presentation that focused on return on asset reliability through information, operations and engineering technologies, powered by machine learning.
Read more...
---
Fluke doubles the troubleshooting power
Comtest Maintenance, Test & Measurement, Calibration
Comtest now offers the Fluke 787B and 789 process meters that double the troubleshooting capabilities of previous versions by combining the power of a safety-rated, digital multimeter and mA loop calibrator into a single, compact test tool.
Read more...
---
Reduce the risk of shock and arc flash
Comtest IS & Ex
Comtest now offers a new Fluke tester to the market, which sources both AC and DC steady-state voltage for Hi-Z and Lo-Z instruments, thus simplifying safety compliance testing.
Read more...
---
Fluke's T6-1000 PRO electrical tester
Comtest Maintenance, Test & Measurement, Calibration
Comtest now offers the Fluke T6-1000 PRO true-RMS electrical tester. It measures voltage up to 1000 V AC and current up to 200 A without test lead contact to live voltage.
Read more...
---
Digitalised oil and gas pipelines
RJ Connect Maintenance, Test & Measurement, Calibration
Moxa's MDS-G4020 series offers a modular platform that can be fitted with fibre interfaces to connect pipeline subsystems to a control centre over long distances.
Read more...
---
Three key principles to build a strong safety culture
Comtest IS & Ex
To build a strong culture of safety, one first needs to create a climate that allows for adaptation and change.
Read more...
---
Portable wireless gateway for Ex areas
Comtest Industrial Wireless
Comtest – local representative of Industrial Scientific, a global leader in gas detection – has introduced the RGX Gateway, which enables designated safety contacts to receive real-time alerts for gas 
...
Read more...
---
PRO series thermal cameras
Comtest Temperature Measurement
Fluke Ti401 and TiX501 PRO thermal cameras capture and display smaller temperature differences to easily visualise and diagnose issues, making it easy to get to the root cause of problems faster.
Read more...
---