printer friendly version
Delivering modern SIS for wellhead applications
January 2021
IS & Ex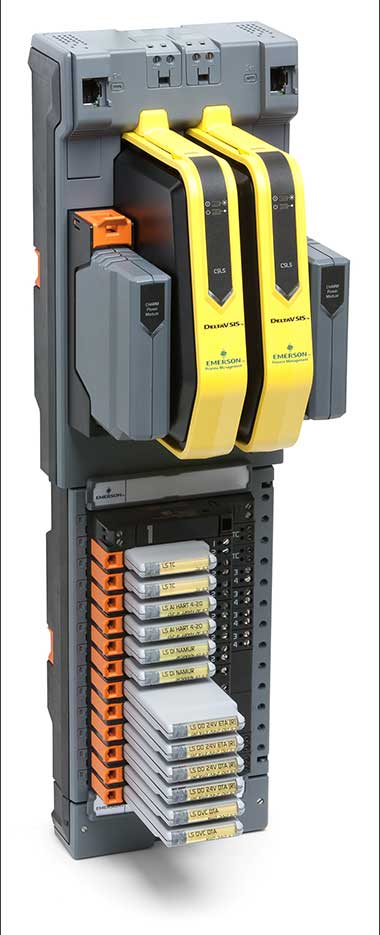 In the oil and gas industry, wellhead applications span many areas from closed-loop control and monitoring, to safety shutdown functions. Due to size and budget factors, designers often try to combine all three functions in one box. While this approach might save on cost, it carries an inherent risk as hardware and software are shared across applications. The conundrum is that a failure in the control function will likely also affect the safety function, therefore affecting safety functionality.
Operations at a well site can be described as follows:
• Control function: the control function is responsible for maintaining the well's target production by regulating the choke valve. Other auxiliary control functions such as chemical injection and hydraulic pump control are also used to maintain the production within the well.
• Monitoring function: some process variables monitored may require that an action be taken to keep the well running within desired limits, thus preventing the well shutdown and a halt in production.
• Safety: these are the critical safety functions normally carried out by safety systems designed to the IEC 61508:2010 international safety standards and providing risk reduction capability up to SIL3.
Keeping the safety and non-safety functions separate while achieving seamless integration
In Emerson's DeltaV SIS with Electronic Marshalling Platform, the safety function is allocated into the safety hardware. This hardware is designed to the IEC 61508 standard, achieves the targeted SIL performance (usually SIL3), and is approved by third-party certification bodies TUV and Exida. This layer is physically and logically independent from the non-safety functions. With DeltaV SIS platform the I/O related to the Safety Instrumented Functions (SIFs) with targeted SIL (SIL1 -SIL3) can be wired to the SIL3 CHARMs Smart Logic Solver (CSLS) where the safety functions are carried out separately from the non-safety functions.
The non-safety functions, on the other hand, can still be handled by the DeltaV SIS, but in a separate yet integrated manner. The non-safety I/O can be wired to the non-safety hardware and executed in a separate controller. These non-safety controllers and I/O are seamlessly integrated within DeltaV SIS with zero data mapping or integration configuration requirements.
With this modern Safety Instrumented Systems (SIS) approach, seamless integration can be achieved without compromising the segregation between functions required to meet international safety standards IEC 61508 and IEC 61511.
For more information contact Mohamed Salman, Emerson Automation Solutions, mohamed.salman@emerson.com or emrsouthafrica@emerson.com, www.emerson.com
Credit(s)
Further reading:
Tube connector for Ex areas
May 2020, Parker Hannifin - Sales Company South Africa , IS & Ex
Parker Hannifin has extended its Phastite permanent instrumentation connection range, which is now available in a number of corrosion-resistant alloys (CRAs), including Alloy 825, 625 and Super Duplex, 
...
Read more...
---
How to calculate an intrinsically safe loop approval - updated and revised
March 2021, Extech Safety Systems , IS & Ex
We all know what can happen when the correct techniques are not used when interfacing into a hazardous area.
Read more...
---
Emerson introduces Digital Maturity Quick Index
April 2021, Emerson Automation Solutions , IT in Manufacturing
Resource helps companies self-assess operations and identify opportunities for the highest potential return on investment.
Read more...
---
Robust safety light curtains
April 2021, Turck Banner , IS & Ex
Ez-Screen LS light curtains are intuitive, easy-to-use safety devices designed by Turck Banner for machine safeguarding.
Read more...
---
Delivering modern SIS for wellhead applications
April 2021, Emerson Automation Solutions , IS & Ex
Keeping the safety and non-safety functions separate while achieving seamless integration.
Read more...
---
Enterprise mobility for hazardous areas
March 2021, Pepperl+Fuchs , IS & Ex
Enterprises can easily select and manage Android devices and services with the new Android Enterprise Recommended devices – verified by Google.
Read more...
---
Intrinsically safe robot for tank inspection
March 2021, RS Components SA , IS & Ex
Electrocomponents collaborates with industry specialists to develop revolutionary new method of inspecting petrochemical storage tanks.
Read more...
---
Illuminated E-stops with diagnostics
March 2021, Turck Banner , IS & Ex
In-Series Diagnostics runs through up to 32 devices on a single 4-pin cable to the control panel, with only two wires running to the controller and two others for power.
Read more...
---
New Rockwell Automation safety devices
March 2021, Rockwell Automation , IS & Ex
Manufacturers can harness the power of data to improve their safety compliance and performance using two new smart safety devices.
Read more...
---
Emerson user conference to focus on smarter, safer, more sustainable operations
March 2021, Emerson Automation Solutions , News
Emerson Users Exchange Live 2021 EMEA online conference offers new insights and innovations that are driving performance improvements for manufacturers.
Read more...
---