printer friendly version
BMG efficiency in cooling towers
January 2021
Motion Control & Drives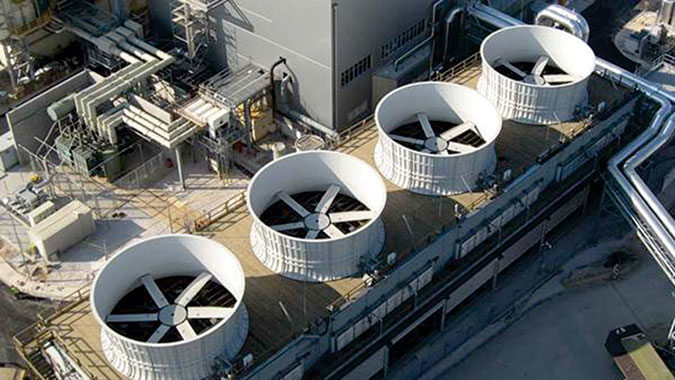 BMG's electromechanical team plays an important role in the dependable operation of wet and dry cooling towers in the mining sector, through the supply and support of many power generation components, including Hansen gearboxes.
Wet cooling towers
"Hansen units, which have been designed by Sumitomo Drive Technologies in accordance with global Cooling Technology Institute (CTI) specifications, are manufactured especially for wet cooling towers and air-cooled condensers (ACC)," says Rob Green, BMG's national product manager – Sumitomo. "BMG's Hansen M4 and P4 series are well known locally for dependable operation and extended service life in arduous conditions. The company is currently introducing the new M5 series to the local market for use in dry and wet cooling towers in mines throughout Africa."
Hansen P4 right-angle vertical shaft-up units for wet cooling towers are available in 11 sizes, from Z to H, and as 2-stage units in ratios 3,55/1 to 22,4/1, with ratings up to 100&nbs;kNm. The internal mechanically driven pump has been specially adapted for low operating speeds and to withstand wind-milling conditions. There is increased distance between the propeller and the high-speed input shaft to reduce vibrations and there is extended bearing span on low-speed shaft bearings. Bearings have been carefully selected to withstand high axial loads.
These application-specific and -designed Hansen gearboxes are coated with corrosion-resistant paint for added protection in wet and humid environments. The housing has suitably machined ports to facilitate external piping that enables effective oil drainage and allows easy maintenance.
Because regulation of the cooling power is important, ACCs are subjected to frequent starts and stops of the system. Precise control of factors like temperature and pressure, from the condenser to the boilers, is critical for the efficient functioning of this closed system.
During starting sequences, it is crucial that the gearbox can withstand high start-up torques, up to more than three times the nominal torque of the motor, or sometimes even higher.
Dry cooling towers
BMG's 'dry' Hansen M4 compact gear units for ACCs are known for efficient performance and long service life in arduous operating conditions. This series is available from BMG in six size units, from DA to FX, as 2-stage units in ratios from 9/1 to 25/1. The internal backstop is situated in the IEC or NEMA motor size lantern housings, for effortless installation and removal. The addition of an internal cooling fan in the lantern is also able to assist in ensuring that the compact gearbox remains within an adequate thermal operating limit.
M5CT range
New to the Hansen range of gear units for dry and wet cooling towers is the recently launched M5CT range of right-angle vertical gearboxes, which have been further developed for cooling technology. This series, with high resistance in corrosive and extreme humidity environments, has a proven design, maximum load capacity, minimum losses and quiet operation. M5CT units are also compliant with stringent CTI specifications.
Features of these new units include a rigid housing design that can withstand peak loads, which is enhanced by cooling fins with flexible cooling options. The well-balanced design and advanced micro geometry of the gear results in an optimised pressure distribution that absorbs high shock loads.
This system offers smooth transition of high forces from the centre bore to the mounting feet, which are positioned concentrically to the low-speed shaft. For increased dynamic stability, there is an extended bearing span with heavy-duty roller bearings, specifically selected to handle the high axial thrust loads on the output shaft.
An effective sealing system, designed to keep the oil in and dirt out, significantly reduces maintenance requirements. The dedicated lubrication system does not require monitoring.
The new M5 range has been designed for easy replacement of the existing P4 cooling tower range and to match the footprint or shaft height, without excessive installation adaptations.
BMG's integrated engineering solutions service to the mining sector encompasses a complete electromechanical capability, which includes a customised product design, product selection, commissioning support and ongoing technical backup.
For more information contact Rob Green, BMG World, +27 11 620 1897, robg@bmgworld.net, www.bmgworld.net
Credit(s)
Further reading:
BMG's Hydraforce valves and solutions
April 2021, Bearing Man Group t/a BMG , Pneumatics & Hydraulics
BMG, distributors of the Hydraforce range of proportional valves in southern Africa, works closely with Hydraforce engineers and customers in diverse industries to design and manufacture customised hydraulic 
...
Read more...
---
New Fenner couplings ensure effective torque transfer
March 2021, Bearing Man Group t/a BMG , Motion Control & Drives
BMG's new reinforced Fenner Triflex couplings, with forged steel flanges, provide an integrated solution for the safe and efficient transfer of torque, even in extreme conditions.
Read more...
---
Enhance machine safety with locking cylinders
March 2021, SMC Corporation South Africa , Motion Control & Drives
Stopping the flow of compressed air using an air circuit combined with a mechanical locking cylinder gives the most enhanced level of safety.
Read more...
---
30 years of linear motion technology
March 2021 , Motion Control & Drives
This year, factory automation specialist Bosch Rexroth celebrates 30 years of linear motion technology and innovation.
Read more...
---
Motion control with Sinumerik One Dynamics
March 2021, Siemens Digital Industries , Motion Control & Drives
Siemens has launched three powerful technology packages exclusively for the CNC Sinumerik One.
Read more...
---
Drive chains for clean environments
March 2021, Bearing Man Group t/a BMG , Motion Control & Drives
BMG's Power Transmission division offers maintenance-free solutions for increased productivity, minimal machine downtime and reduced maintenance costs in the food and beverage sector.
Read more...
---
Robot streamlines food delivery
March 2021, Omron Electronics , Motion Control & Drives
The robot was taking part in a month-long 'Home on Demand' automated courier service trial, testing the potential for using autonomous robots for deliveries to urban homes.
Read more...
---
The future of automation
March 2021, SEW-Eurodrive , Motion Control & Drives
MOVI-C comprises four components: MOVISUITE engineering software, MOVI-C Controller control technology, MOVIDRIVE inverter technology, and MOVIGEAR, MOVIMOT decentralised drive technology comprising the 
...
Read more...
---
Industrial gear unit reduces power consumption
April 2021 , Motion Control & Drives
SEW-Eurodrive's MC Series Helical Bevel Industrial Gear Unit provides higher performance with reduced power consumption.
Read more...
---
Digital transformation drives control valve market shift to electric actuators
April 2021 , Motion Control & Drives
Pneumatic powered actuators have traditionally been the choice of technology in process plants, however, ARC is witnessing a gradual uptick in demand for light-duty compact electric actuators
Read more...
---