printer friendly version
Optimum flow restriction at low cost
January 2021
Flow Measurement & Control
Kobold REG flow restrictors maintain constant quantities of liquids in pipework systems. These rate regulators are ideally suited for the simple restriction to a pre-set throughput value of water, or liquids similar to water. The flow restrictors ensure equilibrium, particularly in systems with many users and resulting pressure fluctuations caused by random flow conditions. This ensures that the desired throughput is not exceeded. Constant flow is achieved by two stainless steel diaphragms that are cross-mounted and riveted together.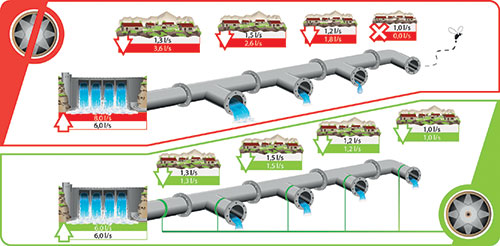 The gap between the spring-loaded stainless steel plate and seal face is continuously varied as the differential pressure changes. As the differential pressure decreases the gap widens, and it closes as the pressure increases, thus maintaining a constant flow volume through the device.
Optimised water distribution is one example of application possibilities for REG, and specifically the regulated supply of fresh water to remote settlements. Initially, core settlements consume too much water, so that bottlenecks can occur at the remote end of the pipeline. Direct installation of REG completely eliminates the problem. The REG system offers advantages such as tamper-proof application, being maintenance-free for life, and it is a low-cost unit, requiring no auxiliary power.
Pump protection is another ideal application of REG, wherever a constant flow rate is needed despite pressure fluctuations: for example, switching on or off water consumers. In cooling circuits, REG offers lifelong protection against overheating at idle, water hammer and cavitation.
Industrial areas are another area in which the regulator finds good application, as virtually every industry needs water. REG's high-quality stainless steel design is completely maintenance free, independent from auxiliary power and totally tamper proof, making it suitable for diverse industrial requirements, including district heating systems, cooling circuits, filtration processes, spray moisture applications, dosing applications, agricultural irrigation, firefighting and fire protection services, emergency shower systems (hazardous areas) and water treatment.
Credit(s)
Further reading:
Battery powered digital temperature gauges
March 2021, Instrotech , Temperature Measurement
hese gauges offer a wide range of industrial and analytical possibilities for applications where high accuracy and clear indication are required.
Read more...
---
Pressure sensors for complete systems
March 2021, Instrotech , Pressure Measurement & Control
There are often great benefits to optimising pressure sensors specifically for use and integration into higher-level complete systems.
Read more...
---
Exact determination of fuel consumption
April 2021, Instrotech , Flow Measurement & Control
The Kobold DOE, an oval gear flowmeter, can be used with a wide range of media and chemicals
Read more...
---
Inductive flowmeter with IO-Link
February 2021, Instrotech , Flow Measurement & Control
Instrotech is pleased to announce a new product development in Kobold's magnetic inductive flowmeter range, featuring IO-Link.
Read more...
---
Proline t-mass F/I 300/500 from Endress+Hauser
February 2021, Endress+Hauser South Africa , Flow Measurement & Control
The reliable and versatile all-rounder for pure gases and gas mixtures features alarm functions as well as bidirectional measurement and reverse flow detection.
Read more...
---
Kobold's calorimetric flow meter
January 2021, Instrotech , Flow Measurement & Control
The electronic flow monitor model KAL-D works according to the calorimetric principle, continuously monitoring water-based liquids.
Read more...
---
Flowmeter for utility applications
November 2020, KROHNE , Flow Measurement & Control
As an addition to the Optiswirl family, KROHNE has introduced the Optiswirl 2100, a new vortex flowmeter aimed at basic utility applications.
Read more...
---
Membrane level monitor
October 2020, Instrotech , Level Measurement & Control
Kobold's NMF membrane level monitors are an excellent choice for cost-effective level monitoring of bulk goods in storage vessels.
Read more...
---
Safe operation of CNG stations
October 2020, SICK Automation Southern Africa , Flow Measurement & Control
The Flowsic500 compact ultrasonic gas meter enables extremely accurate natural gas distribution measurement.
Read more...
---
Ultrasonic flowmeter for wide ranges
September 2020, Instrotech , Flow Measurement & Control
Bi-directionally transmitted ultrasonic waves provide precise results of volume flow as the result of their transit time difference. Installed in any position, the units can measure ranges of 1:250.
Read more...
---