printer friendly version
Smart home weather stations
November 2020
Smart Home Automation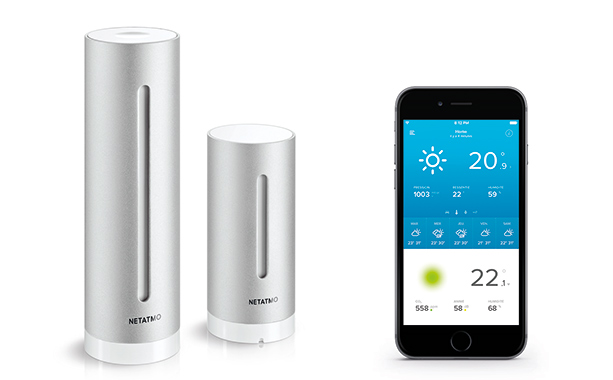 Legrand's Netatmo smart home weather stations are an easy and efficient way to understand and monitor a home's indoor and outdoor environment.
An appreciation of weather conditions is not only important in deciding what to wear for the day, but being able to analyse climate conditions is an increasingly popular hobby around the world.
Smart Netatmo weather stations have been designed to monitor climate conditions, like temperature, humidity and air quality (CO2) exactly where the system is installed, and allow users to access the weather station's readings in real time, via a smartphone.
The Netatmo system also enables homeowners to improve indoor air quality – there is an automatic weather station alert when indoor pollution rises. It is also possible to customise alerts and to take immediate action if necessary. Users are also able to analyse recorded climate data for a better understanding of the home environment and climate enthusiasts can explore weather station readings in more than 170 countries.
By extending the installation with additional smart indoor modules, it is possible to monitor the indoor environment in up to three selected rooms in the home.
This system is enhanced with the addition of Netatmo smart rain gauges that send rainfall data directly to a smartphone. Users can check rainfall at home, in millimetres per hour, remotely and in real time. This highly accurate device measures rain intensity, as well as rainfall over the previous hour and since midnight.
Another useful addition to the Netatmo Weather Station is a smart anemometer, for easy and accurate monitoring of wind conditions.
This system uses advanced ultrasound technology to reliably measure wind speed and direction, and communicates this data to a smartphone in real time, even during a storm. The anemometer can also provide more precise readings of the 'feel like' temperature outside the home.
Legrand's Netatmo system – which is easy to install, configure and manage – also encompasses security products and energy solutions, including heating products and thermostats.
Credit(s)
Further reading:
Protecting you and your home with IoT
Smart Home Automation Smart Home Automation
IoT technology gives people the power to keep a watchful eye on what is important to them, whether they are 200 metres or 200 kilometres away.
Read more...
---
Legrand's modular power distribution enclosures IEC ­certified
Legrand Southern Africa Enclosures, Cabling & Connectors
Read more...
---
Legrand celebrates 30 years in South Africa
Legrand Southern Africa News
Read more...
---
Polyester cabinets for corrosive environments
Legrand Southern Africa Enclosures, Cabling & Connectors
Read more...
---
Legrand's energy efficient lighting solutions
Legrand Southern Africa Sensors & Transducers
Waste is avoided as the building only consumes the energy it needs.
Read more...
---
Remote mains disconnection
Legrand Southern Africa Operator Interfaces, Switches & Relays
Read more...
---