printer friendly version
SMC's static removal solutions
November 2020
IS & Ex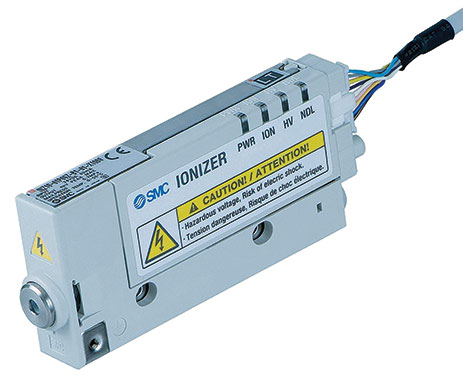 Around the world, SMC Corporation has a long history in assisting customers in several industries with pneumatic solutions and components. Perhaps less well known in South Africa is the SMC ioniser range, which can be used to neutralise static electricity.
Static electricity is an imbalance of electric charges within or on the surface of a specific material. The charge remains until it is able to move away by means of an electric current or electrical discharge. In many industries such as food and packaging the effects of static electricity are well known to have a negative impact on production. Applications where static build-up commonly causes problems are:
• Conveyors transferring parts.
• PET bottles attracting dust and causing labelling issues.
• Packaging and shrink-wrapping films attracting dust and deforming on rollers.
• Parts feeders clogging due to parts sticking to each other and products.
"We have assisted customers with a large variety of applications from shrink-wrapping flammable material safely, to eliminating situations where employees have experienced electric shocks from static build up on conveyors," says Liezl Siebrits, senior sales engineer at SMC's Western Cape office.
SMC offers a variety of ionisers to suit different applications:
• The IZS ar type can achieve rapid static neutralisation with bar length options up to 2500 mm.
• The IZF fan type is the fastest and thinnest static charge neutraliser and eliminates static charge from all type of objects or surfaces.
• The IZN10E nozzle type is perfectly compact and with the range of design variants it is possible to modify the ion distribution to a precise fit.
• The new edition IZT bar type has a separate controller that can be mounted remotely and control up to four ionisers, making it more versatile for inaccessible places.
"We have various ways of demonstrating this technology to companies who are interested," concludes Siebrits. "We can do site visits with the dynamic demonstration panels, while also measuring the static build up in areas of concern. We also have a state-of-the-art show room in Midrand where people can learn more about this technology and its benefits."
For more information contact SMC Corporation South Africa, +27 10 900 1233, lsiebrits@smcza.co.za, zatechnical@smcza.co.za, www.smcza.co.za
Credit(s)
Further reading:
Tube connector for Ex areas
May 2020, Parker Hannifin - Sales Company South Africa , IS & Ex
Parker Hannifin has extended its Phastite permanent instrumentation connection range, which is now available in a number of corrosion-resistant alloys (CRAs), including Alloy 825, 625 and Super Duplex, 
...
Read more...
---
Driver assistance for collision avoidance
January 2021, SICK Automation Southern Africa , IS & Ex
SICK Automation's Visionary-B CV 3D driver assistance system delivers real-time imagery with optical and acoustic warning signals.
Read more...
---
Retrofit your vehicles with collision protection
November 2020, ifm - South Africa , IS & Ex
The camera-based anti-collision system from ifm automatically detects persons and obstacles in the rear area of the vehicle, warns the driver, and stops the vehicle if necessary.
Read more...
---
Safe use of Ethernet in Ex areas
November 2020, Turck Banner , IS & Ex
Turck is paving the way for the evaluation of plant data using its excom high-availability I/O system.
Read more...
---
Delivering modern SIS for wellhead applications
January 2021, Emerson Automation Solutions , IS & Ex
Keeping the safety and non-safety functions separate while achieving seamless integration.
Read more...
---
Smart positioners of the future
January 2021, SMC Corporation South Africa , Valves, Actuators & Pump Control
SMC's new range of Smart Positioners was designed to pair perfectly with a variety of process control valves and actuators.
Read more...
---
Safety technology with ifm
January 2021, ifm - South Africa , IS & Ex
The ifm safety product range includes electro-sensitive protective equipment (ESPE), door switches, actuators and control systems.
Read more...
---
SMC's energy efficient vacuum solutions
October 2020, SMC Corporation South Africa , Pneumatics & Hydraulics
SMC has placed great emphasis on the design of its vacuum range and helps its customers select the best vacuum system for their application.
Read more...
---
Safety controllers with diagnostics
October 2020, Turck Banner , IS & Ex
The combination of an intuitive user interface and diagnostics makes it easy to design and troubleshoot complex safety systems in just a few clicks.
Read more...
---
Real-time location system
September 2020, Extech Safety Systems , IS & Ex
With worker safety becoming an ever-increasing focus for many businesses operating within process industries, iTAG X30 delivers a solution that allows high levels of location accuracy across their entire site.
Read more...
---