printer friendly version
Wireless at the edge
November 2020
Industrial Wireless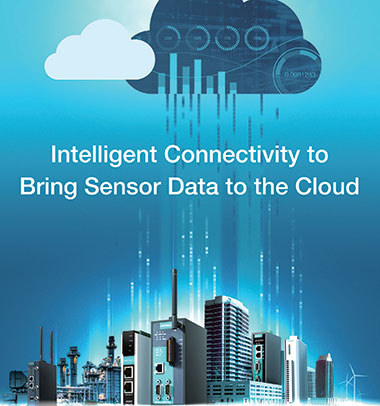 The ultimate goal of most industrial automation applications is to obtain actionable insights from data sources for more precise decision-making. To achieve this, businesses need to make their field data accessible to information technology (IT) or operational technology (OT) systems. Read on to learn how Moxa's easy, reliable, and secure connectivity solutions can facilitate such industrial applications.
Taking data to the cloud: all OT field data can easily be transmitted to the cloud. Instead of spending extra time and resources on OT/IT integration, simply migrate all field device data to the cloud. Focus on developing applications to avoid the complex integration between OT and IT systems using ready-to-run edge connectivity solutions to connect multiple serial, Modbus, EtherNet/IP, or I/O field devices to private clouds through generic MQTT, or to public clouds through reintegrated Azure or Alibaba Cloud SDKs. With intuitive UIs, it only takes a few steps to complete the cloud selection, connection, and message tag settings between the field and cloud. To speed up OT/IT integration project development, choose a Moxa edge connectivity product.
Q: What if my Application requires programmability or data pre-processing?
For applications that require edge computing, Moxa's UC series of edge computers is available. These Arm-based industrial computers support WiFi/LTE connectivity and various communication interfaces. The optional ThingsPro software enables easy Modbus data acquisition and supports cloud connectivity for Azure, AWS, Alibaba Cloud, and generic MQTT.
Credit(s)
Further reading:
Siemens makes industrial 5G router available
July 2021, Siemens Digital Industries , Industrial Wireless
Router supports future-oriented applications such as remote access via public 5G networks or the connection of mobile devices such as automated guided vehicles in industry.
Read more...
---
Mitigate industrial network vulnerabilities
July 2021, RJ Connect , IT in Manufacturing
It must not be forgotten that ignoring common system vulnerabilities in today's world could put your entire network at risk.
Read more...
---
NearFi couplers for contactless power and data transmission
July 2021, Phoenix Contact , Industrial Wireless
By launching NearFi, Phoenix Contact has introduced a new, innovative technology for contactless power and data transmission in the near-field range.
Read more...
---
Pallet power in the chemical industry
June 2021, Turck Banner , Industrial Wireless
Contactless detection of incoming and outgoing goods provides those involved in logistics with considerably greater transparency of stock levels.
Read more...
---
Building secure networks
June 2021, RJ Connect , IT in Manufacturing
This article explores how to build resilient industrial networks and deploy cybersecurity defences in order to sustain continuous industrial operations.
Read more...
---
Wearable device keeps workers safe during the pandemic
June 2021, RS Components SA , Industrial Wireless
Maintaining social distancing is key to limiting the spread of coronavirus, but it can be a real challenge in busy workplaces such as manufacturing facilities, warehouses and construction sites.
Read more...
---
Remote monitoring of temperature in cryopreservation facilities
March 2021, Omniflex Remote Monitoring Specialists , Industrial Wireless
When the Medical Research Council needed to upgrade sixteen of its facilities to monitor temperature and humidity levels in its -80°C sample storage area, it engaged Omniflex to find a solution.
Read more...
---
New opportunities bring new threats
March 2021, RJ Connect , IT in Manufacturing
With greater connectivity comes greater exposure to cyber threats. So how do we keep the world's critical infrastructure and manufacturing environments safe from cyberattacks?
Read more...
---
Manage OT networks remotely, without introducing intruders
May 2021, RJ Connect , IT in Manufacturing
By adapting through digital transformation, OT network infrastructure starts growing in scale and becomes increasingly complex and interconnected.
Read more...
---
RFID system tracks meat production in Chinese slaughterhouse
February 2021, Turck Banner , Industrial Wireless
To implement the tracking of the pork across all process levels, every pig is provided with an electronic earring containing the relevant data.
Read more...
---