printer friendly version
Wireless at the edge
November 2020
Industrial Wireless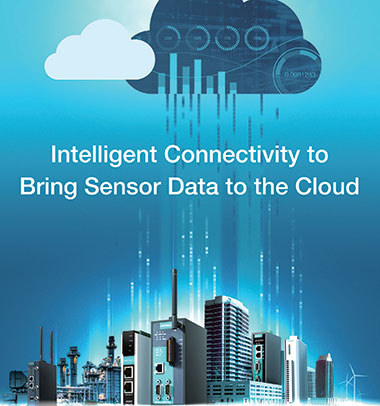 The ultimate goal of most industrial automation applications is to obtain actionable insights from data sources for more precise decision-making. To achieve this, businesses need to make their field data accessible to information technology (IT) or operational technology (OT) systems. Read on to learn how Moxa's easy, reliable, and secure connectivity solutions can facilitate such industrial applications.
Taking data to the cloud: all OT field data can easily be transmitted to the cloud. Instead of spending extra time and resources on OT/IT integration, simply migrate all field device data to the cloud. Focus on developing applications to avoid the complex integration between OT and IT systems using ready-to-run edge connectivity solutions to connect multiple serial, Modbus, EtherNet/IP, or I/O field devices to private clouds through generic MQTT, or to public clouds through reintegrated Azure or Alibaba Cloud SDKs. With intuitive UIs, it only takes a few steps to complete the cloud selection, connection, and message tag settings between the field and cloud. To speed up OT/IT integration project development, choose a Moxa edge connectivity product.
Q: What if my Application requires programmability or data pre-processing?
For applications that require edge computing, Moxa's UC series of edge computers is available. These Arm-based industrial computers support WiFi/LTE connectivity and various communication interfaces. The optional ThingsPro software enables easy Modbus data acquisition and supports cloud connectivity for Azure, AWS, Alibaba Cloud, and generic MQTT.
Credit(s)
Further reading:
Monitoring critical assets for tailings and pipeline feed system
November 2020 , Industrial Wireless
Monitoring of tailings dams can be performed by various methods depending on actual mining operation procedures.
Read more...
---
Why do smart manufacturing initiatives often fall short of expectations?
January 2021, RJ Connect , IT in Manufacturing
One of the major obstacles holding back the success of smart manufacturing projects is IT/OT convergence.
Read more...
---
Five factors influencing the choice of industrial control hardware
January 2021, RJ Connect , System Integration & Control Systems Design
Since industrial control systems are a major investment, system integrators are well advised to consider the following five factors during the equipment selection phase of a project.
Read more...
---
Keeping cryopreservation cool
January 2021, Omniflex Remote Monitoring Specialists , Industrial Wireless
When the Medical Research Council needed to upgrade 16 of its facilities to monitor temperature and humidity levels in its -80°C sample storage area, it engaged Omniflex to find a solution.
Read more...
---
RS Components introduces Linx Technologies
November 2020, RS Components SA , Industrial Wireless
RS Components now stocks a comprehensive range of antennas from wireless technology specialist Linx Technologies.
Read more...
---
How can manufacturers survive under the new normal to 2021 and beyond?
October 2020, RJ Connect , IT in Manufacturing
Thanks to COVID-19, the manufacturing industry is entering the era of unmanned operations. How best can companies adapt to the new normal and maintain efficient operations?
Read more...
---
Do all wireless solutions solve real industry problems?
September 2020, Festo South Africa , Industrial Wireless
By using modern, standards-driven wireless technologies, designers and machine users have access to new tools that can help transform and simplify their working lives.
Read more...
---
Wireless vibration monitor
September 2020, Emerson Automation Solutions , Industrial Wireless
Emerson's AMS Wireless Vibration Monitor makes it possible to monitor motors, pumps, fans and other critical plant equipment to reduce downtime and achieve more reliable operations.
Read more...
---
Making Machine-as-a-Service a reality
September 2020, RJ Connect , IT in Manufacturing
Using cloud-based software, machine builders can access their machines anytime, allowing connections to be set up to link the machine builders and their clients.
Read more...
---
Pump control at a distance
September 2020, Omniflex Remote Monitoring Specialists , Industrial Wireless
The ability to control a pump remotely over distance and without using wires is simple using Omniflex Teleterm Radio RTUs over a licence free band, avoiding administration of radio frequency band use. 
...
Read more...
---