printer friendly version
Cooling VSDs with inertial spin filters
November 2020
Motion Control & Drives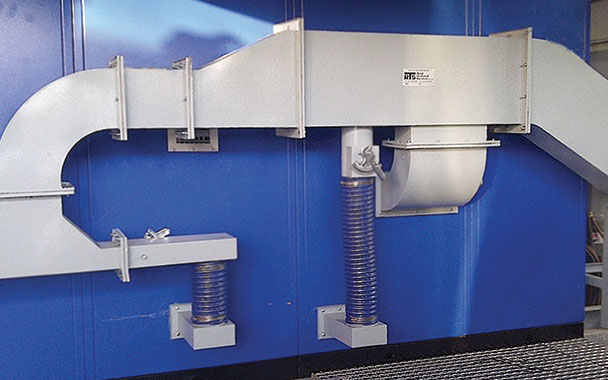 Most VSDs emit around 4-5% of their rated energy as heat. This can be dealt with by simply passing ambient air directly over the VSD heatsinks. The technology will generally function reliably at temperatures up to 55°C. In practice, there are very few areas of operation where ambient air temperatures are likely to rise above 45°C. If it is possible to pass a continuous flow of clean ambient air over the heatsinks, no energy-intensive cooling system is necessary.
Inertial spin filters
This makes it possible to utilise an efficient and cost-effective solution for the cooling of VSDs in the form of RTS Africa inertial spin filters. These devices operate on the cyclonic principle and separate dust from air streams using inertial forces, making it practical to cool with normal ambient air, and so eliminate air conditioning altogether. In the most extreme case quoted above, a 'delta' of 10°C is more than adequate to prevent the VSDs from overheating, provided that the correct volume of air is passed over the heat sinks. This solution is most effective when the air is supplied directly into the air intakes of the VSD panels. Once the air has passed through the heat sinks it exits from the top of the panels and is ducted out of the space to atmosphere. This process is described as "back channel cooling". Due to the constant pressure drop and absence of secondary process air, or other energy absorbing equipment, the Spin Filter installation is extremely energy efficient.
There are applications where direct access into the VSD panels is impractical, perhaps due to obstructions and other structural constraints. In these situations, air is simply routed directly into the space while air volume is increased by a small amount in order to provide sufficient air to supply the VSDs, plus an additional volume to supply 6-10 air changes/hour in the space. Once again, hot air is routed directly out to atmosphere. If technicians are likely to spend time in these spaces, small air conditioners can be installed simply to make the spaces more comfortable for short periods of time. These air conditioners would not be operative under normal circumstances
Filtration
The filtration principle is based on efficient cyclone technology with dust reduction of 98% of particles of 15 μm and larger. At 5 μm, the modules will remove 80% of dust by particle count.
The spin modules are made from high density polypropylene and are resistant to wear and able to operate at up to 120°C. Modules supplied by RTS Africa have been in service for over 20 years. Note that because the system is self-purging there is no filter element that can become blocked from dust overload. The only moving parts are the electric motors driving the fans, which are perhaps among the least maintenance-dependent devices in engineering.
Dust below 5 μm particle size
Inertial spin filters remove 98% of dust particles 15 μm and over. At 5 μm, removal is 80%. Particles smaller than 3 μm to 4 μm are not arrested. Coal dust is an example and can present a problem, typically having a particle distribution of 1 μm to 100 μm. Particle distribution analysis indicates that some 25% of dust in this range, (by particle count), will pass the spin wall. However, note that this translates to only 2-3% of dust load by mass.
RTS Africa inertial spin filters can be used effectively for coal dust without secondary filters in space cleaning applications. However, due to the fact that coal dust is black, the very fine particles (sub 5 μm) are visible on surfaces within the space. While this level of dust mass should not present a problem, RTS recommends that secondary filtration be installed when using spin filters on coal plants. This is particularly relevant if the air intakes are close to a crushing plant that can create higher than normal percentages of sub-3 μm dust.
It is in these applications that secondary filters are recommended. The inertial spin filters function as primary filters with the secondary filters specified to remove fine powder and pollen and to scrub the fine visible particulate from the air stream. While most ambient airborne dust consists of particles that are above 10 μm in size, there are applications other than coal dust where dust particles can be smaller – often generated by ball mills, crushers, etc. In these applications, secondary filtration may also be required.
For more information contact RTS Africa Engineering, +27 12 941 0600, info@rtsafrica.co.za, www.rtsafrica.co.za
Credit(s)
Further reading:
African Hydrogen Partnership to foster green hydrogen
April 2021, RTS Africa Technologies , News
The African Hydrogen Partnership was set up as a development and financing forum to realise a hydrogen-based green energy vision across Africa.
Read more...
---
New Fenner couplings ensure effective torque transfer
March 2021, Bearing Man Group t/a BMG , Motion Control & Drives
BMG's new reinforced Fenner Triflex couplings, with forged steel flanges, provide an integrated solution for the safe and efficient transfer of torque, even in extreme conditions.
Read more...
---
Enhance machine safety with locking cylinders
March 2021, SMC Corporation South Africa , Motion Control & Drives
Stopping the flow of compressed air using an air circuit combined with a mechanical locking cylinder gives the most enhanced level of safety.
Read more...
---
30 years of linear motion technology
March 2021 , Motion Control & Drives
This year, factory automation specialist Bosch Rexroth celebrates 30 years of linear motion technology and innovation.
Read more...
---
Motion control with Sinumerik One Dynamics
March 2021, Siemens Digital Industries , Motion Control & Drives
Siemens has launched three powerful technology packages exclusively for the CNC Sinumerik One.
Read more...
---
Drive chains for clean environments
March 2021, Bearing Man Group t/a BMG , Motion Control & Drives
BMG's Power Transmission division offers maintenance-free solutions for increased productivity, minimal machine downtime and reduced maintenance costs in the food and beverage sector.
Read more...
---
Robot streamlines food delivery
March 2021, Omron Electronics , Motion Control & Drives
The robot was taking part in a month-long 'Home on Demand' automated courier service trial, testing the potential for using autonomous robots for deliveries to urban homes.
Read more...
---
The future of automation
March 2021, SEW-Eurodrive , Motion Control & Drives
MOVI-C comprises four components: MOVISUITE engineering software, MOVI-C Controller control technology, MOVIDRIVE inverter technology, and MOVIGEAR, MOVIMOT decentralised drive technology comprising the 
...
Read more...
---
Industrial gear unit reduces power consumption
April 2021 , Motion Control & Drives
SEW-Eurodrive's MC Series Helical Bevel Industrial Gear Unit provides higher performance with reduced power consumption.
Read more...
---
Digital transformation drives control valve market shift to electric actuators
April 2021 , Motion Control & Drives
Pneumatic powered actuators have traditionally been the choice of technology in process plants, however, ARC is witnessing a gradual uptick in demand for light-duty compact electric actuators
Read more...
---