printer friendly version
Electrical loggers for energy savings
October 2020
Electrical Power & Protection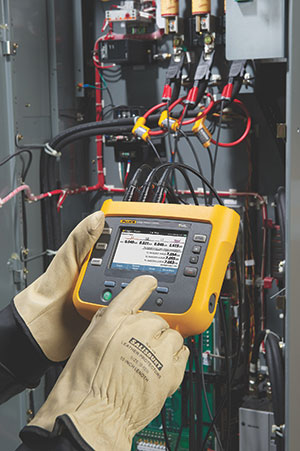 Energy is a significant cost at any industrial facility, and while managers view energy as an unavoidable expense, it is really a variable cost that can be monitored and managed to improve bottom line performance.
Comtest's Fluke 1732/1734 three-phase energy loggers are powerful tools designed to easily identify sources of electrical energy waste. Easy setup and use allow the capture of key energy measurements such as voltage, current, power and power factor, as well as other variables, i.e., temperature. The loggers enable managers to understand energy usage and correlate it to activities. They are also Fluke Connect compatible and data can be viewed from anywhere via the Fluke Connect mobile app, potentially reducing the number of times a technician must open a panel while wearing full protective equipment.
With the Fluke 1732 and 1734, facility managers and electricians are able to:
• Easily identify wasted energy to reduce energy bills.
• Perform energy studies over a range of electrical power and energy parameters.
• Perform simple current-only load studies.
• Perform advanced energy and load studies with connected data from Fluke Connect modules.
"Energy use in industrial plants is one of the most important areas where costs can be reduced, yet most facility managers are not even aware of how their energy is consumed," said Paul de la Port, president of Fluke Industrial Group. "The Fluke 1732 and 1734 energy loggers deliver a complete picture that identifies opportunities for savings and provides actionable data to reduce energy costs to improve the bottom line."
The 1732/1734 also include new Energy Analyze Plus App software, delivering more advanced analysis capabilities to better correlate data, making for better decisions. The loggers are rated 600 V CAT IV/1000 V CAT III – the highest safety rating in the industry – for safe use at the service entrance and downstream.
Credit(s)
Further reading:
Compact and powerful energy monitoring unit
Opto Africa Holdings Electrical Power & Protection Fieldbus & Industrial Networking
The RIO EMU's slim form factor is ideal for 'just one more thing' retrofit jobs thanks to DIN-rail and panel-mount options.
Read more...
---
Vacuum circuit breaker with thermal monitoring
Schneider Electric South Africa Electrical Power & Protection
The EasyPacT EXE offers IoT sensors and digital connectivity for a simpler, more sustainable and safer experience for panel builders, facility managers and OEMs.
Read more...
---
All-in-one documenting process calibrators
Comtest Maintenance, Test & Measurement, Calibration
The multifunction calibrators perform sourcing, simulation and measurement of pressure, temperature and electrical signals.
Read more...
---
Valmet automation system chosen for waste-to-energy plant
Valmet Automation News Electrical Power & Protection
The new plant in Warsaw, Poland, will process 305 000 tons of municipal solid waste per year to produce electricity and district heating
Read more...
---
Smart manufacturing will power the battery gigafactory of the future
Rockwell Automation Electrical Power & Protection
Electric vehicles' role in the decarbonisation of mobility requires gigafactories that can produce batteries in high volumes, at high speeds and with consistently high quality.
Read more...
---
Upskilling will be critical to alternative energy production projects
Electrical Power & Protection
One of the challenges for this sector is that jobs are typically project-based, which means they involve fixed-term contracts.
Read more...
---
Propelling green hydrogen toward large-scale African commercialisation
Electrical Power & Protection
RTS Africa Engineering, a founding member of the African Hydrogen Partnership, believes the industry is on the cusp of pricing diesel and petrol out of the market.
Read more...
---
Data logger for energy surveys, load studies
Comtest Electrical Power & Protection
In conjunction with Fluke's infrared cameras, the energy logger can enhance energy surveys by quickly identifying opportunities for energy savings, both electrically and thermally.
Read more...
---
DIN-rail mounted DC/AC inverter
Phoenix Contact Electrical Power & Protection
Three devices can be connected in parallel to create a three-phase grid; they communicate with each other in real time, thereby synchronising the 120° phase shift.
Read more...
---
High-temperature infrared thermometer
Comtest Temperature Measurement
The instrument ships with a USB 2.0 computer interface cable, FlukeView Forms documenting software and the standard Fluke 2-year warranty.
Read more...
---