printer friendly version
Electrical loggers for energy savings
October 2020
Electrical Power & Protection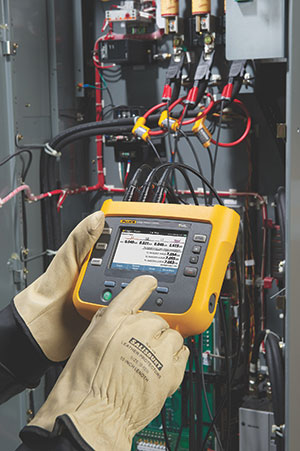 Energy is a significant cost at any industrial facility, and while managers view energy as an unavoidable expense, it is really a variable cost that can be monitored and managed to improve bottom line performance.
Comtest's Fluke 1732/1734 three-phase energy loggers are powerful tools designed to easily identify sources of electrical energy waste. Easy setup and use allow the capture of key energy measurements such as voltage, current, power and power factor, as well as other variables, i.e., temperature. The loggers enable managers to understand energy usage and correlate it to activities. They are also Fluke Connect compatible and data can be viewed from anywhere via the Fluke Connect mobile app, potentially reducing the number of times a technician must open a panel while wearing full protective equipment.
With the Fluke 1732 and 1734, facility managers and electricians are able to:
• Easily identify wasted energy to reduce energy bills.
• Perform energy studies over a range of electrical power and energy parameters.
• Perform simple current-only load studies.
• Perform advanced energy and load studies with connected data from Fluke Connect modules.
"Energy use in industrial plants is one of the most important areas where costs can be reduced, yet most facility managers are not even aware of how their energy is consumed," said Paul de la Port, president of Fluke Industrial Group. "The Fluke 1732 and 1734 energy loggers deliver a complete picture that identifies opportunities for savings and provides actionable data to reduce energy costs to improve the bottom line."
The 1732/1734 also include new Energy Analyze Plus App software, delivering more advanced analysis capabilities to better correlate data, making for better decisions. The loggers are rated 600 V CAT IV/1000 V CAT III – the highest safety rating in the industry – for safe use at the service entrance and downstream.
For more information contact Comtest, +27 10 595 1821, sales@comtest.co.za, www.comtest.co.za
Credit(s)
Further reading:
Acoustic imager detects partial discharge
November 2020, Comtest , Maintenance, Test & Measurement, Calibration
Fluke's new ii910 Precision Acoustic Imager detects corona, partial discharge and gas, steam and compressed air leaks that can hurt both production uptime and the bottom line.
Read more...
---
Simple acquisition of energy consumption values
November 2020, Phoenix Contact , Electrical Power & Protection
By developing the new components of the EMpro product family, Phoenix Contact has found a solution that satisfies most energy data gathering applications.
Read more...
---
Siemens Energy turbines generate low-emission power
November 2020 , Electrical Power & Protection
Siemens Energy helps Total achieve low-emission goals for largest LNG project in Africa.
Read more...
---
Maintaining battery backup systems
November 2020, Comtest , Electrical Power & Protection
Standby battery backup systems play a critical role in keeping essential operations functional in the event of a utility outage.
Read more...
---
Power supply components and services for marine applications
October 2020 , Electrical Power & Protection
Vert Energy works closely with the marine and offshore sector offering the supply of quality branded components and the support of a comprehensive repair and maintenance service.
Read more...
---
The Fluke T6 with FieldSense technology
October 2020, Comtest , Maintenance, Test & Measurement, Calibration
FieldSense technology works by providing a capacitive path from a contact point on the back of the tester and the operator's hand to earth ground.
Read more...
---
Detect compressed air, steam, gas and vacuum leaks
September 2020, Comtest , Maintenance, Test & Measurement, Calibration
Comtest has introduced the Fluke ii900, a handheld sonic industrial imager that enables maintenance to quickly locate air, steam, gas and vacuum leaks in compressed air systems. The straightforward, intuitive 
...
Read more...
---
Comtest announces Microchip rebrand
August 2020, Comtest , News
Microchip Technology Incorporated (Microchip) is the result of a rebranding of Microsemi, represented in South Africa by Comtest. Microchip is a leading provider of embedded control and system solutions, 
...
Read more...
---
Mines reduce fire hazards
August 2020 , Electrical Power & Protection
Underground mines in southern, central, and west Africa have been seeing the safety benefits of dry-type transformers from Johannesburg-based Trafo Power Solutions. According to managing director 
...
Read more...
---
RS Components stocks Eaton contactors
August 2020, RS Components SA , Electrical Power & Protection
RS Components now stocks Eaton's complete Moeller series of compact DILMT contactors. Easy to integrate in a variety of industrial machines and systems, the contactors enable space savings of up to 40%, 
...
Read more...
---