printer friendly version
Membrane level monitor
October 2020
Level Measurement & Control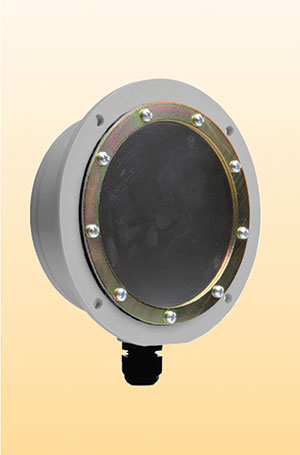 Instrotech has introduced Kobold's NMF membrane level monitors, an excellent choice for cost-effective level monitoring of bulk goods in storage vessels. NMF indicates full and empty states, detecting the load demand for dusty, powdery, granular and grainy materials.
The housing, made of cast aluminium or glass-fibre reinforced plastic, carries the membrane retained by a screwed-on ring. The weight of the bulk material presses against the membrane, which is pre-stressed with a spring, through to the support. A plunger fixed to the membrane transfers the pressure directly to a micro-switch with changeover contact. As the bulk material subsides, the membrane is relieved and the contact is switched back. Sensitivity can be spring-adjusted. The monitor can thus be optimised for the specific type of fill, and the particular installation conditions.
Membrane level monitors allow economic level monitoring of bulk goods in storage vessels. Used to indicate full and empty states and load demand for dusty, powdery, granulated and grainy bulk goods, the devices are also suitable for use with bulk materials and particle sizes up to 30 mm. They operate faultlessly provided the bulk goods flow easily at not too acute an angle. Only such materials exert sufficient operating pressure on the detector fitted in the wall of the silo.
Other features include:
• Pressure: overpressure 1 bar.
• Temperature: maximum 200°C.
• Material: NBR, nitrile, FPM stainless steel (membrane).
• Easy to install, self-cleaning and suited for universal use.
Applications are found in the mining and mineral processing, feed and grain, and polymer production and processing industries.
Credit(s)
Further reading:
New horizontal float switch
June 2021, ASSTech Process Electronics + Instrumentation , Level Measurement & Control
The R40 LSH now includes devices for point level measurement with features such as floats and reed contacts.
Read more...
---
Industry first for pump testing laboratory
June 2021, Instrotech , Maintenance, Test & Measurement, Calibration
When a local fire pump test facility needed to eliminate human error from its test procedures, it contacted Instrotech for advice.
Read more...
---
Level switches master viscous substances
June 2021, VEGA Controls SA , Level Measurement & Control
VEGA has developed the new front-flush level switch, Vegapoint 24, especially for use with sticky, viscous or abrasive products.
Read more...
---
Bypass level indicators
June 2021, Instrotech , Level Measurement & Control
Instrotech now offers Kobold's NBK level indicators for continuous measurement, display and monitoring of liquid levels in above or below-ground tanks.
Read more...
---
Networked beer tanks delight both landlords and breweries
May 2021, Instrotech , Sensors & Transducers
Smart transmitters trigger automatic reorders when tanks levels run low.
Read more...
---
Fit for extreme applications
March 2021, Endress+Hauser South Africa , Level Measurement & Control
The first 2-wire loop-powered compact transmitter enters the market.
Read more...
---
Battery powered digital temperature gauges
March 2021, Instrotech , Temperature Measurement
hese gauges offer a wide range of industrial and analytical possibilities for applications where high accuracy and clear indication are required.
Read more...
---
Pressure sensors for complete systems
March 2021, Instrotech , Pressure Measurement & Control
There are often great benefits to optimising pressure sensors specifically for use and integration into higher-level complete systems.
Read more...
---
The Internet of Things is changing logistics
March 2021 , Level Measurement & Control
A focus on application engineering allows Trafo Power Solutions to supply customised dry-type transformers for a range of sectors including renewable energy. "We begin at the proposal stage by engaging 
...
Read more...
---
Exact determination of fuel consumption
April 2021, Instrotech , Flow Measurement & Control
The Kobold DOE, an oval gear flowmeter, can be used with a wide range of media and chemicals
Read more...
---