printer friendly version
Detect compressed air, steam, gas and vacuum leaks
September 2020
Maintenance, Test & Measurement, Calibration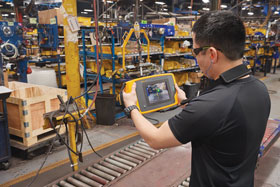 Comtest has introduced the Fluke ii900, a handheld sonic industrial imager that enables maintenance to quickly locate air, steam, gas and vacuum leaks in compressed air systems. The straightforward, intuitive interface allows technicians to isolate the sound frequency of the leak to filter out background noise. In a matter of hours, the team can inspect the entire plant, even during peak operations.
Using SoundSight technology, this industrial imager offers a new way to locate issues using sound. Leak identification is simple. A SoundMap is displayed in colour over a visual image of the equipment allowing for fast visual location. With the visual image, it is easy to scan a large area quickly and even identify leaks from a distance.
The Fluke ii900 finds application in the following industries: automotive, glass, cement, chemicals, food and beverage, pulp and paper. The ii900 enables users to do more with existing air compressors, for example:
• Delays the capital expense of purchasing an additional compressor.
• Ensures proper air pressure to pneumatic equipment.
• Lowers energy costs (optimisation of compressed air budget).
• Reduces leak detection time.
• Improves reliability on the production line.
The ii900 makes leak detection part of a typical maintenance routine, for example, the training of a maintenance team is possible in a matter of minutes and provides for the validation of repairs.
Finally, the ii900 is specifically designed for industrial maintenance teams, maintenance leads, plant maintenance managers and plant operations managers, who rely on compressed air, gas or vacuum in their routine operations. With minimal training, technicians can begin checking for air leaks as part of their typical maintenance routine. The ii900 means a better, quicker, simpler way to check compressed air leaks and at the same time conduct gas and vacuum leak identification.
Credit(s)
Further reading:
Humidity generator for probe calibration
Comtest Maintenance, Test & Measurement, Calibration
Portable humidity generator delivers fast, accurate multi-point calibration of humidity probes and loggers.
Read more...
---
An innovative alternative to mechanical seals
Bearing Man Group t/a BMG Maintenance, Test & Measurement, Calibration
BMG's range of Garlock sealing products includes a versatile sealing system that replaces mechanical seals in industrial pump applications.
Read more...
---
Understanding asset reliability for maximum impact in a post-pandemic world
Maintenance, Test & Measurement, Calibration
At the ARC Industry Forum Asia, Anindya Chatterjee, ABB's global head of Value Engineering and Data, gave a presentation that focused on return on asset reliability through information, operations and engineering technologies, powered by machine learning.
Read more...
---
Fluke doubles the troubleshooting power
Comtest Maintenance, Test & Measurement, Calibration
Comtest now offers the Fluke 787B and 789 process meters that double the troubleshooting capabilities of previous versions by combining the power of a safety-rated, digital multimeter and mA loop calibrator into a single, compact test tool.
Read more...
---
Reduce the risk of shock and arc flash
Comtest IS & Ex
Comtest now offers a new Fluke tester to the market, which sources both AC and DC steady-state voltage for Hi-Z and Lo-Z instruments, thus simplifying safety compliance testing.
Read more...
---
Fluke's T6-1000 PRO electrical tester
Comtest Maintenance, Test & Measurement, Calibration
Comtest now offers the Fluke T6-1000 PRO true-RMS electrical tester. It measures voltage up to 1000 V AC and current up to 200 A without test lead contact to live voltage.
Read more...
---
Digitalised oil and gas pipelines
RJ Connect Maintenance, Test & Measurement, Calibration
Moxa's MDS-G4020 series offers a modular platform that can be fitted with fibre interfaces to connect pipeline subsystems to a control centre over long distances.
Read more...
---
Three key principles to build a strong safety culture
Comtest IS & Ex
To build a strong culture of safety, one first needs to create a climate that allows for adaptation and change.
Read more...
---
Portable wireless gateway for Ex areas
Comtest Industrial Wireless
Comtest – local representative of Industrial Scientific, a global leader in gas detection – has introduced the RGX Gateway, which enables designated safety contacts to receive real-time alerts for gas 
...
Read more...
---
PRO series thermal cameras
Comtest Temperature Measurement
Fluke Ti401 and TiX501 PRO thermal cameras capture and display smaller temperature differences to easily visualise and diagnose issues, making it easy to get to the root cause of problems faster.
Read more...
---