printer friendly version
Condition monitoring solutions from Turck Banner
September 2020
Maintenance, Test & Measurement, Calibration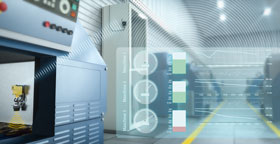 Smart retrofit – update legacy plant maintenance strategies using customisable solutions based on smart sensors and secure wireless networks.
Are the motors for your hydraulic pumps in working order? Does your CNC machine need refilling with cooling lubricant? Is it currently the right temperature in your storage room? Personnel can now access this information from anywhere at any time. The high-performance technology behind this is quick and easy to retrofit and does not interfere with existing plant operations.
Enabling predictive maintenance with the DX80 wireless system
Instead of reacting to a failure at a later stage, or servicing components on a regular basis, maintenance personnel can now request information on the condition of machines and other equipment at any time. With effective real-time condition monitoring the requirements for a predictive maintenance strategy can be met, even on existing legacy systems.
Turck Banner's retrofit solution can even be used in industrial plants that do not yet fully support sensor-based condition monitoring. Machines can easily be monitored by independent systems, with data transmitted via a wireless network if required. All the necessary devices are easy to install and set up.
The condition monitoring system combines sensor technology, wireless transmission and data analysis and runs autonomously without having any impact on operations in the plant. If required, it can also transfer the values to your own automation environment and you can view them there.
Wireless sensors can be easily installed in the field, often using a magnetic mount. If required, the devices in the DX80 wireless system can also be run on batteries. Not only does this reduce the time required for installation, it also enables operators to place sensors and transmission modules in areas that are difficult to access. It also allows retrofits without interfering with ongoing processes.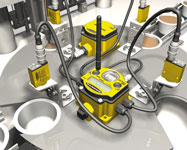 Control units and gateways allow the data to be used locally or remotely
How can this condition data be used? In a variety of ways: thresholds can be displayed using a tower light; machine data on a central HMI, or in the cloud; staff can receive information about irregularities automatically via SMS; or values can be transferred to the company's own automation environment.
Use data locally
In the machine environment, sensors monitor parameters such as vibration, temperature and humidity and by using ultrasound, they can even detect the filling level in oil tanks. Transmission modules of the proprietary DX80 wireless system send this data to an associated gateway. Then, via connection to the TX700 HMI control unit, maintenance engineers can view all the condition data in one place.
An Ethernet connection to the company network opens up even more possibilities, including monitoring via WebVisu, automated e-mail notifications or data integration into the company's automation platform.
The journey to the cloud
The TCG20 gateway can also be used instead of the HMI control unit to process the sensor readings from the field. The gateway encrypts the data and sends it to the cloud via Wi-Fi or the cellular network. Users can choose between a locally hosted (on-premises) solution and a public cloud from which end devices anywhere in the world can retrieve data.
The gateway is able to carry out decentralised analysis of the data, but data can also be analysed in the cloud. Turck Banner's industrial cloud allows users to create a personalised dashboard, view past trends and configure automated emails or SMS messages. The TCG20 gateway also supports the Amazon Web Services and Microsoft Azure cloud platforms.
Cloud-based remote machine maintenance in action
Special machine manufacturer Velco uses a remote monitoring solution based on Turck Banner Cloud Solutions for locating error sources and monitoring production parameters.
Velco special machines renew refractory concrete layers in steel and blast furnaces
Steelworks operators worldwide use Velco machines to spray their blast furnaces, ladles or channels with refractory concrete. This layer of special concrete is attacked by the slag and heat and has to be renewed regularly. Steelworks and blast furnace operators use a refractory concrete gunning machine for this, or outsource the refractory repairs to refractory material manufacturers and processors.
In order to provide rapid support for customers in the event of malfunctions, these specialised machines are provided with remote monitoring. As its previous solution could no longer meet the demanding requirements, Velco searched for a cloud-based solution that would allow worldwide remote access via PC or smartphone. After a selection process, it was Turck Banner's solution that was chosen, as it was the only one that fulfilled all the requirements.
Avoiding excessive service callouts
"Our customers want to know whether their machines are working optimally or not and whether any problems are developing," explains Klaus Küster, head of electrical engineering at Velco. "In order to meet these demands, our machines have to be equipped with remote monitoring and maintenance capabilities."
Velco's remote monitoring module was designed to eliminate excessive service callouts for accidently closed supply lines or the pressing of emergency pushbuttons and at the same time help with the troubleshooting of real malfunctions. Turck Banner Cloud Solutions stood out on account of its user-friendliness. "The key benefit is that we can access the controller of the machine directly via a PC or a smartphone," adds Küster.
Dashboard provides a clear data overview
Velco uses its own design of the Turck Banner Cloud dashboard. Thanks to the responsive design functionality it can also be used optimally on tablets and smartphones. "Our customer's employees call up the dashboard of the Velco cloud and see their machines listed in the navigation window," elaborates Küster. "A view in Google Maps indicates the location of individual machines. Then, if an employee clicks on one of the entries in the list, the dashboard provides a clear overview of all the relevant data."
Besides some analog values such as water pressure or material level, there are also digital indicators such as for operating state or the status of the emergency stop button. The user can also see an operating-hours counter and other numerical displays. The dashboard can be made up easily by the users themselves – with just a few clicks and without any programming knowledge. Users can also create their own alarm messages via SMS or email for different users.
Automatic material ordering possible
A welcome side effect of the cloud is that it provides transparency. Refractory concrete users, in particular, want to see how long a machine has been in operation. Depending on the contract, customers are required to purchase the special concrete of a particular manufacturer. If the consumption values for the concrete do not match the operating hours of the machine, the end customer can assume that other material was used. The cloud solution also opens up new sales models for refractory concrete manufacturers, as they are able to offer and invoice the service according to actual use.
Assigning individual user roles and rights
Many users consider the risks involved with remote control, as well as its benefits. From the beginning therefore, Turck Banner placed prime importance on data and communication security. The management of roles and rights enables the owner of the machine to determine which users can navigate in the cloud and with what authorisations. Different authorisation levels can be defined individually for each machine and user, from elementary read rights to write authorisation, right through to administrator rights. The communication between Turck Banner's TCG20 cloud gateway and the cloud server is also encrypted via the Kolibri proprietary cloud protocol, which meets the latest standard for data transport in the web (TLS 1.3, AES256).
Mobile communication makes corporate network access unnecessary
Responsible IT managers seldom allow access to the corporate network, even when it uses encryption. With the Turck Banner solution, this is not a problem since the TCG20 can also establish the connection to the cloud via the mobile network. There is therefore always access to the machines regardless of where they are used and the financial investment for data communication via mobile networks is manageable. "We use normal country-specific SIM cards and everything works provided there is adequate network coverage," concludes Küster. "The TCG20 is nevertheless also available with a Wi-Fi interface as well as a flexible combination device with Wi-Fi and mobile communication. Customers who wish to host their cloud on-premises often prefer to use the Wi-Fi option."
Conclusion
The overview of the state of all machines is a real benefit for Velco and a strong sales argument compared to its competition. All OEMs would like to offer their customers a better product. With Velco, this is done through optimum remote access to its machines. The move to the cloud in conjunction with Turck Banner is a milestone on the company's journey towards Industry 4.0.
Credit(s)
Further reading:
Safety controllers with diagnostics
October 2020, Turck Banner , IS & Ex
The combination of an intuitive user interface and diagnostics makes it easy to design and troubleshoot complex safety systems in just a few clicks.
Read more...
---
The Fluke T6 with FieldSense technology
October 2020, Comtest , Maintenance, Test & Measurement, Calibration
FieldSense technology works by providing a capacitive path from a contact point on the back of the tester and the operator's hand to earth ground.
Read more...
---
Inductive sensors for Industry 4.0
October 2020, Turck Banner , Sensors & Transducers
Inductive measurement sensors with IO-Link and a voltage output complete Turck's sensor portfolio for a variety of different application requirements.
Read more...
---
Preventive maintenance in pulp and paper mills
October 2020, R&C Instrumentation , Maintenance, Test & Measurement, Calibration
The thinking around machine condition monitoring has changed over the years and it is now stated that vibration is the better measurement over temperature, since it gives earlier warning.
Read more...
---
Leak detection has never been quicker and easier
September 2020, SKF South Africa , Maintenance, Test & Measurement, Calibration
SKF's TKSU 10 ultrasonic leak detector is able to identify leakages in compressed air and vacuum systems, delivering substantial savings for end-users by reducing inspection time and minimising energy costs.
Read more...
---
Best practices in measurement
September 2020, Yokogawa South Africa , Maintenance, Test & Measurement, Calibration
Operating envelopes are changing and the impact of these changes on instrumentation must not be underestimated. Instrumentation with a design rating of a particular capacity is heavily stressed when the load is increased.
Read more...
---
Turck standardises its fluid portfolio
September 2020, Turck Banner , Flow Measurement & Control
Turck's new portfolio of fluid sensors offers a wide range of variants and combinations, while having common key features at the same time. The compact FS+ flow sensor with IO-Link now follows the launch of the PS+ pressure sensor.
Read more...
---
Internal inspection of machinery
September 2020, SKF South Africa , Maintenance, Test & Measurement, Calibration
The TKES 10 Endoscope Series from SKF is designed for fast, easy internal inspection of machinery, delivering significant savings in terms of both time and money to customers and end-users.
Read more...
---
Parker releases new software tool
September 2020, Parker Hannifin - Sales Company South Africa , Maintenance, Test & Measurement, Calibration
IQANgo enables service technicians or machine owners to connect wirelessly to modules in their machines, allowing them to perform a broad range of actions such as system status checks and troubleshooting errors or alarms.
Read more...
---
Monitoring for control cabinets
September 2020, Turck Banner , Enclosures, Cabling & Connectors
The IM18-CCM is particularly suitable for OEMs wishing to provide basic condition monitoring values in their IT system. It detects critical states of the control cabinet directly in the field.
Read more...
---