printer friendly version
Safe operation of LNG tanks
September 2020
IS & Ex
The rapidly increasing supply and demand for LNG is driving a new and dynamic business worldwide. The number of small to medium scale terminals is increasing, while at the same time, tank sizes are increasing in new-design centralised terminals. These developments bring complex challenges to the safe and efficient managing of LNG inventory in tanks, terminals or other storage facilities.
The storage of LNG at cryogenic temperatures presents unique challenges that must be appropriately handled to ensure safe and efficient operation. A typical LNG tank requires a wide range of instruments to measure liquid level, density, liquid and vapour pressure and temperature, skin temperature and more.
Additionally, stratification occurs when the product in the tanks forms layers with different densities temperatures. For safe operation, users need to ensure that two layers of different densities are not rapidly mixing and releasing large amounts of gas, known as rollover.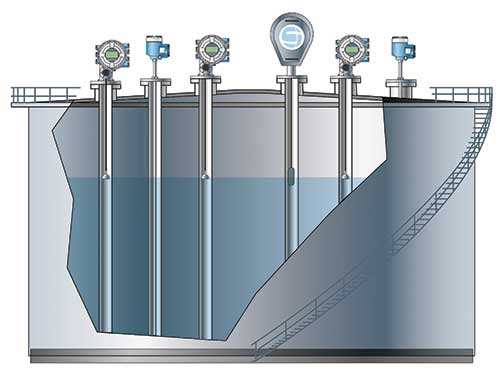 Endress+Hauser's innovative instrumentation and advanced inventory management solutions for LNG storage tanks ensure safe operation of plant and high levels of inventory transparency. These solutions offer a wide set of functionality and benefits, including:
• High precision servo tank gauging with the intelligent Proservo NMS8x for constant primary level measurement, or in redundant operation, to accurately and reliably monitor level. It performs density profiling as required.
• Separate servo or radar gauges for high level alarms ensure 24/7 plant safety.
• The safe operation of LNG tanks to ensure that different densities and temperatures do not create layers that could result in rollover effects: LTD (level temperature density) gauges monitor density changes in different LNG layers, creating a density and temperature profile of the tank.
• Highly accurate pressure transmitters provide alerts for any significant pressure changes in the LNG tanks and boil off gas management.
• Redundant inventory management system to ensure 24/7 plant availability.
• Stratification and rollover prediction software – not only important for knowing what is happening in the tank, but also helps you determine the next process actions.
• Skin temperature for cooldown and leak detection and temperature monitoring software.
The rollover prediction software within Tankvision allows users to visualise the evolution of temperature, density and layer thickness of the stratified layers within a tank. The software predicts rollover and enables upfront countermeasures. The change in boil-off rate and vapour pressure can also be visualised with time.
LNG tank management system
The Tankvision LMS inventory management system features reliable LNG real-time management. It is a truly open and redundant system and allows tank redundant data, a multi-user system with remote access capability. It can be used as a client/server or standalone package and provides the following features: inventory calculation, gauge operation, LTD detail monitoring, alarm generation, real-time trending, profile viewers, stratification analysis, skin temperature distribution graphics and schedule commands.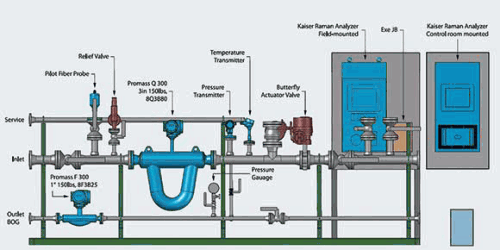 Rollover prediction software
The rollover prediction algorithms are based upon a lumped parameter model using energy and material balance equations. It allows the user to visualise the evolution of temperature, density and layer thickness of the stratified layers within a tank from an initial condition for temperature, layer depth and composition. The change in boil-off rate and vapour pressure can also be visualised with time. The model can be run for any profile available in the history by using the manual profile selection or automatic selection. The model can incorporate various tank operations such as tank filling (top or bottom), tank emptying (top or bottom) and external recirculation.
Cool down and leak detection software
The cool down and leak detection sensors, located around the base sides and roof of the LNG tank, are used to detect any abnormalities in the shell insulation that may result in a leak of product. The software provides the following functionalities:
• View menu – skin temperatures.
• Temperature maps.
• Shell layer drop down selection.
• Historical skin temperatures.
• Thresholds/trends/alarms.
Credit(s)
Further reading:
Endress+Hauser holds its ground despite the pandemic
May 2021, Endress+Hauser South Africa , News
Endress+Hauser weathered the 2020 pandemic year well. The Group created new jobs and expanded its global sales and production network.
Read more...
---
Tube connector for Ex areas
May 2020, Parker Hannifin - Sales Company South Africa , IS & Ex
Parker Hannifin has extended its Phastite permanent instrumentation connection range, which is now available in a number of corrosion-resistant alloys (CRAs), including Alloy 825, 625 and Super Duplex, 
...
Read more...
---
New devices from Endress+Hauser connect pressure measurement to the future
May 2021, Endress+Hauser South Africa , Editor's Choice
By implementing a Bluetooth interface, devices that were previously difficult to access, or in danger zones, can now be operated easily and safely.
Read more...
---
How to calculate an intrinsically safe loop approval - updated and revised
March 2021, Extech Safety Systems , IS & Ex
We all know what can happen when the correct techniques are not used when interfacing into a hazardous area.
Read more...
---
Robust safety light curtains
April 2021, Turck Banner , IS & Ex
Ez-Screen LS light curtains are intuitive, easy-to-use safety devices designed by Turck Banner for machine safeguarding.
Read more...
---
Endress+Hauser and partners drive digitalisation towards customer value
April 2021, Endress+Hauser South Africa , News
The Endress+Hauser Open Integration partner programme unites thirteen manufacturers that want to ensure the streamlined interaction of their complementing products.
Read more...
---
Flexibility for disinfection measuring points
April 2021, Endress+Hauser South Africa , Analytical Instrumentation & Environmental Monitoring
Endress+Hauser's new modular Flowfit CYA27 flow assembly enables measurement of up to six parameters in process and drinking water.
Read more...
---
Delivering modern SIS for wellhead applications
April 2021, Emerson Automation Solutions , IS & Ex
Keeping the safety and non-safety functions separate while achieving seamless integration.
Read more...
---
Enterprise mobility for hazardous areas
March 2021, Pepperl+Fuchs , IS & Ex
Enterprises can easily select and manage Android devices and services with the new Android Enterprise Recommended devices – verified by Google.
Read more...
---
Intrinsically safe robot for tank inspection
March 2021, RS Components SA , IS & Ex
Electrocomponents collaborates with industry specialists to develop revolutionary new method of inspecting petrochemical storage tanks.
Read more...
---