printer friendly version
Holographic headset creates the perfect training experience for runners
September 2020
News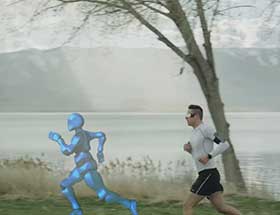 Runners know that getting the most from each run requires training with a partner who is slightly faster than you and pushes you to keep up. Unfortunately, in today's world – and with longer-term social distancing requirements – finding the right partner and coordinating regular times and locations for runs can be difficult. But a couple of recent graduates from Lakeside High School in Seattle, Bill Gates' alma mater, have used augmented reality to create an innovative solution to this problem. It's called the Ghost Pacer.
The Ghost Pacer is a newly developed set of augmented reality glasses designed specifically for runners. With a patented optical system, it weighs just 90 grams and has the processing power to create a realistic avatar in 3D space. It works by projecting a holographic avatar that users can race against outdoors. Integration with the fitness app Strava allows users to race against avatars that replicate their friends' paths and speeds from previous workouts, letting athletes train together virtually, even if they can't physically run together.
"Nothing is a perfect substitute for running with another person," says CEO AbdurRahman (AR) Bhatti, a former all-state cross-country runner himself. "But racing against a holographic avatar that you can train with anywhere at any time is the next best thing."
AR originally came up with the idea while training solo for an upcoming cross-country season and being frustrated that he couldn't hit his target times along his training routes. He realised that training was way more effective while running with others. Since aligning schedules with other people proved nearly impossible, he came up with the idea of the Ghost Pacer – a partner you can run with anywhere and at any time.
For the past three years Bhatti and Jensen Turner, the company's CTO, have worked with a team of experts in technology and fitness, alongside a dedicated team of their high-school classmates to create Ghost Pacer. "This is a fitness product that implements mixed reality in order to add a competitive boost to each workout," concludes Bhatti. "We like to think of the Ghost Pacer as being built for runners, by runners."
Further reading:
From the editor's desk: Is additive manufacturing poised to go mainstream?
Technews Publishing (SA Instrumentation & Control) News
As digital manufacturing technology pushes its way further towards the production floor, additive manufacturing (3D printing) is emerging as a viable option to complement the more traditional methods 
...
Read more...
---
Obituary: Steven James Meyer
January 1957 - January 2022
Technews Publishing (SA Instrumentation & Control) News SAIMC
It is with deep sadness and shock that we announce the sudden death of SA Instrumentation & Control Editor, Steven Meyer. Steven joined Technews in October 2007 in the position of Deputy Editor. His 
...
Read more...
---
ESG certified as Level 2 contributor to B-BBEE
News
Invicta Holdings Limited's Engineering Solutions Group (ESG) has achieved recognition as a Level 2 contributor to B-BBEE.
Read more...
---
Abrasive Flow Solutions celebrates its first year of business
News
Abrasive Flow Solutions (AFS) – specialists in the design and manufacture of slurry related valves – celebrates its first year of business.
Read more...
---
Microsatellite production gets a boost in Stellenbosch
TANDM Technologies News
Dragonfly Aerospace is investing in a 3000 square metre design and manufacturing facility in Techno Park, Stellenbosch.
Read more...
---
Danfoss doubles down on energy efficiency
Danfoss News
Danfoss encourages decision makers to act at COP26.
Read more...
---
Zest supplies SA's new gas helium project
Zest WEG Group Africa News
Zest WEG is supplying locally manufactured transformers, switchgear and substations to South Africa's onshore natural gas and helium project, Tetra4.
Read more...
---
Emerson announces commitment to venture capital initiative
Emerson Automation Solutions News
Emerson Ventures to focus on disruptive discrete automation solutions, environmental sustainability technologies and industrial software.
Read more...
---
Valve & Automation's new Secunda Valve Repair Centre
Valve & Automation News
On 1 November 2021, Valve & Automation's Secunda Valve Repair Centre opened at 18 Kingfisher Street, Ext 57, Secunda, Mpumalanga.
Read more...
---
SECO Process Instrumentation appointed East Rand agent for Yokogawa
SECO Process Instrumentation News
SECO Process Instrumentation, a consulting company in the fields of instrumentation, moisture analysers, pneumatics and VSD solutions, has recently been appointed as the East Rand agent for Yokogawa.
Read more...
---