printer friendly version
Local manufacture of ventilators set to save lives throughout Africa
September 2020
News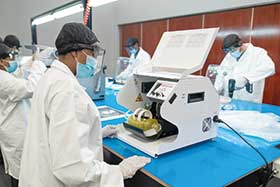 Local production of bridge ventilators for the Africa Medical Supplies Platform (AMSP) is in full swing at ESG Medical Equipment's manufacturing facility in Johannesburg.
"In response to the urgent need throughout the African continent for personal protection equipment during the COVID-19 crisis, ESG Medical Equipment, in partnership with other local companies, is set to help AMSP save lives through the manufacture and procurement of specialist medical equipment," says Gavin Pelser, CEO, Engineering Solutions Group (ESG), part of Invicta Holdings. "African and global philanthropists have teamed up with local businesses to help secure urgently needed ventilators, breathing support devices and other medical equipment that will assist the people of Africa in the fight against coronavirus.
"The ESG Medical Equipment team is working closely with engineers from Virgin Orbit and Virgin Galactic, to produce high quality bridge ventilators, using locally-sourced materials and components. The design of these ventilators was provided by Virgin Orbit at no cost as part of the Virgin Group's philanthropic efforts to help flatten the curve in Africa.
"These ventilators, along with other medical equipment and PPE, are available from the African Union's (AU) online pool procurement platform, AMSP. This initiative was established to enable easy procurement, coordination and distribution of medical supplies for all AU member nations.
"This venture is a perfect example of how effective teamwork can be. And in this case, when over 1,2-billion lives in Africa are vulnerable, a co-ordinated effort to combat the pandemic is even more critical. Our team is proud to be part of this programme and to work with the finest business leaders and world-class engineers."
According to South African President and AU chairperson, Cyril Ramaphosa, who officiated at the launch of AMSP in June, the online platform is "the glue that will bind the continent together."
ESG Medical Equipment will soon produce oxygen helmets, also based on the free design from Virgin Orbit. These are critical to help open up the alveoli in infected lungs and delay or prevent Acute Respiratory Distress Syndrome in those suffering the effects of COVID-19.
Further reading:
From the editor's desk: Is additive manufacturing poised to go mainstream?
Technews Publishing (SA Instrumentation & Control) News
As digital manufacturing technology pushes its way further towards the production floor, additive manufacturing (3D printing) is emerging as a viable option to complement the more traditional methods 
...
Read more...
---
Obituary: Steven James Meyer
January 1957 - January 2022
Technews Publishing (SA Instrumentation & Control) News SAIMC
It is with deep sadness and shock that we announce the sudden death of SA Instrumentation & Control Editor, Steven Meyer. Steven joined Technews in October 2007 in the position of Deputy Editor. His 
...
Read more...
---
ESG certified as Level 2 contributor to B-BBEE
News
Invicta Holdings Limited's Engineering Solutions Group (ESG) has achieved recognition as a Level 2 contributor to B-BBEE.
Read more...
---
Abrasive Flow Solutions celebrates its first year of business
News
Abrasive Flow Solutions (AFS) – specialists in the design and manufacture of slurry related valves – celebrates its first year of business.
Read more...
---
Microsatellite production gets a boost in Stellenbosch
TANDM Technologies News
Dragonfly Aerospace is investing in a 3000 square metre design and manufacturing facility in Techno Park, Stellenbosch.
Read more...
---
Danfoss doubles down on energy efficiency
Danfoss News
Danfoss encourages decision makers to act at COP26.
Read more...
---
Zest supplies SA's new gas helium project
Zest WEG Group Africa News
Zest WEG is supplying locally manufactured transformers, switchgear and substations to South Africa's onshore natural gas and helium project, Tetra4.
Read more...
---
Emerson announces commitment to venture capital initiative
Emerson Automation Solutions News
Emerson Ventures to focus on disruptive discrete automation solutions, environmental sustainability technologies and industrial software.
Read more...
---
Valve & Automation's new Secunda Valve Repair Centre
Valve & Automation News
On 1 November 2021, Valve & Automation's Secunda Valve Repair Centre opened at 18 Kingfisher Street, Ext 57, Secunda, Mpumalanga.
Read more...
---
SECO Process Instrumentation appointed East Rand agent for Yokogawa
SECO Process Instrumentation News
SECO Process Instrumentation, a consulting company in the fields of instrumentation, moisture analysers, pneumatics and VSD solutions, has recently been appointed as the East Rand agent for Yokogawa.
Read more...
---